Take a friend to find out why windsurfing is cool again!
Buy now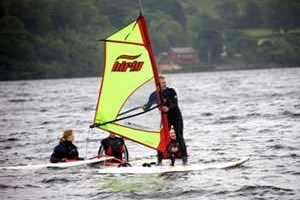 Windsurfing is enjoying a new rise in popularity, as it's one of the most exciting, vibrant and challenging sports around today. It's fast, dynamic, fun, exhilarating and above all, it's COOL!
Under professional guidance, you'll both be shown the techniques that are key to this exhilarating blend of skill, power and grace.
Feel the wind on your faces and the water beneath you as both of you cruise across the surface of this North Wales lake.

Arrive at the venue at 9:30AM for a briefing on safety, equipment and technique basics. You will receive all the tuition and all the equipment required to undertake the course, so get kitted up with a wetsuit, buoyancy aid and a board, and head down to the lake to place your feet on the board and your hands on the boom. While finding your balance, you'll also both cover the basics of sailing across the wind and turning (tacking) around in this introductory course. The time will fly by as you progress toward the course end at 12:30PM.
This experience is available at Gwynedd:
Your voucher is valid for ten months for two people, and you are free to contact the operator to arrange your experience (please note that bookings are non-transferable.) Please provide appropriate footwear, (ie old trainers). Minimum age is 8. There are no weight or height restrictions. You may cancel the booking at any time up to 8 weeks prior to the course start date by giving written notice to the supplier. All courses are weather dependent and subject to availability. The experience is undertaken entirely at your own risk. Please notify the supplier at the time of booking the course of any medical condition that may be relevant.