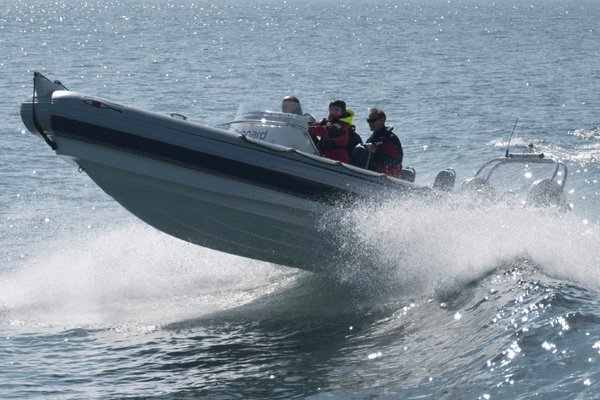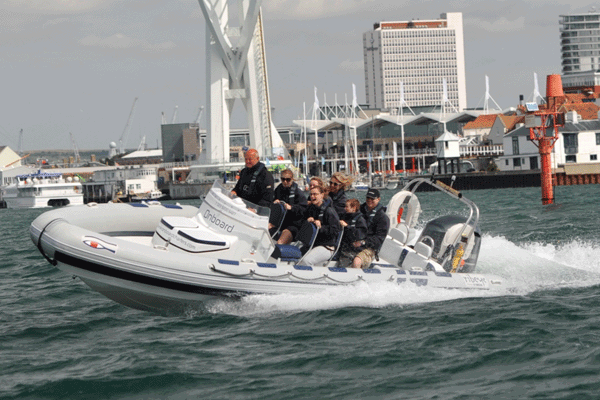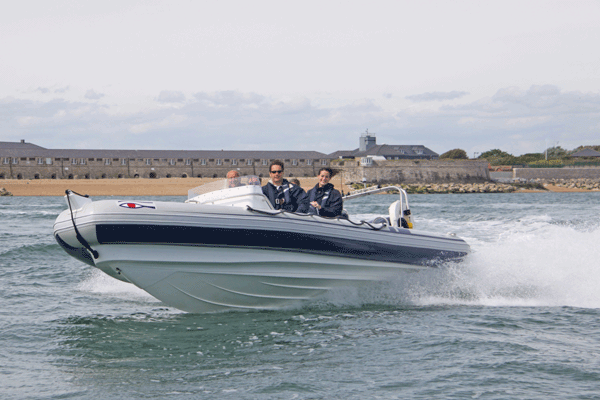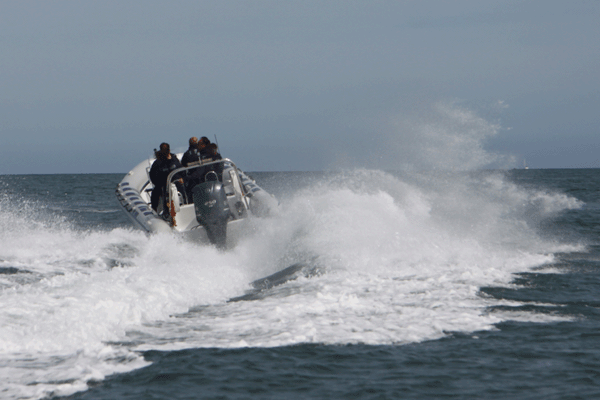 Summary

Fine Print

View on map
Welcome to a package that mixes history, water, and speed to give you a ride you'll never forget. RIB's (Rigid Inflatable Boats) are known for their speed and their handling and you will experience this first hand on this adventure. You'll start with an introduction and safety briefing from your highly experienced captain. Then you'll board the 29ft powerboat and proceed on a short tour around the harbour, which will take you all around the historical boats such as HMS Victory and HMS Warrior as well as giving you incredible views of the Solent forts. Once you have left the harbour, they'll really open the engines up and you'll soon be skimming along the top of the waves at up to 50mph! Tight turns and wave jumps make this a real white-knuckle ride. With a whole 40 minutes on the water you will have a superb time.
What's included?
Welcome, introduction and safety briefing
All protective, safety and buoyancy equipment
40 minute high-speed RIB adventure on the Solent including harbour and historic ship tour
Any restrictions?
Your voucher is valid for 10 months for one person
This experience is available on weekends and during school holidays, March - November
Max. age 12 years
All under 18's must be accompanied by a parent or guardian
Min. height is 1.52m/5'0"
Max. weight is 108Kg/17st
This experience is not suitable for anyone who is pregnant, wheelchair users, or those who suffer from heart problems, back or neck conditions
If you suffer from any other medical conditions please notify the supplier on booking
If concerned about seasickness please take medication 2 hours before the ride
All trips are subject to weather conditions, although the boats are designed to cope with harsh conditions this experience may be cancelled should the weather be considered too severe. Please contact the supplier to check conditions the day before your experience
If your trip is cancelled it will be rearranged and rebooked for you
Anyone under the influence of alchohol or drugs will be prevented from taking part in this experience
All dates are subject to availability
What do I need to know?
There may be up to nine other participants on this experience with you
Spectators are welcome but may not be able to see all of your experience
45 Minute Gunwharf Quay RIB Blast -

£25
Customer Reviews
18 out of 18 (100%) reviewers would recommend this product to a friend.
Read all reviews »
Wow! what a great gift
30 August 2015
G Wagon Mad
Location: Ascot Age: 45-54 Bought For Wife Occasion: Christmas
The experience is great value for money. The boat left promptly and we got a full hour on the boat. It was a complete adrenaline rush but you felt safe at all times. The staff are all very polite. Great location and easy to find.
What would you improve for next time? Flexibility of booking could be better. Trips only held at weekends and when there are no other boat events on.
Would you recommend this product to a friend? Yes
Amazing present
27 August 2014
Pickle25
Location: Portsmouth Age: 25-34 Bought For Partner Occasion: Birthday
Amazing experience great for all ages, price was reasonable too
Would you recommend this product to a friend? Yes
Simply Fantastic!
17 August 2014
Anna
Location: west sussex Age: 45-54 Bought For Myself Occasion: Birthday
I bought this experience for my husband's birthday & I went too. Was a thoroughly, exhilarating & fabulous experience.our driver Kevin was great & pointed out many points of interest along the way & then when he put the boat into full throttle well I cannot describe the feeling! We ventured out as far as the Isle of Wight & passed many yachts & even ferries! Absolutely recommend... We want to go again!
What would you improve for next time? Nothing
Would you recommend this product to a friend? Yes
RIB Blast - Great Blast
15 July 2014
Phil O
Location: poole Age: 35-44 Bought For Colleague Occasion: Birthday
Brilliant experience great team of guys and girls organizing each trip. Really friendly and made sure everyone enjoyed the trip even if a you get a little wet!!
Would you recommend this product to a friend? Yes
Great gift
09 May 2014
Happily retired
Location: Hertfordshire Age: 55-64 Bought For Relative Occasion: Christmas
Great experience one of those things to do before you die ,informative as well as exciting would recommend to any one regardless of age or gender definitely will go again
Would you recommend this product to a friend? Yes
Great fun
12 April 2014
Kay Hampshire
Location: Hampshire Age: 55-64 Bought For Son Occasion: Birthday
A fast fun ride around the Solent visiting the forts and speeding over the wake of other craft. Suitable for most ages, but avoid if you have back problems.
What would you improve for next time? Time of ride was changed by venue after booking (put back 30 minutes) without advance notice to us. Notification would have been appreciated.
Would you recommend this product to a friend? Yes
it is a blast...
27 September 2013
dennismeance
Location: Age: 45-54 Bought For Wife Occasion: Birthday
a hassle free experience at the desk, quickly on board and away. those boats really do have some grunt and after a gentle pootle around portsmouth harbour we blasted across the solent. getting to just over 40 knots - it felt fast. there was some nice tour guide moments on the way over to the isle of wight where we spun round (bembridge harbour) and headed back at speed. if it wasn't for the safety of some of the older passengers, i'm sure that he'd have been a little more daring as there were a couple of wow moments (such as leaping off the waves). but it was fun nonetheless.
Would you recommend this product to a friend? Yes
AWESOME!
19 August 2012
JONNN
Location: surrey Age: 45-54 Bought For Myself Occasion: Christmas
Professional,friendly safety briefing,tour around the dockyard then hit the throttle out to the forts sat at the back of the rib got soaked but well worth it, 2nd time out will definately come again!
Would you recommend this product to a friend? Yes
Wow!
21 May 2012
JJ334
Location: Age: 25-34 Bought For Husband Occasion: Anniversary
It was amazing! I will definitely recommend this to a friend.
Would you recommend this product to a friend? Yes
Fantastic adrenaline thrill!
16 April 2012
CJ24
Location: London Age: 18-24 Bought For Myself Occasion: Just because!
The rib blast is a great way to see the area of Portsmouth from a different angle and Kevin who runs the experience does a fantastic job of pointing out places of interest to look out for whilst at the same time taking you for an exhiliating blast which is better than going on a rollercoaster! My friend suffers from sea sickness and she was absolutley fine on the rib blast as it was going so fast, so I'd certainly recommend it to people who normally can't travel on boats. It was a great day out, very well organised, informative and the location is unbeatable. Plenty of restaurants, shops and cafes to explore before or after your trip, that's once you've come down from the adrenaline thrill of your life that is!
Would you recommend this product to a friend? Yes
45 Minute Gunwharf Quay RIB Blast -

£25