A thrilling RIB ride on the Thames - feel the wind in your hair and the spray on your face!
Buy now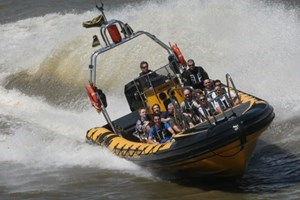 MORE IMAGES
Relish the sensation as the highly-trained skipper opens up the engines to take you up the Thames in the fastest and newest boats to hit Central London! The custom-fitted, comfy Ribcraft, capable of speeds of up to 45 knots and helmed by an equally entertaining guide, will thrill you between Embankment pier and Canary Wharf. You'll be laughing all the way!
Arrive at the dock at the appointed time for a safety briefing before climbing aboard and blasting off down the famous London river! Your trip will last for around 50 minutes and is the closest thing possible to a white-knuckle ride in central London, as your skipper takes you through exhilaratingly tight turns and other manoeuvres. All skippers have travelled extensively on the Thames and boats are designed to ensure passenger comfort and safety at all times. A PA system ensures you can hear your guide clearly at all times, and the soundtrack to your adventure is provided by a high-powered stereo onboard. Waterproof clothing and automatically inflating lifejackets are provided. For those celebration trips you can also purchase a photo of your experience! If you go during the Christmas period you'll even be given a Santa hat to wear on your trip!
This experience is available at Greater London:
Greater London (London) - London
Your voucher is valid for ten months for one child up to the age of 16. Children are to be accompanied by an adult. There will be no more than eleven other participants on this experience. Spectators are welcome to wave you off, but they will not be able to see all the action of your experience. Although these boats are designed to cope with the most extreme conditions, in severe weather the experience may be cancelled and rearranged for an alternative date. Available selected dates through the year. This is the only RIB operator that provides arm rails (as well as a grip rail) to ensure your safety and comfort at all times. All trips have qualified commercial skippers and knowledgeable guides. All boats have been certified by the Maritime Coastal Agency and have on board the latest safety equipment. As well as having an inbuilt VHF Radio on the boat, crew also carry at least one hand held radio as back up.
Thames RIB Blast (Child)
14
14
RIB Blast - Thames
This was an amazing experience. Very thrilling and a much more excitable way to view the thames. Would deffo do this again.
29 April 2013
Loved it!
This was awesome, four of us went, the sun was shining and we had a fab time. Hold on tight - these boats go FAST!
26 April 2013
Best thing ever
I took my 8 year old son on this ride, it was one of his birthday gifts. His face throughout said it all and then he said the words that I have used as the review title. Very professionally run, staff were very helpful and friendly. Would recommend this to anyone who like going fast on water.
19 April 2013
Superb
This is absolutely amazing! So much fun and very exciting. The first part of the tour shows you all the excited and is very interesting, giving lots of good photo opportunities for the eager phone snapper. There is a running commentary that is entertaining all be it a bit corny but you really won't care. Then as soon as the speed limits allow the bring the speed up and then it's so much fun!!!! Very fast but everyone will enjoy. Would have gone on the longer trip if I could have.
02 February 2013