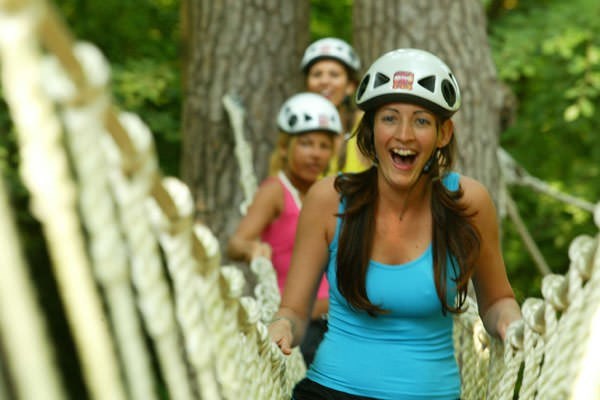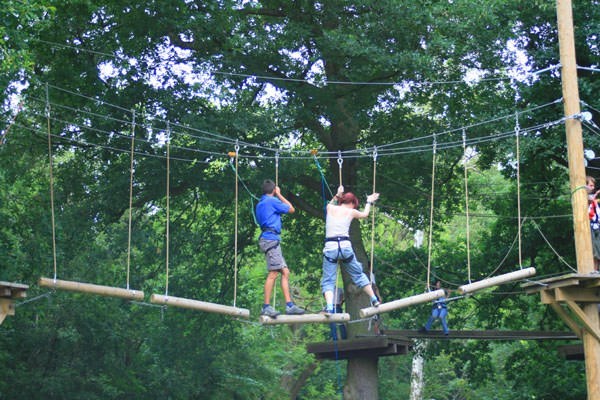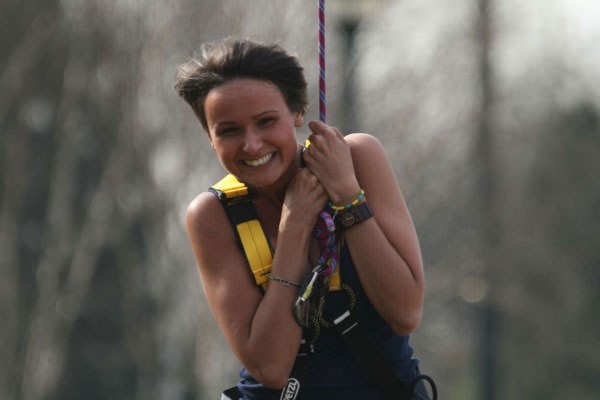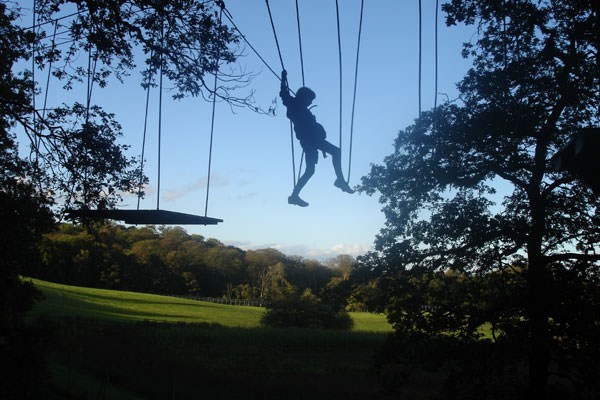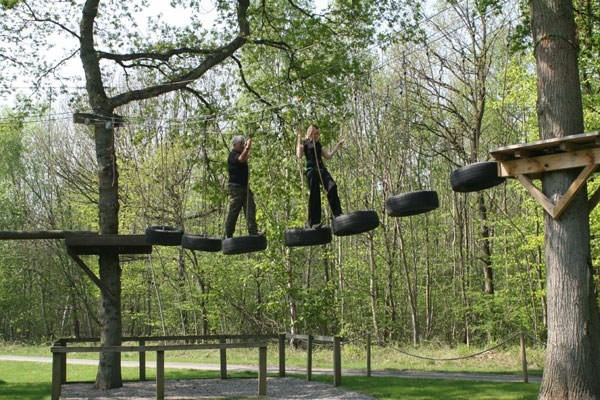 Summary

Fine Print

View on map
Here's a day out for those with a head for heights - the High Ropes Adventure will have you touching the treetops as you tackle a mixture of obstacles. There are trapezes and tunnels, zip wires and rope bridges, high wires and balance beams, and lots of other challenges for you to face. On arrival, you'll meet your instructor who'll give you an introduction and full safety briefing. All protective clothing is provided and you'll soon be strapped into your harness. Then it's up into the purpose built elevated arena with your highly experienced instructor to guide you. You'll be wearing a harness, so it is all completely safe but your heart will still be pounding as the adrenaline courses through your veins. So, choose the adventure that will really get you reaching for the sky.
What's included?
Introduction and safety briefing
All protective and safety equipment
High Ropes Adventure
Any restrictions?
Your voucher is valid for 10 months for one person
Min. age is 16 years for this adult experience
Min. height is 1.1m/3'7" except at Stoke location where the Min. height is 1.4m/4'7"
Max. weight is 120Kg/19st
This experience is not suitable for anyone who is pregnant
All dates are subject to availability
What do I need to know?
Please wear loose, comfortable clothing
Please arrive at least 15 minutes before your scheduled event start time
This experience is expected to last approximately 2 hours
High Ropes Adventure (Adult) -

£28
Customer Reviews
8 out of 8 (100%) reviewers would recommend this product to a friend.
Read all reviews »
Great fun
26 September 2015
Allie Alleviva Fitness
Location: Swindon Wilthsire Age: 35-44 Bought For Myself Occasion: Birthday
It was great fun though with the wind can be scary.... Not sure if I'm confident enough to do it again though
What would you improve for next time? Staff to be more hands on if you are struggling as very scary for children if they slip
Would you recommend this product to a friend? Yes
Anniversary gift
07 September 2015
CharlyBaillie88
Location: Age: 25-34 Bought For Dad Occasion: Anniversary
Me and my husband did the high ropes course for our first wedding anniversary. Even though it was tipping it down with rain we still had a great time. The course took us about 2 hours to complete as we were at the back of quite a large group which slowed us down slightly.
What would you improve for next time? Smaller groups at a time
Would you recommend this product to a friend? Yes
fab, scary fun
20 August 2015
alibongo69
Location: south staffs Age: 45-54 Bought For Brother Occasion: Christmas
went to the course at trentham gardens. very well organised. good fun. felt nice and safe and well supported by our guide.
What would you improve for next time? nothing
Would you recommend this product to a friend? Yes
Enjoyable
17 August 2015
Danni
Location: Warwickshire Age: 25-34 Bought For Mum Occasion: Christmas
We found the location easily using the instructions given. As 2 adults doing the course in the summer holidays we did look a bit daft that the other participants were all children but it was a good laugh. The staff were great and encouraging and the obstacles challenging but manageable. A good day was had by all- adults and children alike. Best to wear proper trainers than the fashion canvas shoes I wore! Thanks.
Would you recommend this product to a friend? Yes
A great experience for all the family
03 June 2015
Rach
Location: manchester Age: 35-44 Bought For Mum Occasion: Christmas
The staff were superb and the course was well organised. Lots of challenge and a super zip wire to finish! We will go again!
Would you recommend this product to a friend? Yes
Amazing Day Out
08 September 2014
Minimike
Location: Cambridge Age: 18-24 Bought For Sister Occasion: Birthday
Best aerial obstacle course I have ever completed. Course builds up slowly giving you confidence to try and complete the ever trickier jumps, balanced etc. staff are very friendly and location brilliant with amazing views over lake!
Would you recommend this product to a friend? Yes
Great gift
23 August 2014
r80bbe
Location: Cambridge Age: 35-44 Bought For Partner Occasion: Birthday
Really good experience and something we both enjoyed doing together. Me and my partner both found it great fun and something different
What would you improve for next time? Nothing really good experience
Would you recommend this product to a friend? Yes
Scary but exhilarating
26 March 2014
Lorraine
Location: London Age: 35-44 Bought For Myself Occasion: Birthday
Really friendly staff put us at ease straightaway. Got us in our safety equipment then took us up to the first level. Once we got our safety rope hooked up off we went. Our guide was either in front or behind us depending on how much help we needed to tackle various obstacles. As we went on a Friday lunchtime, we were the only people on the course which was great if you were like me & afraid of heights, it meant that we could take our time & didn't feel any pressure to have to speed up. The adventure included wall climbing, rope ladders, zip wires, see-saws, cargo nets etc. after you've completed the first level you then go up to the top, which is much higher with different obstacles to tackle. Again our guide was there to either verbally help us or to physically give a hand to cross some of the harder obstacles. Once you've gone all the way round, you have the option of taking part in the drop - where you literally step off a small platform to drop to the ground (think bungee jump without the bounce back) . They tell you to give two hours to complete the course, which is what we took but then we didn't rush - too scared at some bits. I was completely terrified at some bits but would return to do it again. In a group or with kids would be a great way to spend an afternoon.
Would you recommend this product to a friend? Yes
High Ropes Adventure (Adult) -

£28