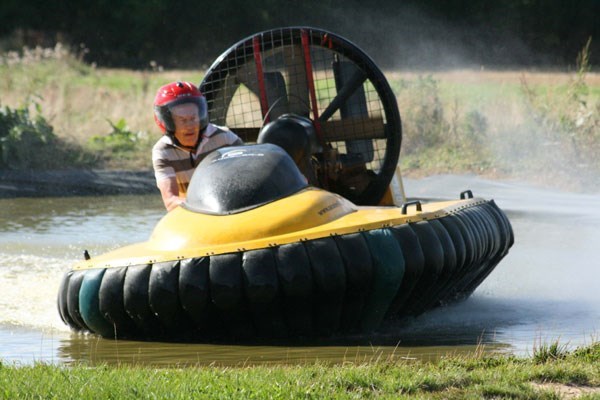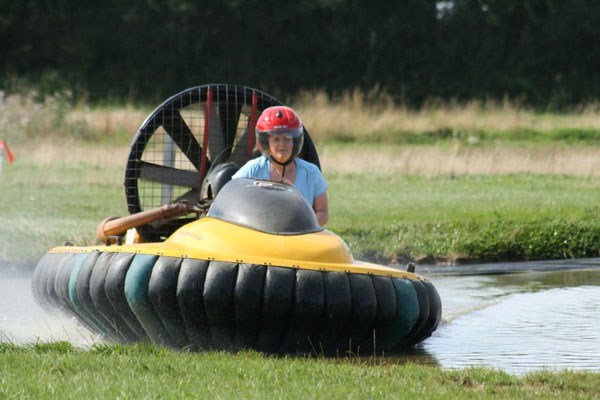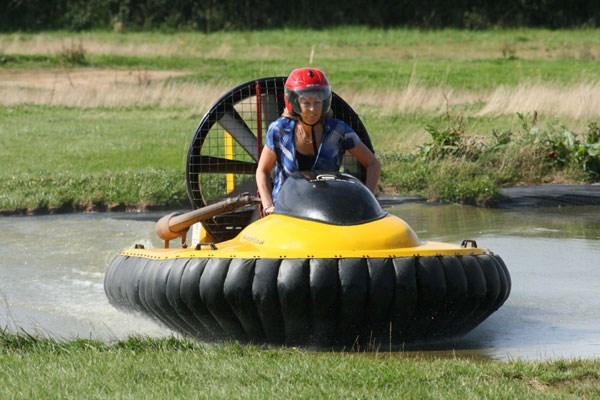 Summary

Fine Print

View on map
If you're looking for a really unique way to race, then this hovercraft racing experience is going to be right up your street! These amazing vehicles can handle land and water with equal ease, making this a challenging yet exhilarating racing day with a difference. You don't need any experience as your dedicated and experienced instructor will show you everything you need to know to get started will full tuition provided. You'll be out on one of the purpose built tracks at one of three locations before you know it, testing your new found skills. Dependent on location, you will either take part in a succession of races against the other competitors at the course, or a scintillating relay-based time trial, to push for the quickest time, and the prizes on offer. Wherever you choose to enjoy your experience, you are in for a day to remember!
What's included?
Full tuition from your dedicated instructor
Practice laps dependent on location
Racing/time trial with prizes for the winners

Any restrictions?
Your voucher is valid for 10 months for two people
This experience is available at the weekend in Kent and all throughout the week in Leicester and Shropshire
You must be at least 12 in Kent and at least 14 in Leicestershire and Shropshire in order to participate
You cannot exceed 127kg/20st for this activity
What do I need to know?
There will be between 10 and 14 other participants on the course with you
You do not have to have any previous experience. All tuition is provided
At Leicestershire, the experience is relay based, rather than races against other competitors
At Kent, the quickest lap of the year will be contacted for a special prize
All dates are subject to availability

This experience is available at
Hovercraft Flying for Two -

£160
Customer Reviews
14 out of 15 (93%) reviewers would recommend this product to a friend.
Read all reviews »
Good fun
06 September 2015
Ca33
Location: Leicester Age: 18-24 Bought For Myself Occasion: Birthday
Friendly, accessible and exciting. The staff were very helpful.
What would you improve for next time? Nothing
Would you recommend this product to a friend? Yes
Highly recommended
19 August 2015
Rach
Location: Kent Age: 35-44 Bought For Dad Occasion: Christmas
A great afternoon with superb instructors. We practiced, did timed laps, relays and then 180 degree turns. A fun day for all!
Would you recommend this product to a friend? Yes
Good experience but picture/description misleading
18 September 2014
Twink
Location: Essex Age: 25-34 Bought For Friend Occasion: Birthday
Although my friend and I really enjoyed ourselves the picture and description were incorrect, when you book you think there is going to be a big lake but there are just 2 large puddles. We were really looking forward to the water part.
What would you improve for next time? more water
Would you recommend this product to a friend? Yes
Good fun!
06 September 2014
clazza
Location: Berkshire Age: 35-44 Bought For Myself Occasion: Christmas
My boyfriend and I did the hovercrafting at the Leicestershire location which we think was a good choice. It was really good fun and a nice, informal day out with a good instructor. We enjoyed navigating around the obstacles (or sometimes just driving over them!) and going over the water.
Would you recommend this product to a friend? Yes
Brilliant fun!!
01 September 2014
Lindsey
Location: Maidenhead, Berkshire Age: 25-34 Bought For Mum Occasion: Christmas
We arrived and had safety briefing and got our helmets on and then we were off! 2 laps on a practice lap to get to grips with the handling and then onto the main track. Best part for me was the relay! Staff were really friendly and helpful - would definitely recommend this to anyone. We had a 12 yr old boy, myself and my partner and then a group of 5 friends and everyone had a brilliant time.
Would you recommend this product to a friend? Yes
HOVERCRAFT FLYING FOR TWO
03 August 2014
SADDLER1963
Location: Age: 45-54 Bought For Wife Occasion: Birthday
I was given this gift for my birthday from my wife, it was very poor value as we only had 4 laps of a small track with 15 metres of water to fly over. We had about 8 minutes of driving time on the hovercraft the advert said we would be there for 2 to 3 hours actually we were there for 50 minutes and that included all the safety talk and a demo by the instructor very very poor value
Would you recommend this product to a friend? No
A great experience!!
08 July 2012
Libbysmum
Location: Worksop, nr Sheffield Age: 25-34 Bought For Myself Occasion: Birthday
I bought this hovercraft flying experience for my husband's birthday. We went for the double as it's more fun when you both get to have a go (I usually end up standing on the sidelines watching him drive fast cars lol!) and we both loved it! There were 12 of us altogether, and we each had 5 short goes on the hovercraft; from circuits to familiarise ourselves with the steering and flying from land to water and back again, through an accuracy trial and both individual and team time trial races. A healthy sense of friendly competition soon sprang up among us and everyone seemed to enjoy themselves and had a laugh. Once we got used to throwing ourselves into corners using our bodyweight to steer, we were able to get up a fair bit of speed and still make (most of) the corners! It's quite physical at times, and my thigh muscles were letting me know they were there towards the end of the morning! A fantastic experience - a little bit out of the ordinary for a seasoned racing experience customer and that's what made it so special. (That and the fact that we got to share the experience - quite a talking point!)
Would you recommend this product to a friend? Yes
Amazing day, great fun!!
21 May 2012
befffff
Location: Leicester Age: 25-34 Bought For Myself Occasion: Just because!
A group of us went and did this at the Husbands Bosworth location over the weekend, it was absolutely fantastic. Even the people that were hesitant about it has a brilliant time. If you're considering this along with other things then seriously, give it a try, you won't be disappointed.
Would you recommend this product to a friend? Yes
Best Gift Ever
28 September 2011
dizzydreamer
Location: Surrey Age: 35-44 Bought For Myself Occasion: Christmas
Good Laugh Excellent Value Great fun would do it again
Would you recommend this product to a friend? Yes
Great time had by all
09 September 2011
MacBeth
Location: London Age: 25-34 Bought For Relative Occasion: Birthday
My fiancee and I chose this instead of the dinner for two on a Thames cruise that we were initially offered, and we're very glad we did - we had a very enjoyable, very different and memorable experience. The staff were welcoming, helpful and professional, the equipment was great - particularly the clean, new helmets in all sizes from small (my fiancee) to XXL (me!) - and the hovercrafting itself was great fun for everyone in the group, from the racers to the dawdlers. Would happily come back for more and improve my technique!
Would you recommend this product to a friend? Yes
Hovercraft Flying for Two -

£160