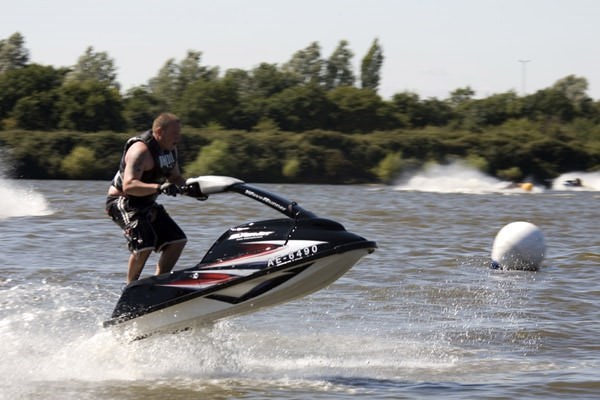 Summary

Fine Print

View on map
Jet Skiing is quite possibly the most fun it is possible to have on the water. It's fast, it's furious, it's wild and it's wet. You'll be jumping over waves, doing spray turns, opening up the throttle on the straights, you'll have an absolute blast. Your day will start with an introduction and safety briefing from a fully qualified instructor. You'll learn about the vehicle and how it is operated, then you'll take to the water for some practical tuition. Once the instructor is confident in your ability on the water you will be allowed to tackle the course on your own. With the spray in your face, the wind in your hair and the adrenaline in your blood, you cannot fail to have a great time, and this jet skiing experience is suitable for beginners.
What's included?
Introduction and safety briefing with a fully qualified instructor
All safety and protective equipment
Jet ski/bike/rib tuition (At Berkshire venue you can choice between Jet Skis, Jet Bike or Jet Rib. At Lincolnshire venue there are Jet Skis only)
Approx. 30 minutes on the water
Any restrictions?
Your voucher is valid for 10 months for one person
This experience is available on selected dates from April - October
Min. age is 16 years at Berkshire, 18 years at Lincolnshire
All participants must be able to swim and be confident in the water
Min. height 1.52m/5'0"
Max. weight 190Kg/30st
If in any doubt about your suitability for the experience, please check with the supplier before booking
All dates are subject to availability
What do I need to know?
You should bring swimwear, your own wetsuit if you have one, a towel, a pair of old trainers and a dry change of clothes
All specialist clothing and equipment, including buoyancy aids and safety equipment, will be supplied
Please allow approximately 1 hour for this experience
This experience is available at
Customer Reviews
16 out of 16 (100%) reviewers would recommend this product to a friend.
Read all reviews »
Great fun
24 August 2015
Andy
Location: Tattershall Age: 18-24 Bought For Friend Occasion: Birthday
Booking the activity was easy enough and when I arrived I was sorted out pretty quickly. After a quick tutorial I was allowed to ride around myself on the quiet and decent sized lake (Tattershall). The experience itself was fantastic and the duration of half an hour was just about right for me.
Would you recommend this product to a friend? Yes
Jetset for awesome experience!
12 August 2015
Powelly
Location: Bristol Age: 35-44 Bought For Sister Occasion: Christmas
We had 5 members of our family booked in a mornings jetski in Reading, really enjoyable session, the guys running the session were excellent, friendly and great fun. They even allowed my youngest child and my nephew & niece to ride with one of us adults for FREE!! for about the last 20 minutes, i would definitely recommend this experience. Already going to book again and take my brother & sister in law.
What would you improve for next time? Longer session!!
Would you recommend this product to a friend? Yes
Absolutely Brilliant!
08 July 2015
MattyB
Location: Hook, Hampshire Age: Under 18 Bought For Mum Occasion: Birthday
The lake at Reading is so peaceful and although in the middle of upgrading the facilities, this did not affect the experience. I was taken round the lake twice, once as a passenger and once driving the instructor and them was let off on my own for about 20 minutes (doesn't sound a lot, but believe me, is quite long enough)! There's a good long straight where you can really get your speed up and lots of turns to make some waves. For spectators, they can see the whole lake in one view so that is also a plus. Yes the facilities are very basic now, but when the work is complete, should be amazing, with a bar and restaurant with an amazing view over the lake. You don't even notice the M4 running alongside!
Would you recommend this product to a friend? Yes
Had a Blast
30 May 2015
Lhigham
Location: High Wycombe Age: 45-54 Bought For Friend Occasion: Birthday
The Reading site is quite remote but reasonably signposted, although we missed entrance! As at May 15, they operate from a van stocked with wet suits. Refreshments and changing and toilets are very basic. There is plenty of lakeside seats for spectators but no shelter for rain. The experience is well managed and you get instruction, a trip out to show the ropes and check that you can manage on your own then off you go! Think I had 30 mins out on the ski which was fine, my legs were like jelly afterwards, really good fun.
What would you improve for next time? Better facilities but think they are in progress
Would you recommend this product to a friend? Yes
Great Introduction to Jetski
09 May 2015
Noodle54
Location: Gosport Hampshire Age: 55-64 Bought For Wife Occasion: Birthday
I received this gift for my 60th birthday and wish that I'd done it years before! Lagoona Park is very well situated for access from any direction, being within a very short drive from the M4, to the South of Reading. All was quiet when I arrived and James and the other staff members welcomed me and showed me the ropes. It's initially difficult to get the speed right in order to mount the ski, but once up and running it was great fun and I had plenty of time to enjoy this new experience. You find out you have muscles in places you didn't realise, as you ache for a while afterwards! Although it must be an easier challenge for the younger person, it was a challenge suited to any age group, given a reasonable level of fitness and I'll do it again!
What would you improve for next time? I was happy with everything.
Would you recommend this product to a friend? Yes
jet ski at 70
20 September 2014
panto producer
Location: Brighouse, West Yorkshire Age: Over 65 Bought For Wife Occasion: Birthday
My wife gave me my jet ski experience for my 70th birthday. We decided to make the event a short holiday and had a lovely four days in our caravan near Woodhall Spa in Lincolnshire. The jet ski experience was probably the most exilerating thing I have done since I stopped motorcycling 27 years ago. Whilst I was probably the oldest person on a jet ski, I certainly was not the slowest. If anyone else wishes to treat me I will be delighted to accept the offer. Roll on the next one!!
What would you improve for next time? Can't think of anything
Would you recommend this product to a friend? Yes
Short but great
07 August 2014
saz9193
Location: Telford, Shropshire Age: 35-44 Bought For Husband Occasion: Christmas
Long distance to travel for what was a 20 minute experience however the experience itself was great!
What would you improve for next time? More locations so less travel required
Would you recommend this product to a friend? Yes
Brilliant gift
18 June 2014
johnspeed rush
Location: Birmingham, West Midlands Age: 55-64 Bought For Wife Occasion: Christmas
After the ten minute instruction & trip around the lake with the instructor it was off and away on my own. The lake was busy & created some waves but this made it more fun! The craft I used was new , fast! & great fun.
What would you improve for next time? A larger lake to enable you to go faster & longer on the lake.
Would you recommend this product to a friend? Yes
JETSKIING!!
27 September 2013
Alex
Location: Gloucester Age: 18-24 Bought For Myself Occasion: Just because!
Great day! Free parking! Great people! You are first shown what to do by having an instructor take you on the back so you can see the route and the feel of the jet ski. You can then take the instructor on the back to check you are familiar with the route on the lake and to see how easy to find the control of the machine. It's really very easy and great fun! They must reach 30mph plus!! You get the choice of the sit down (novice), the stand up (more advanced) and the power boat (kinda like a engine powered dingy) You need to try this, and if you have, go again! (I have a gopro video on the Lagoona Park Facebook page but not yet on Youtube)
Would you recommend this product to a friend? Yes
awesome time!!
01 October 2012
dkdaz
Location: hertfordshire Age: 35-44 Bought For Wife Occasion: Christmas
I got this as a christmas present from my wife. I have had a couple of experiences bought for me previously through buy a gift. Firstly, the booking over the phone was quick and straight forward. On the day of the experiance the check in was the same. Quick and easy. All equipment was supplied promptly, and in very good condition. During the check in they asked if my little daughter wanted to come on, at no extra charge, which was nice and well received by her, and myself. We were a little early, so had plenty of time to check out what was going on at the lake. We then got ready in the changing rooms, which were very clean and tidy. We were given a quick demonstration of the jetski's and safety talk by our instructor, before getting on the jetski, for lap to show us around the course. We then swapped places, so the instructor could see I had the course figured out. I was then let loose on the lake for half an hour, which seemed to fly by. Although there was other traffic on the lake, the course was spread out enough so we didnt get in each others way. The couse included a number of turns, as well as a fast straight. The jetski was easy to control and fast enough to start off with. Overall, the experience was a fantastic one. I would like to thank the team at lagoona park, and my wife for getting me a very enjoyable and unforgetable experience. I will definatly be going back for more more next year! darren.
Would you recommend this product to a friend? Yes