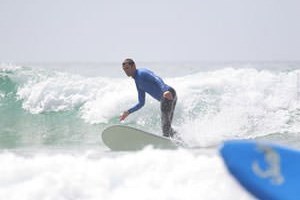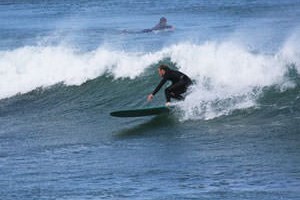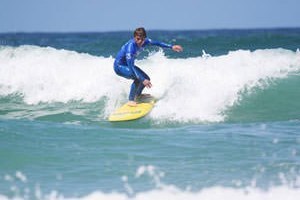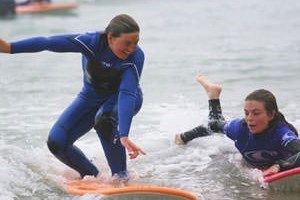 About

Description

View on map

Important Info
The freedom you feel as you catch your first proper wave will doubtless have you hooked for good on one of the world's most popular and thrilling watersports! What could be better than a full day to get to grips with how to master the board and the waves, spending as much time as you can having a ball on both? Enjoy warm water and long sandy beaches as you take part in a surfing tradition of more than 70 years.
Meet at 9.30am to get your wetsuit on and grab a board. Start on the beach with a 20-minute lesson on the basics - safety first! - about your surfboard, how to paddle out, how to choose and catch a great wave, and how to stand up and ride all the way to the shore! Then hit the waves for a couple of hours, with coaches on hand to give advice and handy tips! At 12.30 you'll break for a well deserved lunch. There are plenty of restaurants at the beach so a packed lunch or lunch money are needed. At 2pm you'll have a quick run through on the sand - all coaching is tailored to your ability so you'll be taught exactly what you need rather than the group as a whole. This can range from techniques in standing to turning and riding the 'Green Wave'. At 4.30pm it's back to base to get out of your wetsuit. All participants receive a certificate for their day's efforts.
Your voucher is valid for ten months for one person. Please bring a towel, sunscreen, warm clothes, a packed lunch or money for lunch and any medication you may need. Minimum age is 8. There is no maximum age/weight/height. Competent swimming is necessary. The supplier accepts no responsibility for loss of personal items. Courses and venues are subject to availability/weather conditions. Students must adhere to all rules and instructions laid down by the instructors. Students must be in a fit state to participate and may not participate if intoxicated. Students must sign a medical declaration. Parents/guardians of students age 16 or under will be required to sign them in and stay within the bay at all times. Please note that the season runs from March – December.
O'Neill Full Day Surfing -

£40
Customer Reviews
2 out of 2 (100%) reviewers would recommend this product to a friend.
Read all reviews »
Bloody Marvellous Gift
23 May 2011
Gemma
Location: Nottingham Age: 25-34 Bought For Relative Occasion: Christmas
All I can say is I was very nervous, I had never been swimming in the sea before. The instructors Dan and Garth put my nerves at rest straight away and I had the best 5 hours of fun in a long time... They had me Standing up on a surf board by the end of the day. I would encourage anyone to have a go it was brilliant, every time I think about it I just smile and laugh to myself. The idea that someone took the time to buy this as a gift for me was brilliant, and I will be thinking about this for someone else this Christmas. Cheers Buyagift.com - I loved it x
Would you recommend this product to a friend? Yes
16 November 2010
Jenny Studley
Location: Age: 35-44 Bought For Wife Occasion: Just because!
I spotted this surfing experience day when I was searching for O'Neill stuff for my sister. She's a real surf chick so I always get her something along those lines. I knew she'd really appreciate the chance to have expert instructors help her improve her technique on the water. She said she had a wonderful day and it was just the right amount of time split between the beach and riding the waves out on the sea.
Would you recommend this product to a friend? Yes
O'Neill Full Day Surfing -

£40