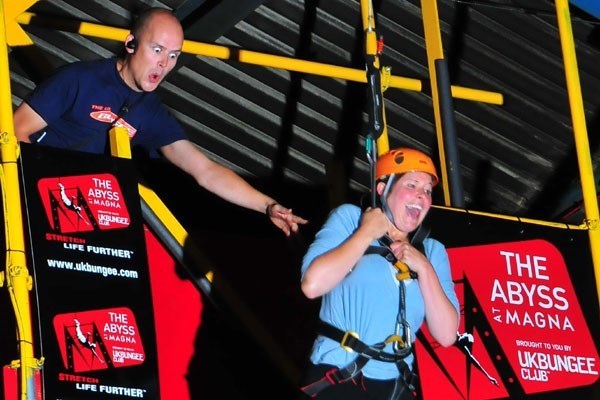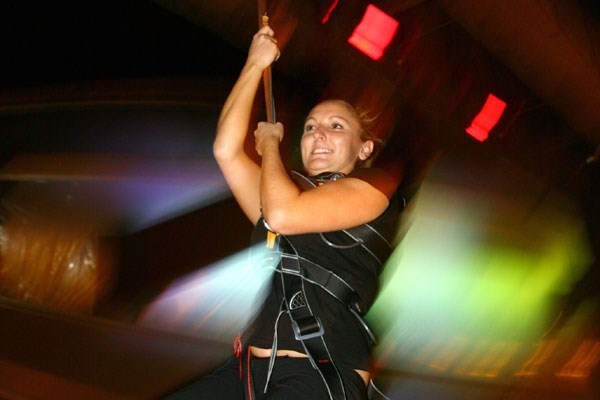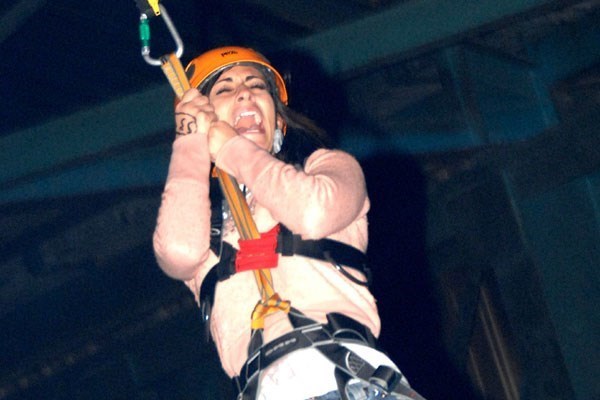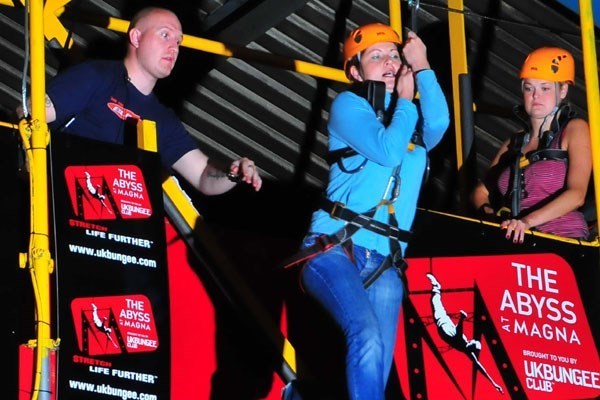 About

Description

View on map

Important Info
The anticipation will mount as you ascend to the jumpstation - 150 feet above the ground. Your harness and ropes will be attached - one end to your back, the other to the Powerfan. Take a deep breath and step off into the The Abyss! Falling at 97% of gravity, your heart will race as you begin your descent. In the final thirty feet of your fall, the sophisticated Powerfan technology will guide you in for a smooth and gentle landing.
Your voucher entitles you to a simulated parachute jump that will leave you breathless! Upon arrival, you'll be briefed, weighed and the appropriate precautions taken to ensure your jump is safe. You'll climb to the top of the jump platform and be strapped to a harness and rope ready to go. The Powerfan technology works by dissipating your potential energy over the course of your descent by means of a fan. This allows you to make a smooth and soft landing, just as though your parachute had safely deployed! This experience is an exciting introduction to the sensation of parachuting - or an alternative for those who don't like flying! Photos/merchandise will be available to purchase on the day.
Your voucher is valid for 10 months for one person. Pre-booking is essential. This experience is available all year round. If you suffer from the following conditions you cannot participate: high blood pressure, heart condition, dizziness, epilepsy, pregnancy, asthma, neurological conditions, diabetes. If you suffer from the following you should seek medical advice and provide a certificate before you participate: damage to neck, back, ankles or eyes. Please inform the operator if you are taking any medication. Minimum age is 11. Participants who are 11-15 years old require parental or guardian permission. No over 50s without a doctor's certificate. If you present a doctor's certificate on the day you will be required to sign a non standard waiver. Glasses and hard contact lenses cannot be worn. You must abide by the terms and conditions of the club.
Parachute Simulator Experience for One -

£30
Customer Reviews
1 out of 2 (50%) reviewers would recommend this product to a friend.
Read all reviews »
grandkids xmas box
05 September 2015
papajoe
Location: grantham Age: 45-54 Bought For Myself Occasion: Christmas
Brilliant time, my grandsons loved every minute Professional and friendly staff will definitely buy this gift again might try it myself who knows !!!!!
Would you recommend this product to a friend? Yes
Scariest thing ever!!!
05 September 2015
madmoggywoman
Location: Age: 35-44 Bought For Myself Occasion: Just because!
I'm a bit of a secret thrill seeker and was really looking forward to the parachute simulator experience. I thought I'd have a parachute attached to me and would be blown upwards (don't ask why,I really don't know!!!). No no no no no - basically it was a bungee jump where you jump from a great height but feet first and are slightly slowed down 1/3 of the way from the bottom by an unseen power fan! The instructor was really great and calmed my nerves, can't praise him enough ! So glad I've done it but that's the first and last time and I've got the photo to prove it! Not for the faint hearted!
What would you improve for next time? There won't be a next time!
Would you recommend this product to a friend? No
Parachute Simulator Experience for One -

£30