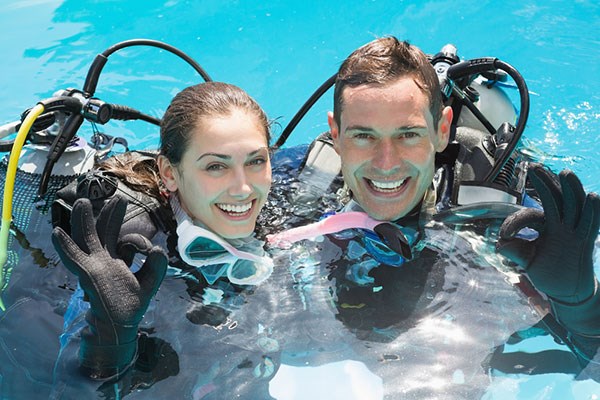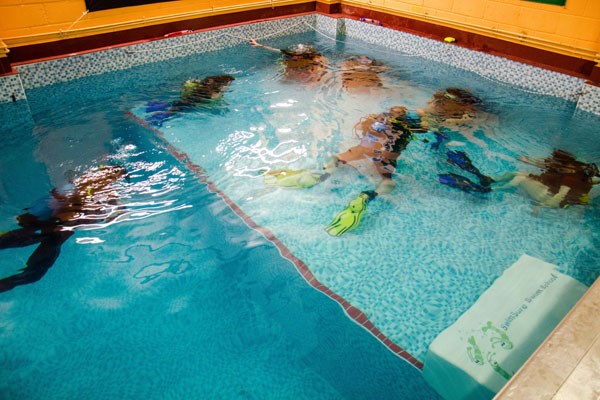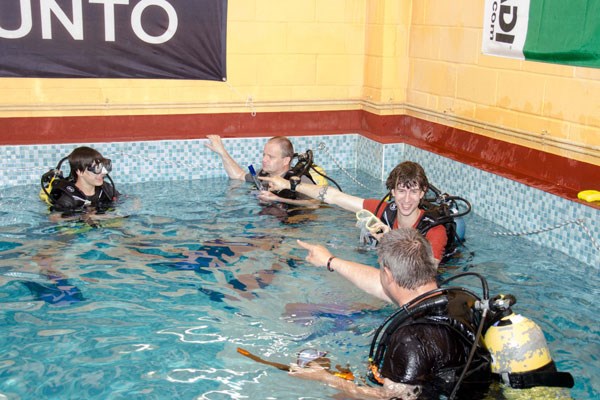 Summary

Fine Print

View on map
The underwater world is a mystery to most of us, but this experience gives you the key to unlock its beauty. Scuba stands for "self-contained underwater breathing apparatus" and that is what enables divers to explore the very depths of the oceans; this pool-based introduction will set you on the path to discovering the secrets beneath the seas too. You'll receive a welcome and introduction from a fully qualified PADI instructor before being given a more in-depth tuition session on underwater communication, safety, and the basics of scuba. Once kitted out you'll then get into the water for your first taste of scuba. You'll be amazed at the weightlessness and freedom that you feel in the water, and best of all you'll be sharing the whole incredible experience together. So dive in, the water's lovely.
What's included?
Welcome, introduction and safety briefing
All scuba diving equipment
Scuba diving lesson
At Essex locations the briefing lasts 30 mins and you'll have 60 mins of pool time
At Ipswich briefing lasts 60 mins and pool time is 60 mins
At Berks, Hamps and Bucks locations the briefing lasts 45 mins and pool time is 40-60 mins
At Hampshire location you will have 40 mins pool time and the entire session will last 2 hours
Any restrictions?
Your voucher is valid for 10 months for two people
This experience is available on selected dates, availability varies by location
No prior experience of scuba is needed but you must be able to swim to participate
If you need to move or cancel your booking less than 10 days of your experience date then you may be charged
Min. age 12 years
Min. Height is 1.4 meters
If you are over 45 years old please notify us before booking, some locations operate a maximum age limit
This experience is not suitable for anyone who has a family history of heart problems
If you suffer from any other medical conditions please notify the supplier on booking
Participants will be required to sign a health declaration before the session
Proof of age may be required
All dates are subject to availability
What do I need to know?
There may be other participants on this experience with you
You will need to bring swimwear and a towel
This experience is available at 18 locations.
All Regions:
Scuba Diving Experience for Two -

£49
Customer Reviews
6 out of 6 (100%) reviewers would recommend this product to a friend.
Read all reviews »
scuba do it do
11 November 2015
gillywilly66
Location: Blackpool Age: 45-54 Bought For Myself Occasion: Just because!
A very enlightening enjoyable and educational session. Great tips and guidance given. very professional. Great value a fantastic introduction to scuba diving. We went with Fins in Preston they were friendly and put us at our ease. Great equipment. We were able to be more confident went we did scuba diving on our holiday. We do not think we would have tried scuba diving if we had not done it via Buy a Gift. Great price great experience.
Would you recommend this product to a friend? Yes
Nice staff
28 September 2015
Mel Jones
Location: East Midlands Age: 25-34 Bought For Myself Occasion: Birthday
I was really worried about going as water is not really my thing. The staff were really happy to let me go at my own pace without the others being set back - as they were off gaining experience
What would you improve for next time? Signposted of where to go once we were there
Would you recommend this product to a friend? Yes
A great experience
04 June 2014
Darcy
Location: Age: 25-34 Bought For Myself Occasion: Birthday
We were really pleased with our afternoon's diving. We had an instructor dedicated to just the two of us and although there were lots of other divers in the pool, it never felt cramped. We learnt lots of the basics and by the end of the session we were confidently swimming around the bottom of the pool!
Would you recommend this product to a friend? Yes
Great value scuba taster-experience
11 October 2013
Tuxy-S
Location: Aylesbury, Buckinghamshire Age: 45-54 Bought For Daughter Occasion: Christmas
My husband and I were bought this experience in preparation for a holiday we are planning for our 25th Wedding Anniversary, when we intend to travel somewhere exotic and maybe delve underwater! So, as complete novices we started our scuba experience at Scuba Ducks in Aylesbury by completing the thorough registration and medical documentation before heading to poolside. Here we enjoyed a lively and informative, but seriously important, training and briefing session with a very experienced and knowledgeable diver. We covered equipment, safety, hand signs, breathing, how to depressurize our ears, etc. We even had a brief test, which we all passed first time. Then we were ready to enter the pool. It's quite a small pool, but deep enough to feel the pressure in your ears at the bottom. There's ledges at different depths, so you can feel safe at all times. We were helped to get kitted up, and then we practised our newly learned skills. There were two instructors in the pool with the three course participants, and they were extremely helpful and reactive to our needs. We had a good 45 minutes in the pool and, once we were accustomed to our environment, we played games with underwater toys, including an egg and spoon race! I cannot imagine a more thorough initial session than the one we enjoyed, and we are now considering taking a PADI open water course in readiness for our holiday. I don't know exactly how much this experience cost, but I think it was in the region of £50 for us two. For the time we were there, and what we learned poolside and practised in the pool, it represented extremely good value. Thanks to our trainers at Scuba Ducks, Aylesbury, for a great experience.
Would you recommend this product to a friend? Yes
16 November 2010
Fiona Hartley
Location: Age: 25-34 Bought For Myself Occasion: Birthday
I took my 14 year old daughter with me on this scuba diving lesson and we loved it. We're going away this summer and wanted to have a go at scuba diving but we weren't sure what it would be like. This was a great introduction and the PADI instructors were fabulous. Definitely gonna give the diving trip a shot on our holidays now!
Would you recommend this product to a friend? Yes
16 November 2010
Graeme Sandell
Location: Age: 45-54 Bought For Daughter Occasion: Christmas
I got this for Christmas and it was such good fun. I really enjoyed myself. The staff were all so helpful and very relaxing. I had a great day and I would love to go again.
Would you recommend this product to a friend? Yes
Scuba Diving Experience for Two -

£49