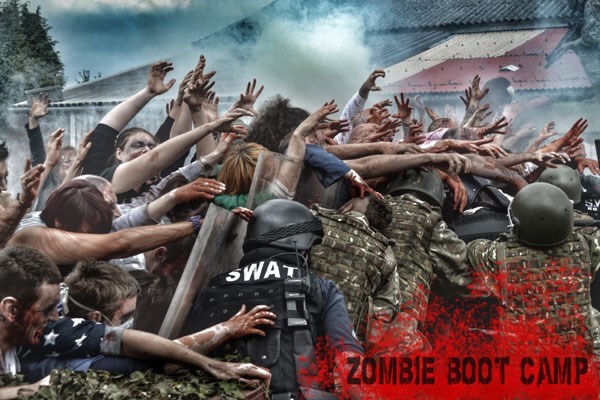 Summary

Fine Print

View on map
The living dead have taken over a Government Research Facility. No one has been able to stop them so far, so who are they going to call? YOU! It's time for you to suit up and tackle the oncoming zombie apocalypse! You'll have two missions, clear and contain the area, then rescue any survivors, but have your wits about you; there are zombies hiding in every shadow. To help you with your gargantuan task, you will be fully trained and kitted out with protective wear including suit and pads, and of course weapons to help you take on the monsters inside. Its then time to enter the facility, remember, there may be survivors and you are their only hope. You'll have to call on all your training, and the rest of your team to get out alive. This is an intense activity and not for the faint-hearted!
What's included?
A zombie boot camp experience for two in Worcestershire
Complimentary hire of all necessary kit and safety equipment
Any restrictions?
Your voucher is valid for 10 months, for two people
This experience is available on Saturday & Sunday only
All dates are subject to availability
Minimum age to participate is 16
What do I need to know?
You are advised to wear walking socks, lightweight trousers/tracksuit bottoms and a sweatshirt
You will have the opportunity to purchase refreshments after your missions are complete
The experience is up to 4 hours in duration dependent on group size
Session times are 1000 – 1400 and 1500 – 1900 (please arrive at least 15 minutes before the event starts)
You must be reasonably fit as this experience involves a lot of action
Please note the experience is very kinetic and is designed to be scary - be prepared for a bit of pushing and shoving.
You will have to negotiate a range of challenging environments - there are dark confined spaces and you will have to crawl through a tunnel.
You are required to advise the supplier if you suffer from claustrophobia, asthma or have an existing medical condition or are recovering from an injury
Please note that you cannot take part in this experience under the influence of alcohol or illegal drugs. If you do not respect this rule you will forfeit your voucher
On arrival you will have to sign a safety waiver
All participants must adhere to the supplier's health and safety policy
Zombie Boot Camp Experience for Two -

£198
Customer Reviews
36 out of 39 (92%) reviewers would recommend this product to a friend.
Read all reviews »
Well thought out
27 September 2015
RichTrooper
Location: London Age: 35-44 Bought For Wife Occasion: Christmas
From start to finish it was very well organised. Great guys doing it and it was all geared up for horror and having a laugh! Prepare to hurt though! 12 hours after and I'm showing signs of zombie infection....
Would you recommend this product to a friend? Yes
This review is from
Zombie Boot Camp Experience For One
. Please note that although some details (e.g. location or duration) contained within this review may vary, it's still a great indicator of what you can expect.
Amazing day with zombies
07 September 2015
Unitedforever
Location: Halesowen Age: 25-34 Bought For Mum Occasion: Christmas
Great day out, the lads that run it are really friendly, helpful and a laugh, the zombies are brilliant and do a great job. I'm bruised and aching from the experience but would 100% do it again. We had an amazing day but realised we wouldn't last long in a real zombie apocalypse! Highly recommend to anyone who's thinking of doing it, and not just for lads, plenty of women was doing it as well. Watch out for the tennis player!!!
Would you recommend this product to a friend? Yes
An amazing trip out.
16 August 2015
Marcus Maden
Location: Havant Age: 18-24 Bought For Partner Occasion: Birthday
It was an all out day of carnage. Tons of fun, with non stop action from beginning to end. Very intensive day so make sure your at least of fair physical fitness but totally enjoyable all around. With very friendly staff.
Would you recommend this product to a friend? Yes
Challenging but fun
19 July 2015
Planivaar
Location: Stafford Age: 35-44 Bought For Sister Occasion: Birthday
Having spent years killing zombies in video games i was bought this experience as a birthday present for myself and a friend. Beforehand I was a little apprehensive and wondered what to expect but it turned out to be a great day out. The instructors were ex army who made you feel like you were in an actual war against zombies and you had to follow their commands or face a barrage of abuse (which was just banter really but worked well in the scenario). You got the full battle gear including batons, riot shield and paintball guns and fought it out against actors portraying the undead. It was rough at times and everyone was worn out by the end, some with minor cuts and bruises. I've never done anything like this before and it was certainly memorable! It's not for everyone but I liked it.
What would you improve for next time? Perhaps a bit more make-up on the zombies to make them extra creepy!
Would you recommend this product to a friend? Yes
Awesome experience
10 April 2015
Sheppard!!
Location: Bridgend, South Wales Age: 18-24 Bought For Mum Occasion: Christmas
Was a great day, great staff made everyone feel involved, never done anything like this before but so glad I have now, planning to go again but maybe do the asylum experience. Would reconmend to anyone!!
What would you improve for next time? Nothing
Would you recommend this product to a friend? Yes
Amazing birthday present
04 February 2015
Gremy
Location: London Age: 25-34 Bought For Sister Occasion: Birthday
It was really authentic, and the instructors were really friendly and helped you get into the mindset, as they were all in military outfits. Would definately recommend
Would you recommend this product to a friend? Yes
Awesome
06 December 2014
Chrissie
Location: Worcestershire Age: 45-54 Bought For Myself Occasion: Birthday
My hubby couldn't make the day as he's got some health issues, so I took a male mate along! We were both really exited (nervous in my case) about the day and hoped it would be good, but I'm delighted to say it was better than great! There were only ten of us there, so a really quiet day in respect of what they normally have to contend with, but they really managed to pull it out of the bag in respect of atmosphere! They were incredibly professional whilst facilitating some serious fun! The day is very active! You have to be aware of things on the floor to jump over and stuff hanging from the celling that you need to duck under! At occasions, you'll be operating in near darkness! The Zombies are REALLY full on and take no prisoners! They will push, punch, grab and jump at you! You have protective clothing that prevents serious injury, but expect to feel as if you've had a good workout at the end of it! The experience is not for the faint hearted! I was the only women on my day and thing they went a bit easier on me, but I did still get punched on the shield by a rather large Zombie which rattled my teeth a bit! My male mate is a large tall lad and got some serious punishment!!! Half of the day is hand to hand combat with shields and batton the other half you'll be armed with paint guns (when you can seriously get your own back!) I seriously can't remember the last time I had so much fun! If you're up for an adrenaline packed day and need to let off some steam and get physical - this is the day for you! Thank you to all involved! As per the title of my review - Awesome! Bring on a Zombie Apocalypse - I'm prepared!
What would you improve for next time? Nought!
Would you recommend this product to a friend? Yes
Zombie Bootcamp
04 December 2014
Ad
Location: Bristol Age: 25-34 Bought For Partner Occasion: Birthday
What a fantastic action packed zombie experience! I actually felt like I saved the country from a zombie invasion. Battling with Zombies is like nothing I have ever done before! Throughly enjoyed it! The Droitwhich team did a brilliant job making the day such a brilliant experience!
Would you recommend this product to a friend? Yes
Zombie experience
28 October 2014
Bex123
Location: West Midlands Age: 18-24 Bought For Partner Occasion: Birthday
I had wanted to do an experience like this for a long while since I love zombie movies and I was not disappointed. On arrival we were greeted by one of the team dressed in full army uniform which I thought really added to the experience. We were then told about the terms and conditions and what to expect and then we signed to say we agreed with everything. You are then whisked into the decontamination chamber (warning: this part can get very messy) and then suited up into full riot gear including bulletproof helmet, vest and knee/elbow pads. We were sent on 3 missions which were all extremely enjoyable but also very physically tiring/demanding. There was a charge of £2 for gloves if you wished to have some, they were brand new and were for you to keep (I would recommend a pair as you will most defiantly be thrown to the floor on a number of occasions), however, you are allowed to bring your own from home if you want. There is a vending machine if you get hungry and also lockers to put valuable items in, however there is a small charge for these so taking change is advised (they will sort change out for you if you only have notes). Photos will be taken throughout the missions and also at the end of the experience with the zombies. These cost £6 each but they are well worth the money and I would thoroughly recommend purchasing them. I would really recommend wearing old clothes and shoes which you don't mind getting wrecked as they most defiantly will get wrecked. Also, I would wear a jumper or jacket just for extra protection for your arms. Overall it was a fantastic experience and one which I will never forget!
What would you improve for next time? There isn't really anything I would improve, only it would have been nice for gloves to have been included in the riot gear.
Would you recommend this product to a friend? Yes
Awesome experience!
18 October 2014
Jadie and james
Location: Peterborough Age: 25-34 Bought For Wife Occasion: Christmas
Me and my boyfriend has a fantastic day from start to finish, both exhausted but worth it! Staff were brilliant and the experience really pushed us to our limits but that's what made it all so good! Had lots of fun! We want to try the ware wolf experience next time x
Would you recommend this product to a friend? Yes
Zombie Boot Camp Experience for Two -

£198