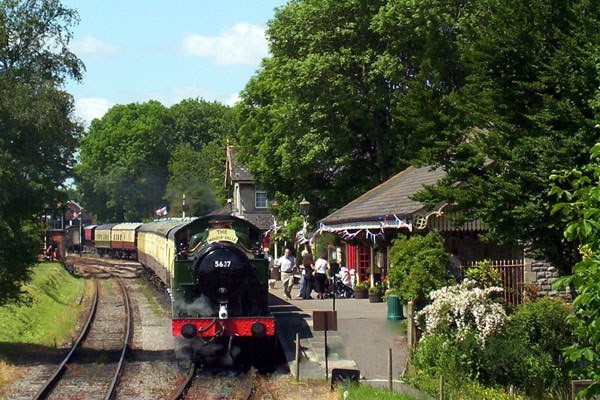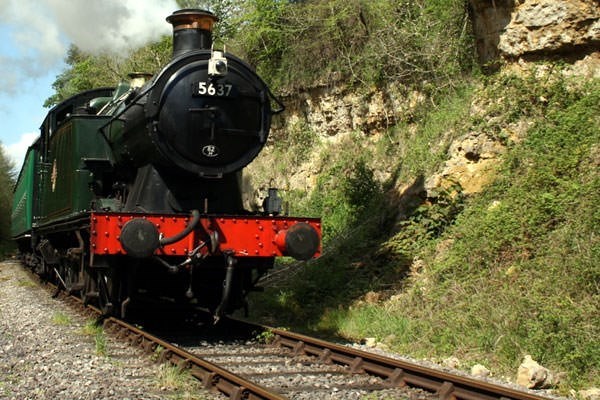 About

Description

View on map

Important Info
Enjoy unlimited travel for the day along the railway tracks. Stretching out over several miles, there is plenty of beautiful surrounding countryside to see, plus many unique station buildings along the line. This ticket gives you the freedom to explore local villages and unspoiled countryside at your leisure as you hop on and off classic locomotives - perfect for a relaxing day out.
You may get on and off the train at stations of your choice throughout the day. There is a buffet car on some trains and stations selling light refreshments. Stops include Wirksworth Station, Idridgehay Station, Ravenstor Station and Duffield Station. Please note that the train in Derbyshire is Heritage diesel, and the train in East Somerset is a steam train. This experience operates on the following dates and times:

Derbyshire

All weekends from March to October, all Tuesdays from March to September, all Tuesdays from July 25th 2013 - August 29th 2013, and October 29th and 31st 2013.

East Somerset

Services operate at weekends and Wednesdays from June-September and from 25th July to 12th September also on Thursdays and most Fridays.
This experience is available at
Your voucher is valid for 10 months. This experience is for one adult (aged 16 years and over). Bookings are subject to availability. The trains are wheelchair accessible. Vouchers are not valid for Day Out with Thomas, Evening Wine and Dines or Santa Specials. All bookings must be made in advance all dates are subject to availability. Please note this product is seasonal.
Adult Rover Train Ticket Special Offer -

£13
Customer Reviews
8 out of 12 (67%) reviewers would recommend this product to a friend.
Read all reviews »
very misleading advert
29 August 2014
Phoenix Tom
Location: South Derbyshire Age: Over 65 Bought For Daughter Occasion: Christmas
This was bought as a Christmas present for my wife and me. When we investigated it, there were only two lines available on which to use it; one in Derbyshire, and on in East Somerset. The one in Derbyshire ran only on diesel , and the one in Somerset only ran for two and a half miles and back. On first glance the gift looked really appetising, but was a sad let down when investigated. The trip itself in East Somerset was pleasant enough, but the distance covered was very poor. Fortunately we were able to tie our trip in with a visit to my wife's relatives, as it was 173 miles from home.
What would you improve for next time? It would have to be opened to a number of other train lines, in a variety of locations
Response from Buyagift
13 Oct 2014
Hi, Thanks for your review! I'm sorry you were left feeling disappointed with this experience. We do advise on the website there are two locations for this voucher and that one train is a diesel one and the other is a steam train. We aim to have this information displayed as clearly as possible on the product information page, but I will ensure that this is reviewed and any necessary amendments are made. Thanks once again for letting us have your feedback, we really do appreciate it.
Would you recommend this product to a friend? No
day rover ticket Derbyshire
03 August 2012
jewelsrotherham
Location: Rotherham Age: 45-54 Bought For Myself Occasion: Father's Day
Lovely day out but would have been better if we had gone when there was an event on. It was very nice but don't think would go again. Once you have done this train journey, you have done it . We did walk around by the river and it was lovely. Price is cheaper if you but your ticket at station. But good day out.
Would you recommend this product to a friend? Yes
Great experience
30 July 2012
Big D
Location: Derby Age: Over 65 Bought For Son Occasion: Christmas
Bit disappointed that it was only Diesel and not steam. As a "senior citizen" the same "experience" can be bought for £9 on the site. Staff were brilliant, most helpful and the whole experience was excellent. Evocative of a time gone by. A very, very relaxing day and most therapeutic.
Would you recommend this product to a friend? Yes
ROVER TRAIN
01 April 2012
muggins
Location: Coventry Age: 55-64 Bought For Relative Occasion: Just because!
On arrival we exchanged our vouchers that cost £15 each from buy a gift, to my amazement you can purchase the tickets for only £10 each, same tickets, same trains, same use, think twice before you buy, the money you save can pay for your fuel to get there. The day is what you make it, for us the sun was shinning, the staff was'nt very helpfull, there was only 2 stations to get off at and a 2hr wait for the next train, I would'nt reccommend it
Would you recommend this product to a friend? No
ROVER TRAIN TICKET
12 September 2011
ORVILLE
Location: COLCHESTER Age: 35-44 Bought For Daughter Occasion: Christmas
BROUGHT THIS FOR MY MUM AND DAD FOR XMAS LAST YEAR, THEY HAD A LOVELY DAY THANKYOU X
Would you recommend this product to a friend? Yes
great value for money
09 September 2011
susie cute
Location: Droitwich, Worcestershire Age: 55-64 Bought For Myself Occasion: Birthday
Our rover gift card was easy to exchange for rail tickets at Duffield station, our starting point. We travelled to Wirksworth taking in sites of station renovations along the way. We spent 2 wonderful hours there, enjoying the Saturday market, trawling the small, friendly shops and witnessed a wedding. Superb value for money, will be doing another one next year. Thanks to buy a gift
Would you recommend this product to a friend? Yes
02 September 2011
Laura
Location: Birmingham, West Midlands Age: 18-24 Bought For Myself Occasion: Father's Day
The trains ran through some beautiful countryside; but I was disappointed with a couple of things. We were greeted by a less than enthusiastic young man and the 'museum' wasn't what I was expecting at all. Despite this, it was a pleasant day out; my grandad enjoyed it.
Would you recommend this product to a friend? Yes
Steam train ride
26 August 2011
Trillion
Location: Staffordshire Age: 55-64 Bought For Daughter Occasion: Christmas
Very friendly staff and other visitors. Steam train only does a little ride but the diesel goes on a 1/2 hour trip (you can go on and off all day). We went on a Sunday so sadly Driffield was not awake!
Would you recommend this product to a friend? Yes
Nearly what it said on the Box
11 July 2011
RailMan
Location: Bristol Age: 55-64 Bought For Daughter Occasion: Christmas
A lovely surprise gift idea, but the reality was, er, different! By the time we booked our Day Rover experience, only non-steam rides were available - and we could only get them in Derbyshire. However, the day was enjoyable - warm and sunny - and the railway staff were very welcoming. Actually they were too welcoming because of a mix-up with someone else who was having a VIP experience that day! That's when I was bundled out of the cab. But we had a good laugh about it later... in fact we're still chuckling now. Overall, pretty enjoyable, but the box said "steam", and we got diesel. I didn't mind, but someone else might.
Would you recommend this product to a friend? No
I expected more.
05 July 2011
Jane
Location: Nottingham, East Midlands Age: 25-34 Bought For Myself Occasion: Christmas
I brought this gift for my father and Grandfather for Christmas as my Grandfather really loves trains; I thought it would be ideal for them to spend the day together seeing the countryside and travelling on a wonderful steam train. This is not how the day turned out. They visited the Matlock site; the train was not a steam train and only went one stop up the line, they were told they could only go along the track and get off once. Not the 'unlimited travel for the day along the railway tracks' that is advertised in the description of the gift. The trip did not even take half a day let alone a full day. I am very disappointed with this gift; it should have been a wonderful day for my Grandfather to remember but really was a waste of my money.
Would you recommend this product to a friend? No
Adult Rover Train Ticket Special Offer -

£13