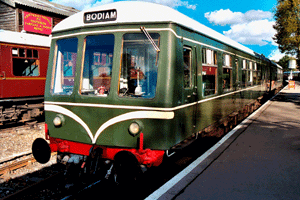 About

Description

View on map

Important Info
This is an incredible chance for any train enthusiast to view the 21 mile long line from a whole different perspective; you will be travelling in the cab of a DMMU (diesel mechanical multiple unit) with an experienced driver. You have the opportunity to ask any questions that you have about the train, the line and the operation of the locomotive. You will have a driver's-eye-view of the points, signals and other stations along the track. It will be an experience you will remember forever!
Your diesel train cab ride will begin at Tenterden Station. Upon arrival at the station you will be introduced to the train driver and will be shown to the train cab where your experience will take place. During the train journey you may ask the driver any questions that you have about the train, the line and the operation and controls of the locomotive. The experience lasts approximately 1 hour 50 minutes.  
Your voucher is valid for 10 months.This experience is available on selected dates throughout March-October. Participants must be at least 18 years old, reasonably fit and healthy and not on any medication. Participants over 70 years of age must have a doctor's note in order to take part. Please note, you do not get to drive the diesel train as part of this experience.  This experience is for one person.
Diesel Train Cab Ride -

£95
Customer Reviews
3 out of 3 (100%) reviewers would recommend this product to a friend.
Read all reviews »
deisel cab ride
31 May 2014
catweizel
Location: essex Age: Over 65 Bought For Relative Occasion: Birthday
oa arriving at the station tenterden meat by the station master i waited for my diesel train to come in to the station i meet my driver we meet signal box person to exchange tokens to travel on the line these are types of keys which you have to change 4 times through out your journey i was well instructed how the train functioned and all the leavers and switches did and the driving system on the train worked and how it was powered on the journey you see the track up and down which you dont feel as a passenger got to first station exchanged token -key signal box person put it in a special holder gives you another in return you go to next station plenty of wild life to view when you arrieve at next station you hand the key -token to exchange for different colour these are red and blue you carry on your journey to the next station you hand the colour key over blue you are given a long bar key to travel to bodium you stay about 15 minutes first station on return you put long key in box at the station pres and hold a large button a second coloured key is released released you carry on your return journey on the way back driver and myself saw i think they was otters the driver was very friendly and talkative which made me very relaxed the experience is really worth the 2 hour ride i will do it again sometime .
What would you improve for next time? would like to no the people name down the line you meet even had to ask the stationmaster his name who took all the paperwork my driver was introduced to me he was great
Would you recommend this product to a friend? Yes
A very different Christmas present
08 June 2013
Chouchou
Location: Hemel Hempstead Age: Over 65 Bought For Wife Occasion: Christmas
A ride in the cab of a heritage diesel rail was a surprise Christmas present from my wife which I arranged to take place in June 2013. I did not know quite what to expect but all the staff at the railway were very friendly and very experienced. It certainly gives a different view to the preserved railway compared with looking out of the carriage window. My questions were answered enthusiastically and many aspects of running a preserved branch railway line were explained in detail without confusing me with jargon. Remember if you decide to take this experience, your party can travel in the coach immediately behind the cab (subject to availability).
Would you recommend this product to a friend? Yes
16 November 2010
Jenny Ward
Location: Age: Over 65 Bought For Relative Occasion: Birthday
My dad is into anything mechanical or transport-related so he had a great time on his diesel cab train ride he had loads of questions for the driver and was very excited. Think he's hoping that for his next birthday we'll find something where he can actually drive the train himself!
Would you recommend this product to a friend? Yes
Diesel Train Cab Ride -

£95