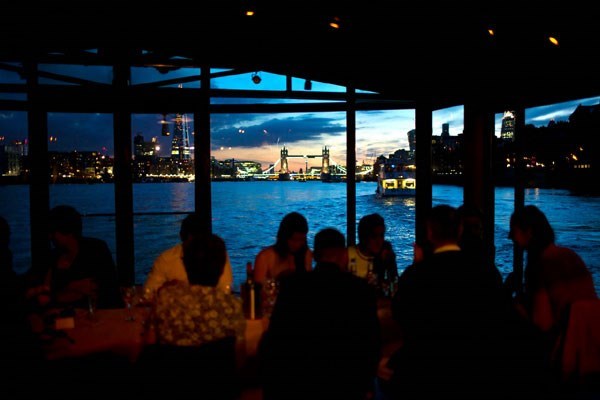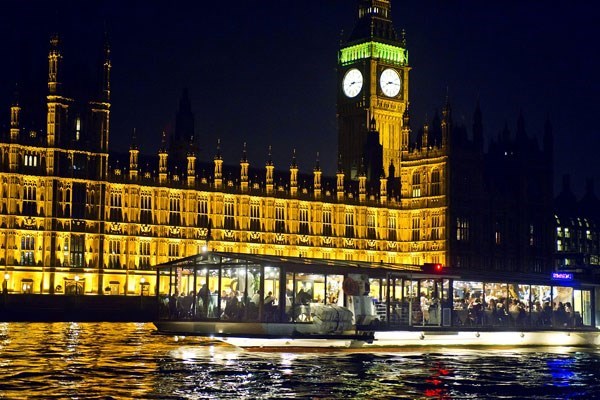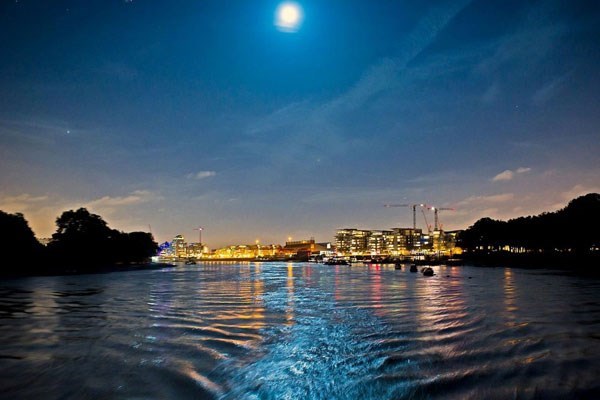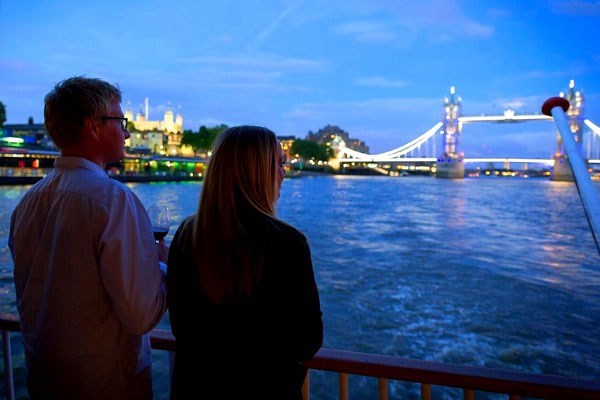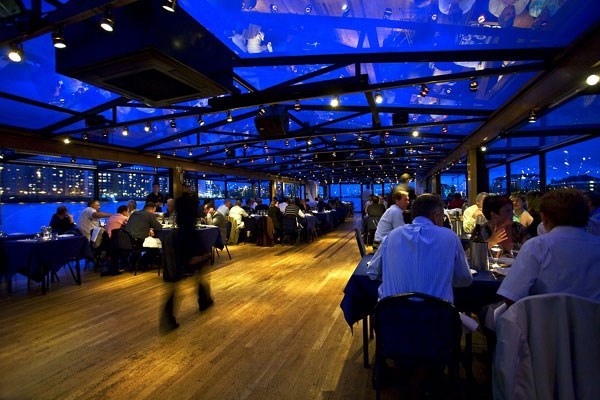 Summary

Fine Print

View on map
Enjoy splendid fine dining with the backdrop of the moving London skyline, as you drift gently down river on this perfect evening's excursion. You'll be able to enjoy the fabulous views from the glass-roofed Symphony cruiser as you tuck into a delicious four course meal, welcome drink and later tea and coffee, all to the sound of the fantastic house band. In the summer, why not enjoy a walk on deck after your meal to enjoy the sights with a glass of wine from the extensive wine list, or perhaps in winter, as the cooler nights set in, sit back at your table and take a relaxed view of the lights. Whether a night out with friends or a romantic evening with a loved one, this cruise has all the ingredients to make it an experience never to be forgotten.
What's included?
Four course meal aboard the Thames River Cruise
Welcome drink
Complementary tea coffee
Entertainment from the house band
Any restrictions?
Your voucher is valid for ten months for two people
Dinner cruises run Tuesday-Saturday
The voucher may not be used on certain special dates, including 24-28th December, New Years Eve, New Years Day and Valentines Day
Minimum age is 15 years old
What do I need to know?
Your cruise will last approximately two hours and 45 minutes
Smart dress is required and denim and trainers are not acceptable
The exact menu is subject to change
Departure times vary depending on your vessel but will be between 7:15pm and 8:00pm and will be confirmed by the operator once your booking is made
You may board the vessel up to 30 minutes before your scheduled departure time
The boat must keep to a strict timetable and so latecomers will be unable to board the vessel
One welcome drink per person is included in this package. Should you wish to purchase additional drinks, an extensive wine list is available on board
Dinner Cruise on the Thames for Two -

£158
Customer Reviews
29 out of 30 (97%) reviewers would recommend this product to a friend.
Read all reviews »
Evening dinner cruise for 2 on thames
14 September 2015
emilybalm26
Location: Cumbria Age: 25-34 Bought For Myself Occasion: Birthday
Cruise was a great way to see the sights of London in the evening, the vessel was plush and the food was lovely.
What would you improve for next time? I found it a little too dark once the sun had gone down, it was difficult to see what you were eating, the lights onboard should be set a little brighter
Would you recommend this product to a friend? Yes
thames dinner cruise
03 September 2015
treated
Location: southend on sea Age: 55-64 Bought For Husband Occasion: Christmas
Staff attentive and efficient. Food very good (but if you're the type who likes quantity top up before boarding!) Wonderful evening sight-seeing of most of what London - Thames side has to offer and particularly enjoyed circling around Tower Bridge to the sound of Hallelujah Chorus. Only negative was we had table next to Band which made conversation extremely difficult and sad to say the Singer tried but.......!!!!
What would you improve for next time? Musical entertainment. Also, despite stating dress should be smart formal and NO denim would be allowed there were many in not only denim but very ripped jeans at that. I would have worn dressed up jeans but adhered to dress code. Guess those that didn't weren't going to be turned away due to potential loss of revenue but it does leave a slightly bitter taste for those that did make the effort.
Would you recommend this product to a friend? Yes
EXCELLENT CRUISE AGAIN
15 August 2015
Kentmick
Location: South London Age: Over 65 Bought For Myself Occasion: Just because!
This was our 3rd Thames dinner cruise with Bateaux and we have enjoyed all 3. The service was excellent and our waiter was very attentive. The 3 piece band and singer added to the atmosphere. We will certainly return for another lunch or dinner cruise.
What would you improve for next time? Nothing
Would you recommend this product to a friend? Yes
Lovely present from sons
14 August 2015
Cosmo
Location: Maidenhead Age: 45-54 Bought For Son Occasion: Christmas
Lovely meal and evening cruising the River Thames. The staff were charming, the live music and singing was relaxing and food delicious. A lovely gift to receive.
What would you improve for next time? Slightly larger portions
Would you recommend this product to a friend? Yes
Wonderful Experience
29 June 2015
Manjit Pahal
Location: Wolverhampton, West Midlands Age: 35-44 Bought For Myself Occasion: Birthday
I made use of the Gift as part of my Wife's Birthday treat. The Dinner was wonderful and my wife enjoyed the experience. The weather was perfect and choosing the Symphony over the Harmony boat was a very good decision. Would definitely recommend this to from friends and family.
What would you improve for next time? Menu options
Would you recommend this product to a friend? Yes
Great night on the Thames
28 June 2015
Reab
Location: London Age: 25-34 Bought For Relative Occasion: Christmas
We had a very enjoyable cruise on the Thames, tasty meal and pleasant staff. Recommended.
What would you improve for next time? More time for dancing after the meal
Would you recommend this product to a friend? Yes
well worth it
21 June 2015
PEB22
Location: birmingham,west midlands Age: 55-64 Bought For Myself Occasion: Christmas
From the moment we arrived,I could not fault it at all.Booking in was easy and quick and we waited in a lounge area where there was a pianist playing which created a nice atmosphere.When we came to board there was a good ramp to make it easy to walk on(no having to step up or jump) and shown to our table quite quickly.The welcome drink came quickly and orders taken for food and drinks efficiently.The food was good ,plates cleared away and the next course came without having to wait.The highlight for us is what happened at Tower bridge(I won't spoil the surprise but it was unexpected and very good).On arriving back departure was again very good.
What would you improve for next time? Cannot think of anything that could improve it
Would you recommend this product to a friend? Yes
an enjoyable evening
07 June 2015
rosie
Location: Oxford Age: 45-54 Bought For Son Occasion: Anniversary
we arrived at the Bateaux departure pontoon just after 7.15 to be pleasantly greeted and given our table voucher, we went out side to look at the views whilst waiting for the Symphony. We were guided on the the boat quickly and took our seats, our waitress who was very pleasant explained all we needed to know and we then had a welcome drink.The views up and down the river Thames were amazing especially as the evening started to draw in every one seemed to enjoy the atmosphere. The food was average and the entertainment was super.
What would you improve for next time? The main course of duck was nice but the cabbage was bitter and it would have been nice to have a potato dish with it
Would you recommend this product to a friend? Yes
A night on the Thames
30 May 2015
pugs
Location: London Age: 45-54 Bought For Daughter Occasion: Christmas
Food was excellent and well presented, staff was friendly and efficient. We really enjoyed the evening and highly recommend it.
Would you recommend this product to a friend? Yes
Great gift and wonderful experience
13 April 2015
Stu
Location: Kent Age: 45-54 Bought For Brother Occasion: Birthday
Was bought this gift for my 50th and took my partner. What a great time from the moment we stepped on board until the very end. Great food, excellent smooth jazz playing live and a very romantic setting. The landmarks and night lights of London from the Thames just added even more to the setting and with the glass roof you get to see it all. The waiter was very attentive without being in your face and the experience was not rushed so you have time to take it all in. Would recommend this to everyone of all ages.
Would you recommend this product to a friend? Yes
Dinner Cruise on the Thames for Two -

£158