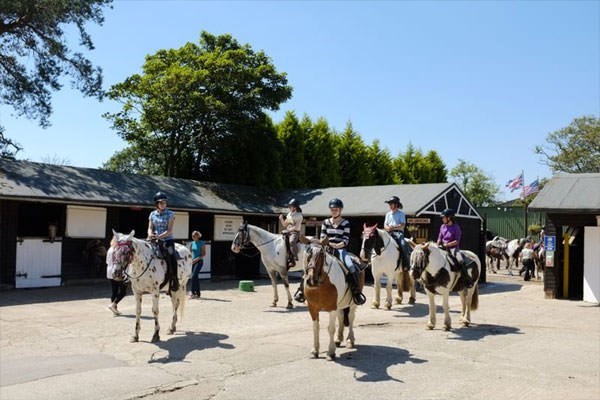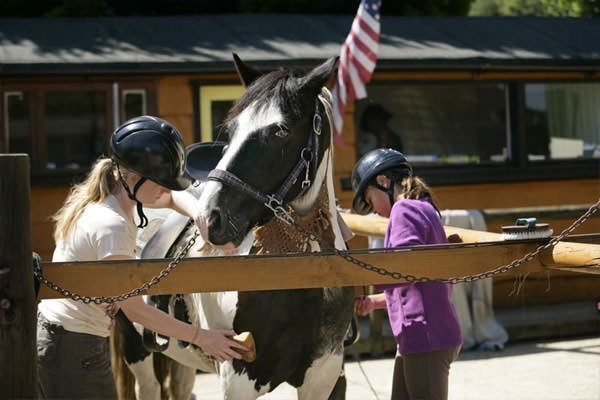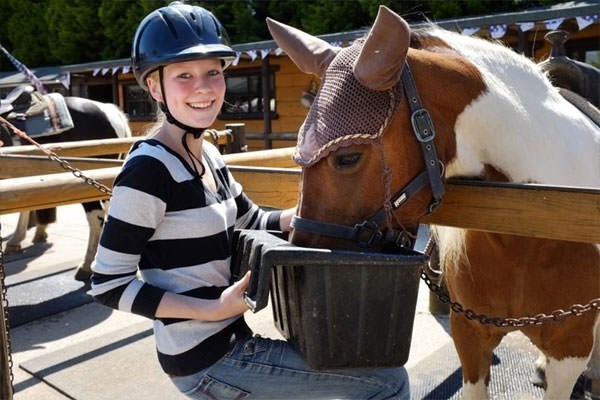 About

Description

View on map

Important Info
Become a cowboy for the day as you ride through the New Forest. First you'll get to know your trusty horse as you learn how to groom, tack and ride like a pro. Once you've had your Western riding lesson, you'll tuck into a sizzling Texas-style BBQ lunch. Then it's time for you and your steed to join a Western trail as you set off into the plains, take in the picturesque surroundings and trek amongst the roaming wild ponies!
Start with a coffee and a chat with the trail leaders before meeting your trusty steed for the day. Learn how to 'groom' and 'tack up ', before you lesson in Western horse riding. After a hearty 'Chicken n Steak' BBQ lunch (vegetarian options available if requested when booking) it 's time to saddle up for your Western trail into the stunning New Forest. Ride amongst the wild forest ponies and maybe even catch a glimpse of wild deer, before returning to the ranch for coffee.

There are up to 12 riders in a group and the trail will be at a slow walk and jog pace, leaving you time to take in the glorious scenery of the New Forest. This experience is ideal for both beginners and experienced horse riders as the Western style of riding is different from the traditional English style, and generally acknowledged to be relaxing, easier and more secure.
Your voucher is valid for 10 months for one person. Please note that is experience runs only on Wednesdays on selected months: February to June and then September to November. There will be at least one session per month.
Please contact the centre directly to book your day. No previous riding experience is necessary and as there are beginners on the trails all riders are restricted to slow paces. Minimum age is 12. You must be at least 5 foot tall and weigh no more than 15 stone to take part. Vegetarians can be catered for but should specify when booking. Not suitable during pregnency. May not be suitible for those with limited mobility, please check when booking. All dates subject to availability. This voucher cannot be extended.
Western Adventure Day - Special Offer -

£110
Customer Reviews
7 out of 7 (100%) reviewers would recommend this product to a friend.
Read all reviews »
Fantastic day
22 June 2015
Alibob
Location: Surrey Age: 45-54 Bought For Mum Occasion: Birthday
I received this as a birthday gift from my mum & step dad and what a fantastic gift it turned out to be. As I pulled into the stables I spied a beautiful horse standing tall just waiting for its rider to mount up...it took a few seconds to realise it wasn't going far as it was fibreglass! It put a smile on my face straight away and I don't think it left for the day. The stables were friendly, exceptionally clean and well laid out. I was part of a group of 7 one lady had come along with her husband but was not riding she was able to watch and eat lunch with us then relax with a book whilst we went out on our ride. I loved the attention to detail in the ranch house where we gathered, there was a selection of tin mugs with a 'help yourself' selection of beverages, country music constantly being played a table top of Stetsons, a pile of chaps flung overa chair & even a life sized photo of John Wayne! It all helped set the mood and gave us a chance to meet each other before getting to know my lovely horse Lily and learn all about her tack & how to put it on. Then it was time to learn how to ride her inside the undercover sand school. Lunch was a splendid cowboy bbq I even had a selection of bbq'd veg being the only veggie instead of the steak. Then it was time for the lengthy ride out into the New Forrest which was beautiful afterwich we washed and put our steads out to graze in their fields. All in all it was a full fun day that I'd recommend anyone to do in this well run stables. I loved it.
Would you recommend this product to a friend? Yes
enjoyable gift from the family
24 May 2015
sunshine
Location: essex Age: Over 65 Bought For Wife Occasion: Birthday
Enjoyed the day especially the ride in the new forest and seeing the ponies and wild deer
What would you improve for next time? Not to have a tutor so one minded
Would you recommend this product to a friend? Yes
Home on the Range!
25 May 2014
The Sundance Kid
Location: Sussex Age: 55-64 Bought For Wife Occasion: Christmas
My wife bought the Western Adventure Day as a Xmas present for myself and our daughter. She also joined the experience with us but, due to time constraints, we had to switch to the Western BBQ ride instead - but what a good call that turned out to be anyway ! We arrived at Burley Villa to be greeted by Steph, who would be leading the ride and taking us into the depths of the New Forest. Although we were fairly experienced in both Western and English riding, you don't have to be, as the former is a very easy and smooth style to master. Before we went into the indoor schooling arena for a warm up session, we were greeted by Phil, suitably garbed in western clothing and sporting a ten gallon Stetson hat. Or so it seemed ! First things first - hot drinks in the authentically styled Ranch House, accompanied by some great country music playing in the background to set the mood. (line dancing optional !) Ok. Time to meet the horses and saddle up, ready to enter the arena for a 15 minute familiarity session.There were five riders in our party and Steph allocated a horse to each of us. Into the schooling arena then, where you soon get used to your mount and are taken through basic steering at a walk and jog pace. The horses are very placid and know their stuff, so even if you are inexperienced at riding, this style is easy to get used to. Lesson over and time to mosey out onto the trail. Steph lead us into the Forest and we meandered through scrubland and bushes, where the wild ponies were totally unconcerned, barely glancing at us. The two hour ride took us right into the heart of the Forest, alternating between a smooth walk and jog. When we returned, Phil had a BBQ ready with something to suit all tastes. And the country music was still playing ! It was a great way to end the day and we thoroughly recommend this experience to anyone aspiring to be a rider - or even a Cowboy !
Would you recommend this product to a friend? Yes
How the west was won
18 May 2014
NickC
Location: Kent Age: 35-44 Bought For Myself Occasion: Just because!
I booked this as a treat for my girlfriend who used to ride but hasn't had much chance in recent times, and I thought I'd try something new myself. Believe me I am a complete beginner and had never even considered going on a horse. However I was assured that western style riding is a little easier to get the hang of. The write up for the day looked interesting and the promise of a ride across the New Forest sounded ideal. I can honestly say it was a great day that we both immensely enjoyed. OK the weather was stunning but the whole day was well organised, the staff were great and the horses, at least ours, were good as gold, mostly! Starting off with grooming the horses gave me assurance that my horse, Cheyenne, was patient and not going to kick me into next week, which gave me a lot of confidence. We were shown how to fit the saddle and other equipment and had all the necessary help. Then we had a training session in the training arena, which felt secure and in no time I was on horseback, scarcely believing it but there I was. We learned some basic things like how to stop, and our trainer was good humoured and patient. Then we had a hearty lunch, the chef in cowboy hat was particularly cheerful and there was a friendly relaxed atmosphere. After lunch we went out as promised for a 2 hour ride on the Forest, even with a short bit on the road, which worried me, but the horses and our guides were excellent, and I felt remarkably safe given I'd been scared stiff at the prospect of falling off. Throughout the day we had plentiful drinks and snacks. I think the most important thing to say is that for me a complete beginner, and one or two others who had some experience, it was pitched just right. I thought the set up and organisation of the day was excellent. And I could actually walk relatively easily the next day! Would definitely do again.
What would you improve for next time? I think they've got this just about right. Maybe they could do some kind of photo of us when on horseback, which you can't do yourself as most of us were concentrating hard - a staff member kindly took mine but I wasn't able to get one of my girlfriend. Wouldn't be much to include in the price.
Would you recommend this product to a friend? Yes
Fantastic day out!
27 March 2014
helibird
Location: Hampshire Age: 18-24 Bought For Mum Occasion: Birthday
I have now been on a western adventure at Burley Villa three times, and could not fault anyone of them. The days are set out brilliantly, the staff are extremely welcoming and friendly and all horses are really well behaved. It is suitable for all abilities and is not boring for those who already have riding experience as the horses are chosen with this in mind. Rides out are at a slower pace as it is mixed abilities but are kept interesting by the cheerful and upbeat guides. I will definitely be returning to improve my western riding skills soon! Thank you to all at Burley Villa for making mine and my dad's day one not to forget.
Would you recommend this product to a friend? Yes
Brilliant Day
17 September 2013
Windy
Location: Milton Keynes Age: 55-64 Bought For Husband Occasion: Christmas
Attended the Western Experience Day at Burley Villa in the New Forest, it was absolutely brilliant. The staff were great & really friendly. The horses were bomb proof ( anyone of any riding ability could enjoy this gift). The BBQ lunch was excellent & the afternoon ride in the New Forest was fabulous. My horse Lily was a little gem. I would recommend this day out for anyone who enjoys horses.
Would you recommend this product to a friend? Yes
Great fun!
17 May 2013
Thingy0303
Location: New Milton Age: 35-44 Bought For Husband Occasion: Birthday
I had never ridden before and was a bit concerned when I found the rest of my group were fairly experienced riders. However, this did not matter at all and I really enjoyed myself. We groomed the ponies before saddling up and having a lesson in the basics. I think I was given a very well-trained pony as it seemed to know what to do with a novice on board! The afternoon ride was through the New Forest in a lovely area. However, by the time we got back I could hardly move and did a brilliant John Wayne walk. Throughout the day the staff were all friendly and very patient and we were very well fed too. Warning - that evening my legs and bottom were agony!!! 2 days later I can almost walk again. I must be a wimp!
Would you recommend this product to a friend? Yes
Western Adventure Day - Special Offer -

£110