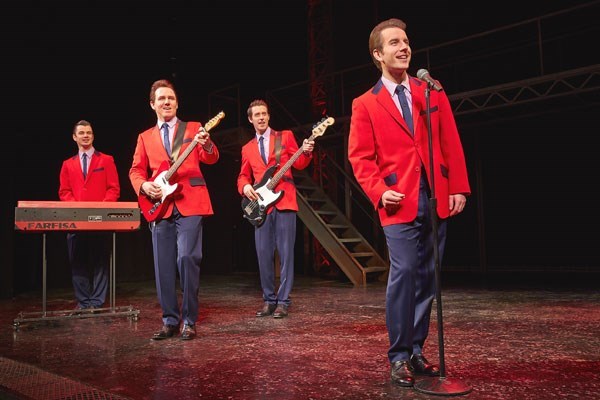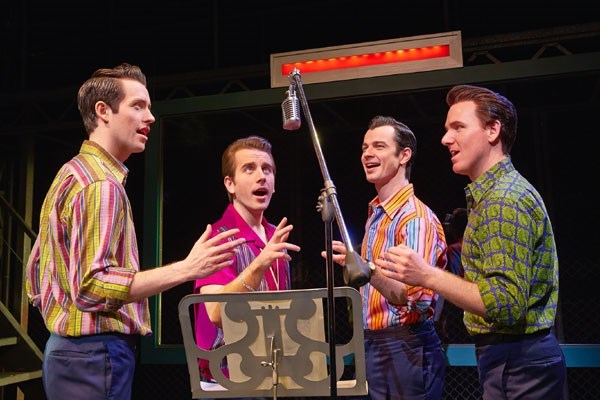 Summary

Fine Print

View on map
Experience the incredible story of Frankie Valli and the Four Seasons, from top price seats. The electrifying show tells the tale of four boys from a humble New Jersey background who formed a band and made it to the very top, eventually racking up record sales of over 100 million. "Big Girls Don't Cry" and "Working My Way Back to You", along with other classic 60's pop tunes, will have you tapping your feet for weeks! Your top price tickets entitle you to the very best seats in the house, ensuring a great view and the best experience possible! This package also includes a two-course dinner at Covent Garden's authentic Spanish restaurant Salvador and Amanda, just a short walk from the theatre. With starters like Andalusian-style crispy squid, mains like goats' cheese, spinach and Piquillo pepper tart, and desserts like dark chocolate sponge cake with macerated strawberries, the set pre-theatre menu is quick yet mouth-wateringly tempting. After dinner, you'll "Walk Like a Man" to the Piccadilly Theatre for the musical extravaganza of a lifetime!
What's included?
Two top-price tickets to Jersey Boys
Dinner for two from a set menu at Salvador and Amanda, Covent Garden
Any restrictions?
Your voucher is valid until 1st October 2016 for two people
Your voucher is for top price seats for a Tuesday-Thursday evening only performance of Jersey Boys
All dates are subject to availability and exclusion periods
Your meal will be a dinner from a set menu to be taken within certain times
This theatre welcomes wheelchair users, however the supplier can only allocate patrons who require wheelchair access in specific areas as indicated by the theatre according to their health and safety policy, and independently of the general allocations available for this experience
Exclusions; School holidays, public holidays, (Christmas/Easter) some bank holidays or summer period maybe excluded. Please check before booking
What do I need to know?
Please book as early as possible to avoid disappointment
Please inform the supplier in advance of any dietary restrictions
Jersey Boys Theatre Tickets and Meal for Two -

£159
Customer Reviews
7 out of 7 (100%) reviewers would recommend this product to a friend.
Read all reviews »
standing ovation
25 August 2015
silver fox
Location: west sussex Age: Over 65 Bought For Partner Occasion: Christmas
Went to midweek matinee was surprised that the theatre was packed an amazing show the presentation was superb
What would you improve for next time? Booked a meal deal simple map on the voucher would help when you are not familiar with the area meal was fine with good service
Would you recommend this product to a friend? Yes
Fantastic Evening
16 March 2015
4Smiths
Location: Essex Age: 45-54 Bought For Myself Occasion: Christmas
I bought my daughter this experience for Christmas and we finally managed to go a few weeks ago. It was well worth the wait, we had a lovely meal at Floridita including a couple of dellious Margaritas and then went to the show. The Jersey Boys was absolutely amazing, we had fantastic seats and had the most amazing time as it was a really great feel good shows. I would highly recommend this experiience.
What would you improve for next time? The details of the experience say it is Covent Garden but it is actually much nearer to Piccadilly Circus so we could have saved ourselves a long walk had been known this beforehand .
Would you recommend this product to a friend? Yes
Jersey Boys
04 November 2014
Bert
Location: Age: Over 65 Bought For Partner Occasion: Christmas
If you have not seen it, then you are missing some thing in your life! My partner knew nothing about Frankie Valli before going to this. Now she is a convert! If you want to see a real feel good show that will make you jump and shout then this the one for all. You just forget how many hits they had, and they just keep coming and coming. I can't rate this highly enough! Top show!
What would you improve for next time? Absolutely nothing.
Would you recommend this product to a friend? Yes
Nice gift
13 October 2014
Newbee
Location: Luton Age: 55-64 Bought For Daughter Occasion: Christmas
I didn't know what to expect from this gift. The meal was lovely and the service was good. The staff were very polite and the we didn't have to wait long for the food to be served. Good food (Scoff and Banter). The show was great, we could follow the story and the singing was amazing. Well worth a visit.
Would you recommend this product to a friend? Yes
great pressie
14 February 2014
lindyloo
Location: Milton Keynes Age: 45-54 Bought For Husband Occasion: Christmas
Wow wow wow, what a fantastic time we had, Salvador and Amanda was a great start to the evening.Good friendly service and food was very tasty. Jersey Boys well what can I say absolutely brilliant show loved every minute. Dont hesitate book this now.x
Would you recommend this product to a friend? Yes
Great show not so good meal
11 October 2013
KimP
Location: Peterborough Age: 35-44 Bought For Husband Occasion: Christmas
The Jersey Boys was a brilliant show; however the pre-show meal was not good. Probably worth just buying the tickets for the show because there are various restaurants available for you to pick and choose
Would you recommend this product to a friend? Yes
Fantastic!
13 May 2013
Lozza
Location: North London Age: 25-34 Bought For Partner Occasion: Anniversary
Had a lovely meal a short way from the Theatre, the restaurant was beautiful and food delicious. We arrived at the theatre and was greeted by friendly staff who showed us to our amazing seats. We were really close to the stage which was great and the sound was clear. The entire show was enjoyable from start to finish, everyone was singing along and the story was fantastic. I have loved the four seasons music in particular 'Sherry', you can always tell when someone's favourite song came on as they were singing along just a little louder than everyone else! :) All in all very enjoyable evening and the show was 5 star. Would recommend to others!
Would you recommend this product to a friend? Yes
Jersey Boys Theatre Tickets and Meal for Two -

£159