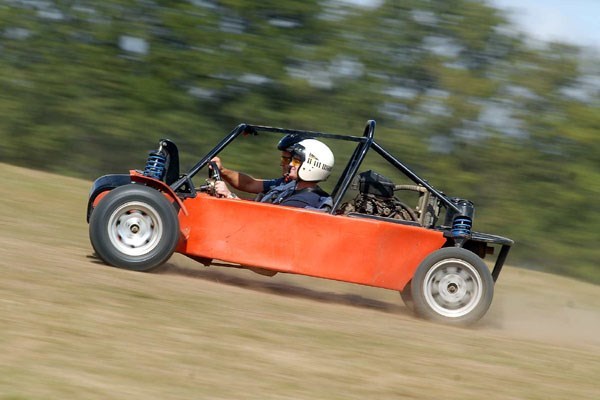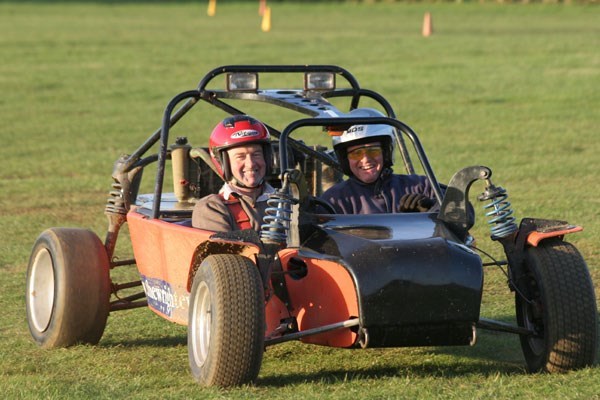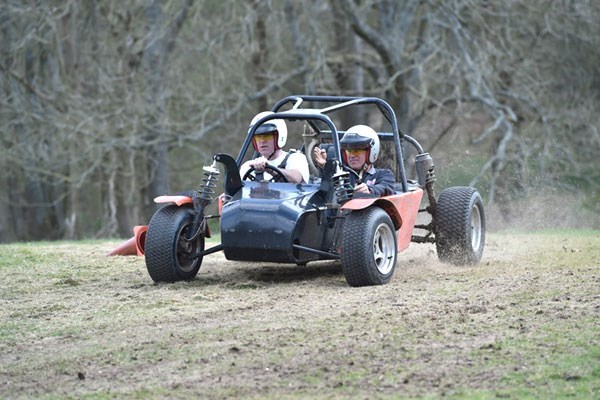 Summary

Fine Print

View on map
Tackling the specially made course in Kent with this most awesome of driving machines will most definitely sort the men from the boys (or women from the girls) when it comes to driving skill! These Apache rally cars are like nothing you will have ever seen before. Agile, robust and of course, very, very quick! This experience is designed for anyone from absolute beginners all the way up to experienced racing enthusiasts, and will be enjoyed equally. You will receive all the tutoring you'll need to feel comfortable driving these mechanical marvels, with your instructor sitting beside you throughout. The cars are designed not just for speed, but also to perform on difficult terrain, in safety. You'll learn how to take hard corners, when to accelerate into the straights and how to drift. All this adds up to a truly thrilling day on the track that you won't forget in a hurry.
What's included?
Full tuition from a qualified instructor
A safety briefing
A full lesson on the track learning how to drive an Apache rally car
Any restrictions?
Your voucher is valid for 10 months for one person
You must be at least 11 years old to participate
The maximum weight for this experience is 127kg/20st
If you feel as though your physique, a disability or an injury may impair your ability to take part in this experience, please speak with the operator upon booking
What do I need to know?
The vast majority of this activity takes place out of doors, so please be sure to wear the appropriate clothing
All safety equipment and waterproofs will be provided for the duration of your drive
You are advised to bring a change of clothes in wet weather
You should allow 90 minutes in total for this experience
All dates are subject to availability
Apache Rally Driving Experience -

£73
Customer Reviews
8 out of 9 (89%) reviewers would recommend this product to a friend.
Read all reviews »
Fantastic fun
12 October 2015
Giles
Location: West London Age: 35-44 Bought For Friend Occasion: Birthday
Excellent fun with these rear wheel drive vehicles. Expect to do a few spins!
What would you improve for next time? More time in the car, less time waiting
Would you recommend this product to a friend? Yes
Great Staff, Great Machine, not enough time
04 August 2015
jack
Location: Leicester Age: 25-34 Bought For Friend Occasion: Anniversary
I was bought this experience as a gift and was so excited about doing it! We got to Ashtree Farm, which for the most, exceeded my expectations. There was a waiting lounge with comfy sofas, wood fire for the winter months, and a tea / coffee / hot chocolate machine, which was a pleasant welcome. The two staff that took us out on the Apache experience were really friendly and made for a fun atmosphere with plenty type of laughs and banter; the Two Pauls were excellent. We were taken to the field where the track was laid out and we were met with the Apache. What a machine it is! Essentially an off road go kart powered by a Super Bike engine with sequential gears. They were set up with slick rear tyres to aid the drifting and these things were mental to drive and it was such a rush being behind the wheel. The track was well laid out with plenty of space to throw it around and the instructors timed the laps, giving an exciting competitive element to the experience. I really cannot fault the location, the machine or the staff. My gripe with it all is the very short amount of time that I was actually driving. It was advertised as a 1.5 hour experience, and it did last that long with introductions, the walk to the field and the safety brief etc. However it was shared 2 cars to 8 people So 90 minutes divided by 4 people to a car should be a little over 20 minutes each. In reality we got much less that. We all drove 2 sessions each; I wore a go pro in the car and watching back one of my sessions I actually drove the car for 3 mins and 32 seconds. So two sessions I got was about 7 minutes total driving time. Looking back that is really quite pathetic. It wasn't so much an experience, it was a taster of what the experience could be. I knew I wouldn't be driving the car for that long, but I'd hoped that I would have got around 20 mins total. The lack of seat time really left a bad taste in my mouth and left me feeling quite dissapointed. If I'd have got around 20 minutes driving time this would have got a 5 star rating; everything about it was excellent, but lack of seat time means it wasn't really worth my time, so it only gets a 3
What would you improve for next time? Definitely more time actually driving the Apache, rather than watching the rest of the group drive it.
Would you recommend this product to a friend? No
all over to quick
07 March 2015
bush explorer
Location: suffolk Age: 25-34 Bought For Wife Occasion: Christmas
Really had a good time.worth the drive to get there.good staff and great fun.
What would you improve for next time? Bit more time in the car or a free pic of you driving
Would you recommend this product to a friend? Yes
Great value for money
28 September 2014
Streetbob
Location: Kent Age: 45-54 Bought For Wife Occasion: Birthday
Amazing cars, really good fun. Got loads of time on the track compared to others I've done. Really friendly and helpful staff. Fab day. We will be back with all the family
Would you recommend this product to a friend? Yes
Rally driving
07 September 2014
Janey
Location: Age: 35-44 Bought For Friend Occasion: Birthday
Excellent, instructors were so friendly and so helpful. Really helped to make every moment of the experience good.
Would you recommend this product to a friend? Yes
enjoyable and competetive
05 July 2014
jeff
Location: rochester Age: 35-44 Bought For Partner Occasion: Birthday
At 1st you are nervous about driving it and then after a while you start looking at the lap times to compare yourself. It's very enjoyable and the staff are very friendly and professional.
What would you improve for next time? Nothing. It was money well spent.
Would you recommend this product to a friend? Yes
Apache racing is a must do activity
15 October 2013
Chuckle
Location: Crawley west sussex Age: 45-54 Bought For Wife Occasion: Christmas
Fantastic time racing the apache,3 goes of approx 5 laps,of which two laps are timed, got my time down by 11 secs from 1st run to my third run , got out with the biggest grin, so much fun going flat out then sideways at full speed into the corners,back end sliding round- had a few spins as well, instructor advises you,also helps change gears for you as its so much fun driving that changing gear would slow you down. If you're a petrol head then this is a must!!! Gonna have another few goes at this as you don't want the session to end- don't think 5 stars is enough!!
Would you recommend this product to a friend? Yes
It's a Blast!!
26 July 2013
Google
Location: Essex!! Age: 45-54 Bought For Myself Occasion: Birthday
took my first 2 sessions to set a good time & feel the car. Used my 3rd session to have some fun- rubbish time but a massive smile :)
Would you recommend this product to a friend? Yes
Apache driving/trials cars
09 November 2012
Mushin
Location: Folkestone Age: 55-64 Bought For Brother Occasion: Birthday
It was too wet to use the Apaches but we were offered trials cars. Actually I probably enjoyed this more. It was challenging but really good fun and our instructor was affable and helpful and did know his stuff! I managed an almost clear round and I was amazed at how technical plugging about in mud on a slope in a soap box with an engine can be. I would say that this is a great experience to take part in and I enjoyed myself a great deal. Thanks!
Would you recommend this product to a friend? Yes
Apache Rally Driving Experience -

£73