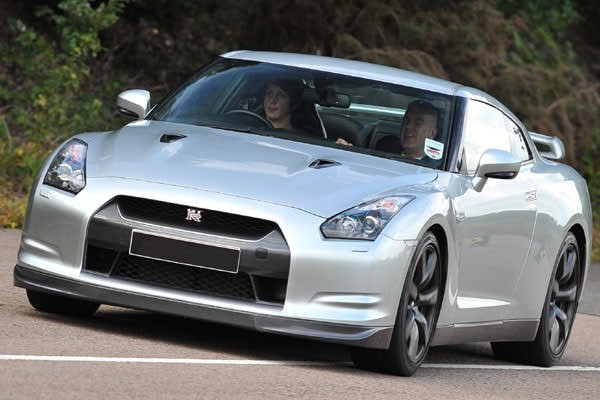 Summary

Fine Print

View on map
Quicker than a Porsche, more agile than a Ferrari, more fun than a Lamborghini, the Nissan GTR is truly a driver's car. Capable of almost 200mph it is blisteringly fast, it'll leave Porsches, Ferraris and Lamborghinis trailing in its wake. The motoring press described the Nissan as "unfathomably good" and Top Gear named it "Supercar of the Year". This adrenaline filled package will start with and introduction and safety briefing from a fully qualified instructor. You will then be taken out on the track for three instructor-driven familiarisation laps during which you will receive tuition on racing lines and driving technique (no demonstration laps at Stafford venue). With this knowledge it'll be your turn to take the wheel of a Nissan GT-R super car for 4-6 adrenaline pumped laps (depending on location) of the circuit, this is your chance to emulate the racing drivers on the television and really lay down some great lap times. Following your drive you will receive an assessment from the instructor and an individual commemorative certificate of the day you took a supercar around a track.
What's included?
Introduction and safety briefing with a fully trained instructor
All safety and protective equipment
3 Instructor-driven demonstration laps in a saloon car (not Stafford)
4-6 laps (depending on location) driving a Nissan GT-R around the circuit
Exciting 4x4 Off Road passenger ride (Stafford location only)
Individual commemorative certificate
Any restrictions?
Your voucher is valid for 10 months for one person
This experience is available on selected week days only although you may upgrade to a weekend date by paying an additional £25 at time of booking
Please note that weekday experiences at the Kent location incur a £20 upgrade charge and if you wish to use your voucher on a Saturday at that venue you will need to pay £40
Please note that bookings at the Dunsfold location are subject to an additional £25 charge
At Stafford min. age is 17 years and you must hold a full, valid UK driving licence
At all other locations min. age is 18 years and you must have held a full, valid UK driving licence for a minimum of one year
You will need to bring your licence with you on the day. Photocopies will not be accepted
Min height 1.52m/5'0"
Max height 1.97m/6'6"
Max weight 107Kg/17st
If in any doubt about your suitability for the experience, please check with the supplier before booking
All drivers will be required to sign a disclaimer accepting liability should damage be caused to the vehicle through their negligence
Please note, all locations are subject to seasonal opening times
All dates are subject to availability
What do I need to know?
There may be the option of purchasing a collision damage waiver for approximately £20-£30, there is no obligation on drivers to take this option
Participants are advised to wear long sleeved shirt, trousers and flat shoes/trainers
Nissan GTR Driving Thrill -

£75
Customer Reviews
8 out of 9 (89%) reviewers would recommend this product to a friend.
Read all reviews »
Fantastic experience
21 June 2015
Karl
Location: Birmingham, west midlands Age: 25-34 Bought For Wife Occasion: Christmas
A few more laps would be great, Aldo being took round by one of the drives so you can fully experience the car when driven by a professional driver.
Would you recommend this product to a friend? Yes
Absolutely Mind Blowing
11 June 2015
Jan
Location: Norfolk Age: 25-34 Bought For Partner Occasion: Christmas
I bought the Nissan GTR driving experience for my other half and he was literally blown away by his experience. we also both took part in the 4x4 experience which was a real giggle. highly receommend this track to anyone! staff were really friendly and helpful.
Would you recommend this product to a friend? Yes
Awesome car!! Recommend this to anyone!
19 July 2014
Adwhite
Location: Halesowen, west midlands Age: 25-34 Bought For Son Occasion: Father's Day
The Nissan gtr is well worth the money spent!! By far the fastest car you can drive!! Amazing experience !!
What would you improve for next time? The weather lol
Would you recommend this product to a friend? Yes
nissan gtr thrill drive PERFECT GIFT
26 November 2011
tcl
Location: Essex Age: 25-34 Bought For Wife Occasion: Birthday
absolutly fantastic gift my partner throughly enjoyed himself well worth the money. all the staff at prestwold hall were very accomodating and we was even able to purchase an extra drive on the day. A fantastic gift and will defently be using buy a gift again as have been more than impressed with the service.
Would you recommend this product to a friend? Yes
Best birthday present ever
09 September 2011
Sloppyman
Location: Sutton col field, Birmingham Age: 25-34 Bought For Partner Occasion: Birthday
The whole experience was amazing, we was taken around the track for two laps with an instructor then went to flags shown to us. I didn't even have to wait long, as soon as the gtr came back I was in it! The instructor was brilliant, encouraging me to give it some. Tree is an option to buy a memory stick of your drive, which I did as the experience happens so fast I think my top speed I managed to reach was 184mph. Brilliant experience so glad I chose the Nissan gtr insead of anything else! Its the fastest and also the instructors favourite.
Would you recommend this product to a friend? Yes
Nissan GTR Driving
05 June 2011
ash22
Location: London Age: 18-24 Bought For Partner Occasion: Just because!
The whole day was amazing, 4 laps in my dream car... cant get better than that! Can't wait to go back.
Would you recommend this product to a friend? Yes
An excellent experience
15 April 2011
Mewtross
Location: Manchester Age: 25-34 Bought For Mum Occasion: Birthday
A professionally run venue and would hesitate recommending friends and family. Shame I didn't have a credit card with thousands on because it would of been spent, lol!
Would you recommend this product to a friend? Yes
Good morning out but a few problems
23 March 2015
Fingers
Location: London Age: 35-44 Bought For Wife Occasion: Just because!
Good but not as good as other experience that I have been on
Would you recommend this product to a friend? Yes
Waste of money
20 April 2015
Hayley1212
Location: welwyn garden city Age: 35-44 Bought For Partner Occasion: Birthday
We arrive.... queue for 20 mins for minibus to take us to the sign in tent. Queue for 30 mins to sign in. queue for 20 mins to go out on the track. the instructor was so irritating they talk to you like you have never driven a car in your life and this was constant all the way through. You are not allowed to go particularly fast the max we did was 100 mph in a car that does 192mph (don't expect to go that fast but would have been nice to see what it is like going a bit faster without someone bending your ear plus there are too many cars on the track at the same time to open it up 11.... paid for 2 extra laps so in total did 4 laps (8mins) rip off!!!! then queue 40 mins to get photos and in car video. then finally queued 15 mins for mini bus back to our car
What would you improve for next time? the time on the track, the speed, instructors that don't trdeat you like an idiot
Would you recommend this product to a friend? No
Nissan GTR Driving Thrill -

£75