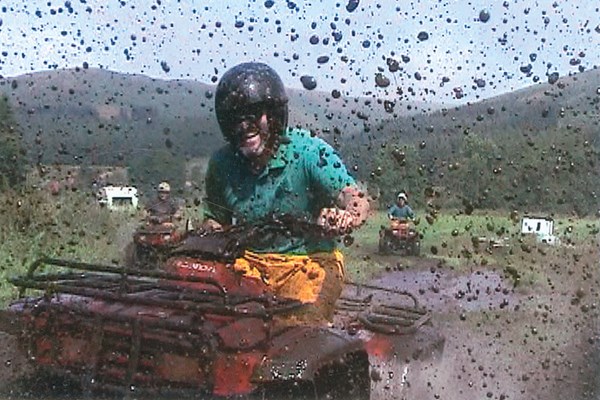 Summary

Fine Print

View on map
Quad biking has fast become a staple for all adrenaline junkies, but if are still yet to try it, this is the perfect introduction. You will receive full and expert tuition during your initial briefing and throughout the day from the qualified instructors who will teach you all the skills and techniques you need to handle the course. There will be an opportunity to test your skills on an easier circuit without obstacles first before moving onto the more challenging course, where you will be fully tested. At some of the 14 available locations nationwide, there is also the opportunity to ride a demanding woodland track. Whichever location you choose however, be sure to bring a change of clothes as you are guaranteed to get muddy!
What's included?
Full safety briefing
Tutoring by a qualified instructor
Safety equipment hire
Quad bike experience – on circuits and off-road, depending on location
Any restrictions?
Your voucher is valid for 10 months, for two people
Minimum age for this experience is 16 (12 at Suffolk)
Maximum weight may vary please check with your chosen location
Please note that this experience runs all year round except:
Swansea - Closed between October and March
Lincolnshire - Closed between October and March
North Yorkshire - Closed November - February
What do I need to know?
Please note that at the itinerary varies according to venue and you may not be driving in the woodlands
You are advised to bring comfortable clothing and footwear for muddy conditions, preferably boots
A change of clothing is advisable for your journey home
Generally a minimum of 4 weeks' notice is required for bookings, all available dates are preselected by the venues
This experience will last between 1 and 2 1/2 hours, depending on venue
All dates are subject to availability
Quad Bike Thrill for Two -

£97
Customer Reviews
34 out of 36 (94%) reviewers would recommend this product to a friend.
Read all reviews »
Rymer Farm quad biking - brilliant!
02 October 2015
Mike
Location: Hitchin Age: 45-54 Bought For Son Occasion: Birthday
My Son bought me a 'quad bike thrill for two' for my birthday. I looked at the sites available and chose Rymer Farm. Turned out to be the right choice! Great people and a great off road track - lots of twists and turns, ups a downs as well as fast section (just don't overtake anyone!). We were out for at least 50 minutes, may have been longer - the time flew past. Will definitely be doing it again.
What would you improve for next time? Nothing
Would you recommend this product to a friend? Yes
21 August 2015
Chelsey
Location: Age: 18-24 Bought For Myself Occasion: Anniversary
I bought this as a surprise anniversary gift for my partner and we thoroughly enjoyed it. The venue was quite difficult to find, we first came to a caravan site but luckily I had read another review, of someone who did the same thing. However, the member of staff who took us around the track was very friendly, patient and encouraged me to have fun (I believe his name was Thomas). We would have liked some more time on the flat ground where we could go faster, as we spent quite a lot of time on the bumpier parts so we couldn't go as fast, although this is just personal preference. Overall this was a great experience and I would highly recommend it.
Would you recommend this product to a friend? Yes
Disappointing, Not Value For Money
16 August 2015
cbak2001
Location: Essex Age: 25-34 Bought For Myself Occasion: Birthday
I bought this for my Boyfriends birthday present and thought we would be riding around the course/track together. Although he is a bit of an adrenaline junkie, even i was disappointed with this and I have never been on a quad bike before. I felt the description that is used is misleading as there is nothing thrilling about taking it in turns to ride around a coned field where you have to touch cones the entire way around the course just as your getting up to some sort of speed which isn't that fast anyway. Other than the cones, there is a limbo bar for you to ride under and a seesaw which you get to go over at the end, again none of this is very thrilling. The advert says it is guaranteed for you to get muddy, although it was spring we didn't get a speck on us as we went no where near any kind of woodland track as described which they did have at this location. All in all, not worth the £100 that I spent or the time travelling to get there.
What would you improve for next time? Better description. The coned field would have been ideal as a starting point to get to grips with the quad bike if you has never riden one before and was then able to go onto a woodland track. Being able to ride on the quad bikes together.
Would you recommend this product to a friend? No
Unfortunate Birthday Disappointment
08 July 2015
CakeFairy
Location: London Age: 18-24 Bought For Myself Occasion: Birthday
Unfortunately my sister and I did not enjoy our quad biking experience. Partly because the M25 was blocked so we were half an hour late (not the company's fault obviously) but mainly because when we turned up to join the group there were only 3 quad bikes for the group of 6 people so we didnt even have a quad bike each ...going around the field twice to then get off and have to swap just didnt get the adrenaline going at all! I have been quad biking before which is why we used this experience on my actual birthday to make it a fun day out yet when we arrived to find you just drive around a field in between cones in a circle a few times it was a huge disappointment! Even the people that had a full hour didnt get to do anything different! I think by the end of the experience we had driven in and out the cones about 5 times. Then it was time to go back! Just super disappointed that i spent £100 going around a field a few times! Would never book a thrill seeking experience again. Which is a shame when i use buy a gift frequently.
What would you improve for next time? Our own quad bikes. To do something more challenging than a circle on a flat field!
Would you recommend this product to a friend? No
A+ Fun!
13 June 2015
HaydeeNoble
Location: London Age: 35-44 Bought For Husband Occasion: Birthday
I bought the Quad Bike Experience for Two as a birthday present to my husband. We both enjoyed it so much! The guys are so sweet and helpful! We hadn't done anything like this before and they were so patient and supportive. The course is really fun! You have a bit of difficult parts, then areas where you can speed up a little more and it all closes with a bang! At the beginning I thought an hour wouldn't be enough but once you've done it you realise is just perfect! Highly recommend this experience!
What would you improve for next time? Everything was easy! From paying to enjoying the experience.
Would you recommend this product to a friend? Yes
Quad Biking north of northolt...
21 May 2015
Slightlycrazy
Location: Northolt, West London Age: 45-54 Bought For Wife Occasion: Birthday
Quad biking site is at the West Of London Shooting range - easy to get to off the A40 and pretty secluded - just the occassional gun shot in the distance. Six riders per hour long session, compulsory cones assult course to get used to things and then off for a little safari around the fields and woods - very responsive bikes and big! supposedly kids as young as twelve can ride - but I think they might have problems holidind the handlebars, brake and accelerator at the same time. Bikes can't half shift! Instructor very good - weather was good I.e. warm and dry - would be very interested to see what it's like when its raining and muddy! My wife and I loved it! :)
What would you improve for next time? Add rain!
Would you recommend this product to a friend? Yes
Northolt quadding
23 March 2015
Stephanie
Location: Cambridgeshire Age: 25-34 Bought For Colleague Occasion: Birthday
After a brief lesson on safety and tips on managing a quad bike we were assessed on our skills on a small circuit. Once comfortable we were off over fields with puddles,ruts and slopes. We had a good range of skills to try and then off into the woods with a slalom through the trees. Great trainers and fun with a small group of 6. Loved it and would go again. Complete surprise was that this existed in urban northolt.
What would you improve for next time? Going to the toilet before arriving as none there.
Would you recommend this product to a friend? Yes
Fantastic Bday Present
14 December 2014
Ed & Pam
Location: London Age: 25-34 Bought For Partner Occasion: Birthday
This experience was my gift for my 29th Birthday and will forever stay in memory. We were made very welcome from the start and the instructors were very patient with us. Would definitely love to do it all over again,
Would you recommend this product to a friend? Yes
Quad Biking
31 August 2014
NanaP
Location: Stourbridge, West Midlands Age: 55-64 Bought For Daughter Occasion: Birthday
Langer Aidfield was easy to locate, Quad Centre has good facilities, Cafe reception toilets and viewing area with friendly staff. One 2 one Instructors were excellent and understand of age & experience. Repeat visit is a must.
What would you improve for next time? Extended duration
Would you recommend this product to a friend? Yes
Great location and great experience.
19 August 2014
Nics
Location: West lothian Age: 35-44 Bought For Dad Occasion: Father's Day
Great value and great experience. The staff at the quad biking were great Thanks
Would you recommend this product to a friend? Yes
Quad Bike Thrill for Two -

£97