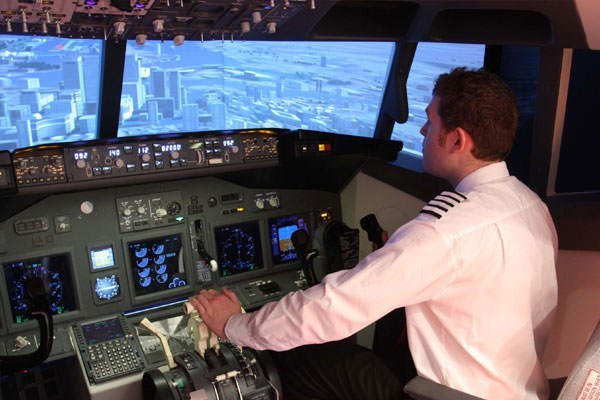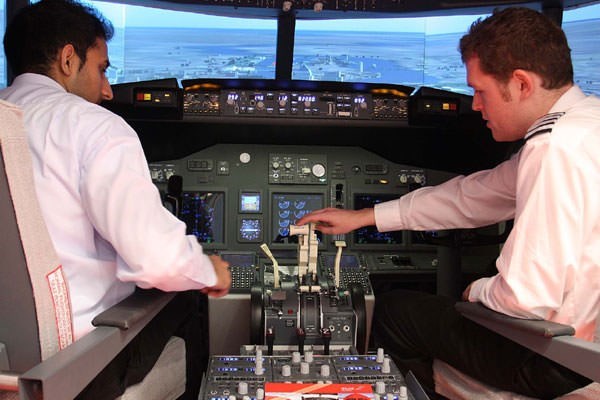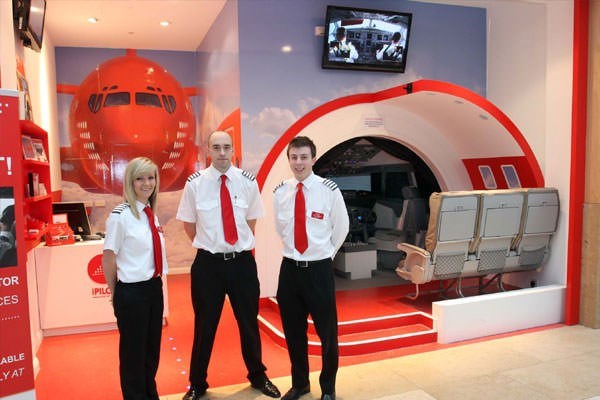 About

Description

View on map

Important Info
You can get a taste of flying without leaving the ground with this unique flight simulator experience for two. An exciting and unforgettable thrill, you'll feel like you're really flying a commercial jet as you take it in turns to take your seat behind the controls of this Boeing 737 simulator for 15 minutes each and attempt the perfect landing at an airport of your choice. With over 24000 international airports to choose from and an instructor by your side, you're sure to love this fantastic experience.
This voucher is an easy and flexible way to enjoy a unique and exciting flying experience. This experience is available at Westfield Shopping Centre. On arrival you will be met by your instructor, who will tell you everything you need to know about the experience. You will then take your position in the cockpit of a fantastic flight simulator, designed to look like the flight deck of a Boeing 737-800NG. This 15 minute experience includes a short flight landing at an airport of your choice. There are over 24,000 airports for you to choose from, and favourites include London Heathrow, St. Maarten and Hong Kong's Kai Tak Airport. After your flight, you'll be presented with a certificate. A DVD and photos of your flight can be purchased at an extra cost. You'll also receive 20% off all Boeing merchandise on the day of your flight.
This voucher is valid for 6 months. This experience is available Monday - Friday only. This experience entitles two people to 15 minutes in the flight simulator each. Please allow a total of 45 minutes for briefing, introduction to controls and flight. No experience is required and the experience is suitable for anyone aged 6 years and upwards. Spectators are welcome. Under 16's must be accompanied by an adult. All dates are subject to availability.
15 Minute Flight Simulator Experience - 2 for 1 Special Offer -

£49
Customer Reviews
5 out of 5 (100%) reviewers would recommend this product to a friend.
Read all reviews »
737 sim
15 May 2015
gbmusic
Location: grimsby Age: 55-64 Bought For Wife Occasion: Birthday
This was the 2nd time in the sim, now looking forward to a 3rd visit! All as expected- on time, pleasant staff and no pressure. Managed a circuit of Palma and then Innsbruck-great fun.
What would you improve for next time? Video did not work for first 10 mins, then the dvd does not play on all machines only with quicktime.
Would you recommend this product to a friend? Yes
Simply brill
29 October 2014
gezz
Location: Crumlin gwent Age: 45-54 Bought For Wife Occasion: Birthday
Great experience, as always it's like taking control of a real plane with very friendly and patient staff
What would you improve for next time? Theirs nothing to improve
Would you recommend this product to a friend? Yes
Good Fun if a tad expensive (& short)
20 October 2014
DTFC1907
Location: Didcot Age: 35-44 Bought For Sister Occasion: Birthday
Not enough locations, but fortunately the one in the UK is not too far by tube from where I work in London (albeit my Dad, who had to travel in to go with me, had a nightmare). Whilst we really enjoyed the experience, we did think the price charged a bit expensive for what it is. The experience is also very short (about 15 mins). You take off, do a single manouvre, then land. It would be much more value for money to last twice as long, so you could be talked through the first time, then have a second go to put into practice what you have learned. On the plus side, the choice of airports to take off from and land in is huge - so you can pick 2 airports from almost any you can think of. (A word of advice - pick your favourite as your landing airport, as you don't see much taking off (the plane points at the sky and you are watching the instruments mainly), whilst landing is a visual approach).
What would you improve for next time? Double the length of the experience, having a "practice" then a chance to see if you've learned. Would also enable you to visit 4 airports, which would be much more value for money.
Would you recommend this product to a friend? Yes
Excellent gift
06 August 2014
Scissorsnipper
Location: London Age: 35-44 Bought For Myself Occasion: Birthday
Bought this for my dad and both him and my son did it. The whole experience was great. The staff were professional and very friendly, my dad being hard of hearing was not a problem and it was all explained clearly. Deciding where to take off from and where to land was the most difficult decision. We were able to sit behind them as if passengers so could experience it all as well. No pressure selling for a picture and DVD recording but price very reasonable and lovely memento of the day. Both the pilots ( real pilots) were professional and there was no rush. The screen showing their names for check in was a nice touch and for a 65 year old and 15 year to both enjoy it proves its a great experience for any age, so with that said I would definitely recommend it.
Would you recommend this product to a friend? Yes
Great day out!
19 April 2014
Dan
Location: Fareham, Portsmouth Age: Under 18 Bought For Sister Occasion: Birthday
We arrived a little early, and as there was no-body else flying, they took me up for longer than my original time. The simulator was great, and was pretty close to the real thing. The instructor talked me through the basic controls and instruments of the aircraft, before we attempted a take-off. We flew over London and my instructor pointed out some major landmarks, before attempting two landings in Hong-Kong! Overall, an excellent experience!
What would you improve for next time? Would be nice if they asked a few more questions at the beginning to find out how much you already knew - a lot of the things he was talking to me about I already knew what they did or how they worked. That would mean that people that had a little bit more knowledge or experience could try out different procedures. Apart from that - great day out!
Would you recommend this product to a friend? Yes
15 Minute Flight Simulator Experience - 2 for 1 Special Offer -

£49