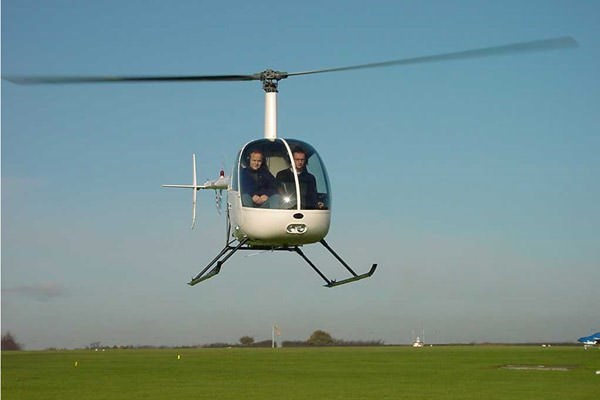 Summary

Fine Print

View on map
If you have ever dreamed of being a helicopter pilot and flying with the rich and famous, then here is your chance to take that first step! With this amazing flying experience, you'll get the chance to take the controls of a real helicopter under the watchful supervision of your experienced pilot. On arrival, your pilot will give you a brief introduction to the aircraft before you both plan your chosen flight path. Then it's up and away as you are shown how to take off. Once in the air, your pilot will give you "on the job" tuition into how to control the helicopter, and then it's your turn to take control. All the miles you accumulate during the flight can go towards you obtaining a full licence in the future. If however, you would prefer to simply sit back and relax and enjoy a fabulous helicopter ride, you are more than welcome to!
What's included?
A full introduction and flight plan session with your pilot
A 25 minute helicopter flight, with the chance to take the controls, which can count towards a full helicopter licence
Any restrictions?
Your voucher is valid for 10 months for one person
The maximum weight for this experience is 108kg/17 stone, and maximum height is 1.93m/6ft 4
Minimum age is 14
What do I need to know?
If you'd prefer to upgrade to a larger helicopter you can do so directly with the supplier when making your booking
If you choose the lesson over the passenger ride, a Robinson R22 Beta is usually the helicopter used
Your experience will last approximately 30 minutes, with 25 minutes flying time
So that the instructor can monitor effectively, all aircraft are dual control.
Your flight time can count towards a helicopter pilot licence and you will receive a signed certificate to this end
To avoid disappointment, it is recommended that you book well in advance
All dates are subject to availability
This experience is available at
Helicopter Flight Experience -

£189
Customer Reviews
13 out of 13 (100%) reviewers would recommend this product to a friend.
Read all reviews »
Amazing
11 August 2015
Roy
Location: Nottingham Age: 55-64 Bought For Daughter Occasion: Birthday
The experience was totally amazing. The instructor (Morgan) explained all the controls perfessionaly. His instructions 100%. Would do it again . Many thanks
Would you recommend this product to a friend? Yes
one from the bucket list
31 May 2015
Malc
Location: South Coast Age: Over 65 Bought For Son Occasion: Birthday
It was an enjoyable experience - shame it wasn't longer.
Would you recommend this product to a friend? Yes
Best gift ever
05 May 2015
Julian Craig
Location: Coleford Age: 45-54 Bought For Wife Occasion: Birthday
Very welcoming, the facilities and hospitality for viewing guests was great. The helicopter experience was fantastic. Would do again. Thank u.
What would you improve for next time? Nothing
Would you recommend this product to a friend? Yes
Fantastic Flight Experience
16 January 2015
Pedro
Location: Bristol Age: Over 65 Bought For Daughter Occasion: Birthday
Welcomed with a cup of coffee then introduced to our pilot. After a chat about the physics of flying we went out and did a pre flight check. Then we strapped in and set off. Lee my pilot explained things very clearly then let me have go with the various controls. I absolutely loved every minute of the whole experience and was on a high for many hours afterwards. Rise Helicoptors are a very friendly and welcoming team who made my day very special. \many thanks.
What would you improve for next time? Nothing.
Would you recommend this product to a friend? Yes
MAGIC FLIGHT
29 September 2014
wilko499
Location: Lincoln Age: 45-54 Bought For Partner Occasion: Christmas
A fantastic gift with plenty of hands on flying the helicopter, excellent instruction and explanation pre-flight and the hover challenge was brilliant plenty to think about but very enjoyable, would recommend this particularly at Leicester airfield!!
Would you recommend this product to a friend? Yes
Wow, what an exprience!
13 September 2014
Sat
Location: Stanmore, Middlesex Age: 35-44 Bought For Friend Occasion: Birthday
This was a gift for 40th and have been mad about helicopters for a while! Arrived at High Wycombe Air Park and had the lesson with Captain Andy who was very experienced in the subject. Did manage forward flight with ground to hover and back to ground and a short tour of the hanger, would highly recommend this experience.
Would you recommend this product to a friend? Yes
Amazing Experience
09 May 2014
G
Location: Leicester Age: 35-44 Bought For Myself Occasion: Just because!
There's no denying it, flying a helicopter is not simple and so I jumped at the chance to give it a go. Just being in the helicopter and seeing what it can do was fantastic, then to be given control – amazing feeling. My instructor was first class, made me feel at ease and allowed me to enjoy the experience. Was envious of all the trainee pilots at the centre, wish it was something I was able to do. All I can say is 'it's not everyone who can say they've flew a helicopter'.
Would you recommend this product to a friend? Yes
Thoroughly Enjoyable - Well Worth It
30 August 2013
Andy
Location: Swindon Age: 45-54 Bought For Partner Occasion: Birthday
My pilot, Gary, was a really nice bloke and made me feel at ease. Fantastic experience - I really loved it, especially taking the controls. It was awesome - thank you.
Would you recommend this product to a friend? Yes
Excellent flight.
30 August 2012
Mark B
Location: Marple, Cheshire Age: 35-44 Bought For Partner Occasion: Birthday
I flew from Blackpool airport in the excellent hands of Keith from fly Blackpool. My wife and son were ushered out onto the apron where they remained for the duration of my flight. My son got to sit in the helicopter which made his day. Keith reassured me by showing me his flight log that he had been flying helicopters since 1pm that same day! We flew out over Blackpool in glorious sunshine and I tentatively took the controls. We did a small circuit of blackpool and returned to the airport where I got to practice hovering and controlling the aircraft. Sadly the 30 minutes was over in a flash, far too quick and I'll keep trying to win the lottery and have the dosh to take more lessons. Well worth every penny, give it a go. Thank you Karen and Archie.xx
Would you recommend this product to a friend? Yes
Completely delighted!
23 September 2011
Mad Dog
Location: Watford, Herts Age: 55-64 Bought For Myself Occasion: Just because!
After a pleasantly informal 1:1 chat we walked out to the Robinson R-22. The main briefing was in the helicopter while on the ground and then with the excellent instructor at the controls we took off, skimmed across the airfield (fast and low - scary!) and climbed to the north west over the Chiltern hills. Almost at once he asked me to take the "joystick" and soon I was learning to fly straight and level, while also admiring the stunning view. Next came turns and an introduction to the foot-pedals. I began to relax... All too soon it was time to head back, with me (loving every moment) on the joystick and the instructor controlling our descent. Once at the airfield he took the joystick and I operated the "up and down" lever to learn landing and take-off. I then controlled the height as we skimmed back across the field; he turned neatly and dropped the helicopter back in its parking place. Wow! I can see that learning to co-ordinate the two main controls is a challenge you don't master in he first half hour, not to mention keeping an effective all round look-out, operating the radio, and navigating, all at once! Now the big question: I'd love to do more, but can I persuade my wife that more flying - at over £250 per hour - is a sensible way to spend my savings! I don't see how this experience could be better - excellent instructor, relaxed approach, excellent little machine, and I even got good weather and stunning views! I noticed that I was smiling to myself all the way home... My thanks to all involved at Heli Air, Wycombe!
Would you recommend this product to a friend? Yes
Helicopter Flight Experience -

£189