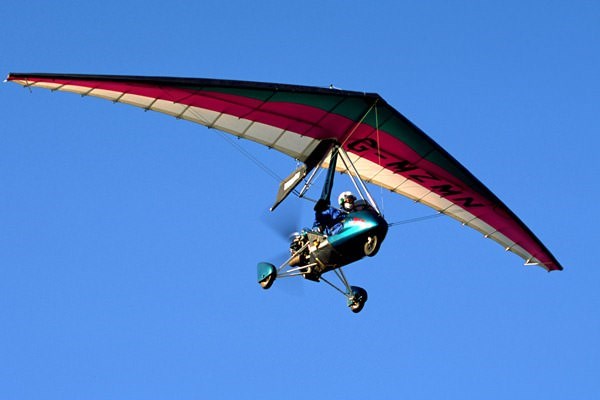 Summary

Fine Print

View on map
Experience flight like never before, as you glide through the clouds in a stunning microlight aircraft. These ingeniously designed aeroplanes appear like a scary prospect; however, they are safe, sturdy and facilitate an exhilarating aerial experience. No other aircraft gives the level of freedom and manoeuvrability that these machines allow. When you arrive at one of the airfields available nationwide, your expert pilot will greet you and go through the safety procedures with you, as well as giving you an introduction to the microlight itself, getting you used to the cockpit and controls. Once strapped in, it's then up, up and away, as your pilot expertly takes off and demonstrates the capabilities of the aircraft. Should you feel confident you may even get the chance to take control! The exact model and type of microlight will vary at different locations; however this information can be retrieved when you call your selected airfield to book.

What's included?
A safety briefing and cockpit familiarisation with your pilot
A 60 minute microlight flight with the opportunity to take control
Any restrictions?
Your voucher is valid for 10 months for one person
The minimum age to take part will vary at different venues; however none allow anyone younger than 14 years old
Maximum weight 89kg/14st (102kg/16st at South Lanarkshire location, 109kg/17.3st at Cambridgeshire location)
There is no minimum height for this experience
What do I need to know?
No previous experience necessary
The microlights available will vary at different locations. The images used on this page are simply a guide
Please allow for 60 minutes flight time and 30 minutes for briefing. This may be dependent on weather conditions
You are advised to call the airfield on the morning of your flight to be sure the flight is running as scheduled
All dates subject to availability
This experience is available at 12 locations.
All Regions:
Microlight Flight 60 minutes - UK Wide -

£148
Customer Reviews
12 out of 13 (92%) reviewers would recommend this product to a friend.
Read all reviews »
ultimate buzz
10 September 2015
legend
Location: north east essex Age: 55-64 Bought For Son Occasion: Father's Day
Great fun at the Sutton Gault airfield.Nothing rushed and everything explained before take off and whilst in the air. Plenty of hands on, not just sitting being flown around and full info as to the region we were flying over. Very exiting yet felt totally in safe hands. Dave Groom the instructor didn't seem in any hurry to get me done and finished which made a nice change as you can sometimes feel you are just another job to get crossed off the list. Definitely not just a 60 minute experience!
What would you improve for next time? nothing
Would you recommend this product to a friend? Yes
Amazing Experience
19 August 2015
JohnCrossley1970
Location: Cockerham, Lancaster Age: 35-44 Bought For Partner Occasion: Christmas
A memorable experience and Barry was extremely knowledgeable as the pilot talking through both the technical aspects of the microlight to the landmarks we flew across. A must do experience and one I would most definitely recommend.
Would you recommend this product to a friend? Yes
Up and Away
09 October 2014
DCO
Location: Derbyshire Age: 55-64 Bought For Son Occasion: Father's Day
Had this as a gift. Really looked forward to the experience and was not dis-appointed. Fantastic adventure and the closest thing to flying unaided. Great Instructor who let me fly the aircraft. Would recommend this to anyone who wants a bit of excitement.
What would you improve for next time? Would take longer it was awesome
Would you recommend this product to a friend? Yes
flying a microlight !!!!! WOW
06 October 2014
keith
Location: leicester Age: 45-54 Bought For Wife Occasion: Birthday
great experience and instructor was brilliant, very informative. I would highly recommend this experience with this company to anybody.
What would you improve for next time? cant be improved as it was brill
Would you recommend this product to a friend? Yes
Not what I expected
31 August 2014
Camper27
Location: Birmingham Age: 18-24 Bought For Partner Occasion: Christmas
I had this gift brought to me by my boyfriend for Christmas! I had been wanting to fly a micro light for some time and I was extremely excited! When we arrived, I couldn't see anything like the micro light that the pictures shows that I was expecting to fly anywhere! When they took me to the micro light I was disappointed to find out it was a small light aircraft and nothing like what I expected or the picture shows! This was not what I wanted to fly! I did enjoy the experience as I was able to take controls of the micro light for the whole journey including take off and landing so the experience in that micro light was amazing if that's what your looking for however please be aware that it is not the micro light advertised.
What would you improve for next time? Details and pictures of the micro light you will be flying at each location.
Response from Buyagift
14 Oct 2014
Hi, Thank you for submitting your review. I am really pleased to hear that you enjoyed your experience and were able to take control of the Microlight. We do make every effort to ensure that all images used and descriptions are as accurate as possible. When we have a product that has several different locations included as part of it, some of the locations may offer slightly different Microlights and as such we are not able to display all of them on the site. I have passed your comments across to the relevant teams so that we can ensure that the correct images for this experience are being used. If any amendments do need to be made, please be assured these will be done as quickly as possible. Thanks once again for taking the time to let us have your feedback as we really do appreciate it.
Would you recommend this product to a friend? No
Amazing :)
18 August 2014
Emmap
Location: Ely Age: 18-24 Bought For Partner Occasion: Christmas
Amazing experience. Relaxing,exciting and breath taking.
Would you recommend this product to a friend? Yes
60 minutes of genuine pleasure
27 June 2014
Sad Muppet
Location: Wales Age: 45-54 Bought For Mum Occasion: Birthday
From the relaxed informality of the initial briefing, to the exhilaration of being up with the birds this was a truly brilliant gift. The pilot had the right mix of knowledge & experience, but his enthusiasm & passion for flying shone through. The technical guidance wasn't too complicated, but all my questions were answered and the finer points of navigation & flying made clear. I was also impressed by the knowledge of local history, e.g. old Victorian forts along the banks of the Thames and the rotting hulls of old German U-boats in the mud, and also the geography of the Medway Valley where we flew. I would definitely recommend this to anyone. It's not physically demanding, but it is snug so the weight limits are for a good reason. I would definitely want to do this again.
What would you improve for next time? The provision of a 'head-camera' or one mounted on the microlight to record the flight would be a great addition, and could also raise extra revenue.
Would you recommend this product to a friend? Yes
Christmas gift
23 June 2014
Frank C.
Location: Telford Age: 55-64 Bought For Wife Occasion: Christmas
Excellent. My wife, Chris, bought me a micro-lite flight as a Christmas present as I'd been thinking of taking lessons. I took the lesson at Shobden with Swift Flight and found it very professional. Steve, the instructor, conducted a thorough brief and the flight was carried out in near perfect conditions. Steve allowed me to take control, under his monitoring, and it was very enjoyable, intense but enjoyable. I would definately recommend it for anybody interested in flying , just for the experience. Thanks to Steve and, of course to Chris xx
Would you recommend this product to a friend? Yes
microlite magic
23 May 2014
chrispb
Location: west yorks Age: 55-64 Bought For Partner Occasion: Birthday
Everything about the experience was first class. The arrangements with the flying club (Baxby) were easy to make, the 'leader' (Dave) was approachable, pleasant and very professional. The flight itself lasted the full hour but time seemed to fly by (no pun intended) as we talked about almost every topic under the sun. Heartily recommended for anyone who has a head for heights (if you haven't then definitely give it a miss).
What would you improve for next time? Everything was pretty good
Would you recommend this product to a friend? Yes
My Hubby's adventure in the air
08 March 2013
Minx
Location: Burtle, Somerset Age: 35-44 Bought For Myself Occasion: Birthday
I surprised my husband with this gift voucher for his birthday but had already booked the appointment as well, giving him no reason to delay. As he loves to fly and is an aerospace engineer I knew he would have no worries - but little did I know he had a bit of fear being in this microflight, but that soon changed as he was given the command for the entire flight and absolutely loved it. Steve, the instructor, was great to explain everything and even quicker to get my hubby in the air and having the full experience. It was well worth the fee and so easy to make the arrangements. This was a great intro into the world of microflight"ing" and gave my husband the experience he was looking for to see if his interest might go further than a joy ride. Another tick off the bucket list and well worth giving it a go yourself if you're considering. Have fun....we both did!
Would you recommend this product to a friend? Yes
Microlight Flight 60 minutes - UK Wide -

£148