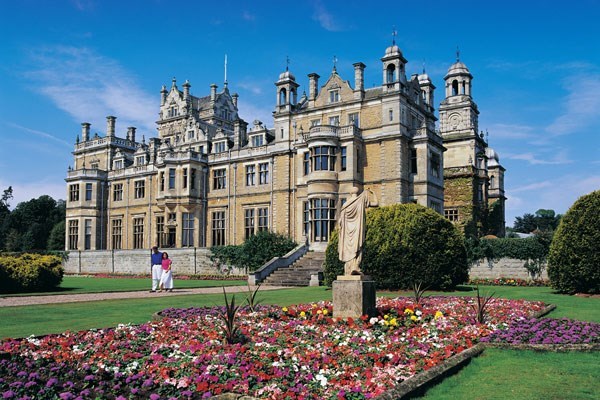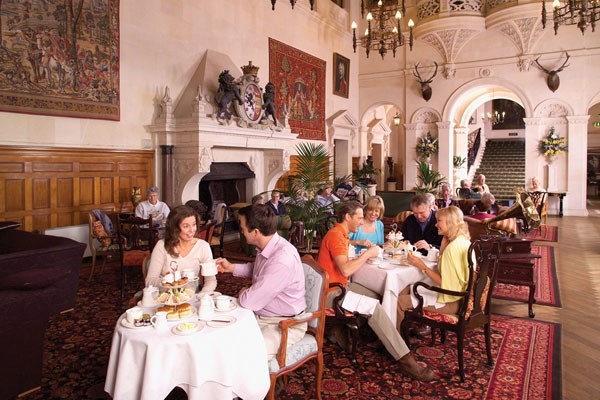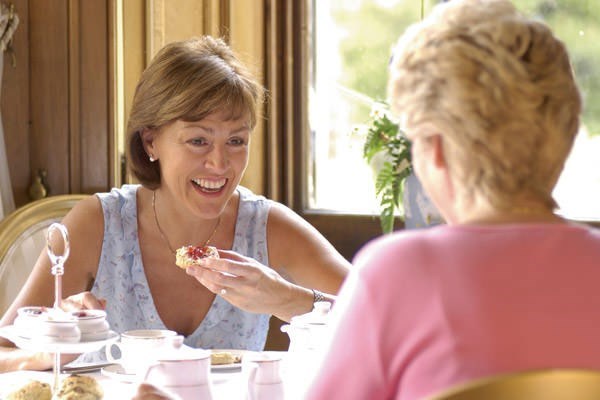 Summary

Fine Print

View on map
Enter through the magnificent central tower and ascend to the Great Hall at Thoresby Hall, set in idyllic Nottinghamshire countryside, to take tea in grand style. In this three-story-high room complete with minstrels' gallery, you'll sit amongst family portraits, weaponry and armour, looking out over the peaceful surrounding countryside. It is a truly breathtaking setting in which to take a traditional tea. Your sumptuous treat includes tea, herbal tea, or coffee to wash down scones with Tiptree jam and Devonshire clotted cream, cakes, pastries, and a selection of sandwiches made with fresh farmhouse white and granary wholemeal breads filled with traditional fillings. Do leave enough time to stroll in the grounds either before or after you tea, as they really are spectacular!
What's included?
Afternoon tea for two, including sandwiches, scones served with clotted cream and strawberry preserve, a selection of cakes and pastries, and your choice of tea, herbal tea or coffee
Any restrictions?
Your voucher is valid for 10 months for two people
This experience is available from Monday - Sunday between 2:30pm and 4pm. All dates are subject to availability
Suitable for over 21s only
What do I need to know?
The hotel has disabled access
On site car parking is available
Afternoon Tea for Two at Thoresby Hall -

£39
Customer Reviews
147 out of 172 (85%) reviewers would recommend this product to a friend.
Read all reviews »
Delicious Cream Tea
07 October 2015
golden oldie
Location: east midlands Age: 45-54 Bought For Husband Occasion: Anniversary
We went early to look round gardens then went in for tea. We were served by a lovely cheerful lady who was efficient and we were quickly seated in a lovely room overlooking the croquet pitch. Tea and coffee were served first then shortly afterwards our cream teas.The sandwiches were varied and dainty,the cream scones to die for. We had to take home our cakes which we enjoyed with a cuppa later that evening. A lovely afternoon out scrumptious tea in glorious surroundings.
What would you improve for next time? The whole experiance was lovely,actually finding the room to eat in was quite difficult.
Would you recommend this product to a friend? Yes
Thorny hall afternoon tea
05 October 2015
Jeepers
Location: Nottingham Age: 55-64 Bought For Son Occasion: Christmas
The afternoon tea was bought for us as a gift and I would just like to say it was a fantastic afternoon. The setting was beautiful, the hall and grounds were beautiful and we were able to enjoy these before and after our tea. The food was wonderful and the staff couldn't do enough for us, it was a pleasure to have an afternoon tea here and we will certainly be visiting again!
What would you improve for next time? Nothing
Would you recommend this product to a friend? Yes
Dream Tea
05 October 2015
kw1497
Location: North Notts. Retired and loving it. Age: Over 65 Bought For Daughter Occasion: Christmas
It didn't start too well as the Warner telephone lines were subject to VERY long queuing times (too many customers or not enough operators?). I found the venue's "direct" phone number but on dialling it was promptly routed back to Warner Central to re-join the queue. However, someone did offer to call me back, which eventually did happen and the helpful person I spoke to did make my booking via his own computer terminal straightaway. Had this not been a BuyaGift present, I'd have given up and booked elsewhere! The cream tea afternoon was an absolute delight. Thoresby Hall is a beautiful historic building and the room that housed the cream teas was packed with WOW-factors, ornate high ceilings, elaborate decorations and gilding, huge floor-to-ceiling windows offering views of the manicured grounds with their lawns,trees and shrubs. We felt like royalty (if only for a couple of hours!). The cream tea was presented beautifully too, sandwiches,cakes, scones with jam/cream etc. And it tasted just as good as it looked. Service was excellent too, quiet but efficient and professional. When we 'd finished we were offered a take-away box for the (few) pieces we'd been forced by full tummies to leave.Perfect attention to detail. So arrive hungry as the portions are generous, but don't worry if you're unable to finish everything on the cakestand at one sitting. Customers are able to explore a little of the older parts of the house, and as we made our way to the cream teas room we had to pass a few very impressive rooms (as well as several corridors in the newer extensions added to make the original hall into a functional hotel).
What would you improve for next time? Warners need to sort their telephony system....and/or let customers book via internet.
Would you recommend this product to a friend? Yes
Afternoon Tea
30 September 2015
Izzy
Location: Age: 55-64 Bought For Myself Occasion: Just because!
Bought as a Christmas present for my parents. They were turned away.
Would you recommend this product to a friend? No
Breathtaking
30 September 2015
Painter Pam
Location: We live in Lincoln so this is our closest Warners. Age: Over 65 Bought For Son Occasion: Christmas
This was our first visit to Thoresby Hall and we were very impressed with sheer grandeur of the property, it's beautiful decor and relaxed feel. The room in which we were invited to take tea was lovely, as was the welcome and tea itself. What a treat. Afterwards we were invited to look around the grounds which were well laid out with a lake and miles of walks. We enjoyed our visit so much that we have booked to stay for longer. What more can I say! Well done.
Would you recommend this product to a friend? Yes
Gift for husbands parents
28 September 2015
Woolie
Location: Newark notts Age: 45-54 Bought For Relative Occasion: Christmas
beutiful surroundings lovely treat friendly helpful staff definatley use buy a gift service again fab prezzie
What would you improve for next time? More sandwiches too many cakes even though they were lovely they said very nicely presented and could bring home cakes that couldn't eat!
Would you recommend this product to a friend? Yes
afternoon tea
26 September 2015
mickydrips
Location: Nottingham, it was a birthday present. Age: 55-64 Bought For Daughter Occasion: Birthday
Very enjoyable, prompt friendly service.Would go again without hesitation.
What would you improve for next time? Nothing at all.
Would you recommend this product to a friend? Yes
25 September 2015
Annie
Location: Grantham, Lincs Age: Over 65 Bought For Relative Occasion: Christmas
Wonderful experience. They had made a mistake with the booking but went out of their way to make sure that our meal was both enjoyable and a pleasant experience. The staff were fantastic especially a young maintenance man who sorted everything out for us.
What would you improve for next time? Make sure that the bookings are correct
Would you recommend this product to a friend? Yes
Wonderful !
23 September 2015
Rio!
Location: Nottinghamshire Age: 35-44 Bought For Myself Occasion: Christmas
This was purchased as a gift for my parents . The setting of Thoresby Hall was lovely and they enjoyed their afternoon tea looking out onto the beautiful garden . The staff were very helpful and food was delicious .They thoroughly enjoyed their afternoon . Thank you a Thoresby Hall .
What would you improve for next time? Nothing - it was perfect !
Would you recommend this product to a friend? Yes
OK – BUT SOME DISAPPOINTMENTS
21 September 2015
Brilin
Location: Nottingham Age: Over 65 Bought For Sister Occasion: Other occasion
We were very pleased to receive this gift from my sister. The lovely little package arrived when we were told it would and we really looked forward to the treat. The first problem appeared when I tried to ring the number given to make a booking. My call was answered with a recorded message which said along the lines of "we are not available – try again". No possibility of leaving a message or any alternative number. I tried this number several times over a period of about three days, always with the same answer. So I found the Thoresby Hall telephone number on the internet and made the booking direct. They were a bit hesitant at first but there was no major problem and we were given a choice of times at 15 minute intervals on the day we requested. The day arrived and we were able to have a walk around the very pleasant grounds beforehand. Checked in at the reception desk and were sent on a long walk through the hotel to the bar. Again we checked at the bar and were told to wait. Eventually, about 20 minutes later (well after our designated time) somebody came to take our details – fine. We then had to wait again for 10 minutes or so before we were taken on another walk through the hotel to a room in a corner of the hotel. Now the room was not unpleasant, but it was a bit crammed and it was certainly not the Great Hall where the voucher had said the tea would be. This was a shame. There was never any apology or reason given as to why the venue had been moved and we were certainly not informed when we made the booking. We didn't ask the reason, but it was obvious that they were preparing the Great Hall for some event and they certainly were not going to lose the income from the afternoon teas while they did it! The tea was OK. Very disappointing that you only get one cup of tea – would have thought that it would not have eaten into the profit too much to have at least been offered a second cup. For our taste there were too few sandwiches and too many cakes and scones. (Another reason to need more than one cup of tea!) After the tea we had to find our way back to the entrance. By this time the hotel was full of jostling people and people in invalid chairs driving along the corridors – I guess some coaches had arrived. All in all it was an OK experience, but I'm glad it was a gift. I would not book myself to have afternoon tea here (there are so many better and cheaper places) and I definitely would never want to stay in the hotel.
What would you improve for next time? Have a booking telephone number that is friendlier. Have the hotel tell you if the tea would not be in the Great Hall. That the hotel treats you as an important guest and not as a bit of a nuisance on a cheap voucher. That they offer the possibility of more tea.
Would you recommend this product to a friend? No
Afternoon Tea for Two at Thoresby Hall -

£39