To ensure you receive your gift on time please check the delivery information tab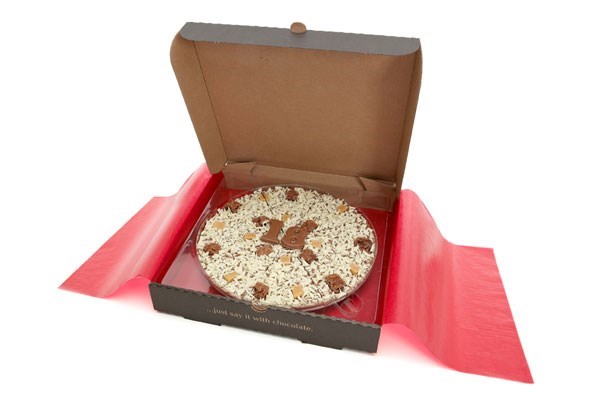 Birthday Chocolate Pizza - Add Any Age
Product code: 11517426
Write a review »
A delicious chocolate pizza perfect for a birthday - decorated with the age of your choice!
Standard UK delivery : 4-8 working days
People get excited about chocolate at any age – and you can add any age to this chocolate pizza! The perfect dessert to eat after a savoury pizza, or just a great sweet treat all on its own, this unique gift is a slice of heaven. The 10-inch pizza features a Belgian chocolate base instead of boring pizza crust, and is topped with delicious vanilla fudge, chocolate brownie cookie chunks, and white chocolate curls, as well as any age (in numerals) in solid chocolate – rather more appealing than anchovies. It will be delivered to your door, and you don't even have to tip. Perfect for those who don't want to shout about their age, and would quite like to eat the evidence.
What's included?
A chocolate pizza, delivered in a take-away style box, lined with red tissue paper, and personalised with the age of your choice
Any restrictions?
This Gourmet Chocolate Pizza is suitable for vegetarians
What do I need to know?
The pizza has a shelf life of 6 months
Delivery Type
Delivery Time
Price
Standard UK delivery
4-8 working days
£4.96
(Available for delivery to mainland UK only. Please allow 4-8 working days for the product to arrive.)