To ensure you receive your gift on time please check the delivery information tab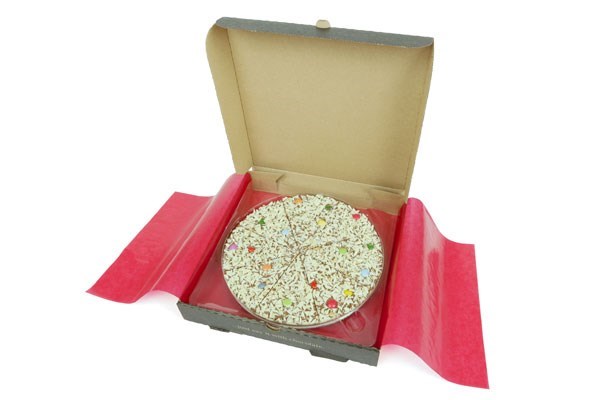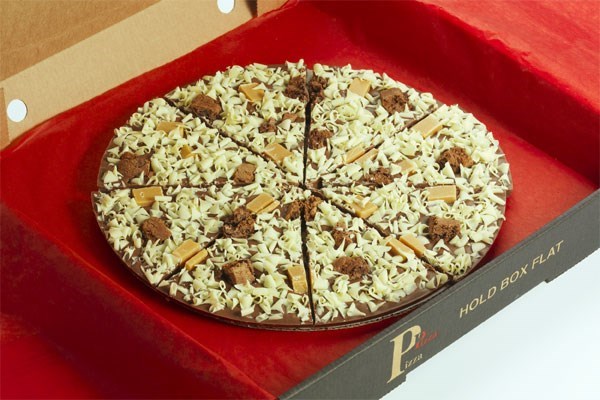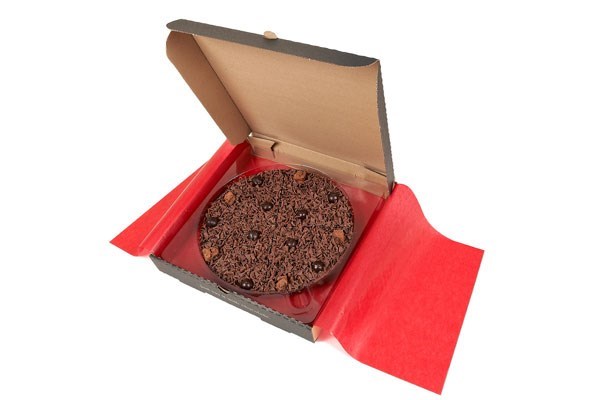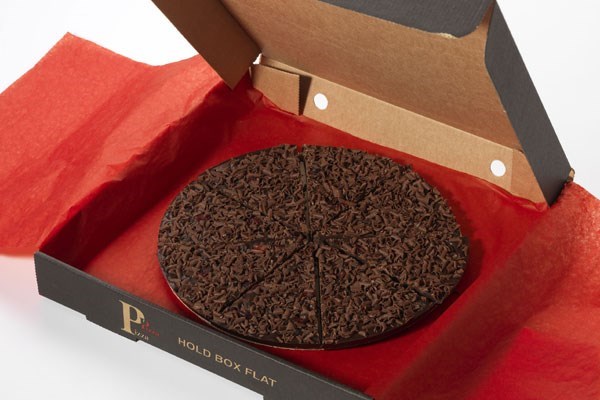 Gourmet Chocolate Pizza
Product code: 11517274
4 out of 5 (based on 5 reviews)
Write a review »
Order a pizza delivery with a difference, for a chocoholic's dream dessert - includes free delivery!
Free Standard UK delivery : 4-8 working days
Everybody loves pizza. Everybody loves chocolate. It's safe to say that you can't go wrong with a chocolate pizza. Instead of pepperoni, tomato, and cheese, you'll open the takeaway-style pizza box to reveal delicious sweet-tooth pleasing toppings. There's Crunchy Munchy, with vanilla fudge, brownie cookie pieces and white choc curls, or Jellybean Jumble, with rice puffs, rainbow drops, and Jelly Belly jelly beans, among many other scrumptious choices, all served on a Belgian chocolate base. Like savoury pizzas, these chocolate delights are available in vegetarian-friendly varieties, and come ready-sliced in a range of sizes. They're suitable for one person, or to feed a few, depending how hungry or generous you are feeling. Chocolate pizza - a great excuse to skip straight to dessert!
What's included?
One Gourmet Pizza Company chocolate pizza, delivered in a take-away style pizza box lined with red tissue paper
Free UK mainland delivery
All pizzas have a shelf-life of 6 months, apart from:
Honeycomb and Marshmallow/ Yummy Scrummy: a shelf-life of one month
Gone Nuts: a shelf-life 3 of months
Jellybean Jumble/ Raspberry Mac/ Dark & Delicious: a shelf-life of 12 months
All Gourmet Chocolate Pizzas are suitable for vegetarians, apart from the 'Honeycomb and Marshmallow' and 'Yummy Scrummy', which both contain marshmallows made using gelatine
Delivery Type
Delivery Time
Price
Free Standard UK delivery
4-8 working days
Free
(Available for delivery to mainland UK only. Please allow 4-8 working days for the product to arrive.)
Customer Reviews
4 out of 5 (80%) reviewers would recommend this product to a friend.
Read all reviews »
Fantastic.
02 August 2014
Puppydog
Location: Brighton Sussex Age: 45-54 Bought For Sister Occasion: Just because!
Well.....let me just say I am now on my 6 'Chocolate Pizza,!! They make the most Amazing gifts, I love seeing friends faces when they realise it's chocolate. I love the taste of the chocolate as does everyone else, I also always buy the biggest purely for the 'WOW' impact it gets. This is one very unique gift - We Love It! Thank You.
What would you improve for next time? Nothing ! Just keep doing what you are doing.
Would you recommend this product to a friend? Yes
yuck!
25 December 2013
nina
Location: london Age: 35-44 Bought For Myself Occasion: Christmas
bought this for my daughter who loves chocolate it tasted like cooking chocolate.. left the worse taste in your mouth.. would never recomend this to any one.... DISCUSTING !!
Response from Buyagift
06 Jan 2014
Hello Thanks for submitting your review and I am very sorry that you are disappointed with the quality of the gift. I have already been in touch with you regarding this to resolve the issue. If you have any further questions, please do get in touch.
Would you recommend this product to a friend? No
Much admired
02 October 2013
reallywrenchit
Location: Maldon Age: 45-54 Bought For Myself Occasion: Birthday
I bought this for my son's 9th birthday party. It received many admiring looks from the other mums, with everyone wanting to know where to get one. Needless to say, all the children loved it and there were a few spare slices for siblings. A real showstopper!
Would you recommend this product to a friend? Yes
Wonderful gift for my boyfriend
22 February 2012
AlisonMary
Location: Radlett Age: 25-34 Bought For Partner Occasion: Valentine's Day
He loves chocolate and loves pizza so this is the perfect gift! I was slightly concerned how it could arrive through the post in one piece (or six perfectly formed pizza slices) but it arrived in perfect condition and beautifully gift wrapped. My other half loved it and is still munching his way through it - great value for money and delivery is included in the cost! Result!
Response from Buyagift
20 May 2013
Glad to hear your boyfriend loved this gift; we've munched a fair few of chocolate pizzas ourselves in the office! Just a quick note to our customers - the delivery cost is a separate charge, that is added on at the basket page.
Would you recommend this product to a friend? Yes
really tasty gift!
22 February 2012
florence85
Location: London Age: 25-34 Bought For Partner Occasion: Other occasion
I bought this chocolate pizza as a thank you gift for my boyfriend for basically being my chauffeur until I passed my driving test. He loves chocolate and he loves pizza so I guessed I couldn't go wrong with this! It arrived really quickly and looked really good. I thought he'd scoff the lot in one go but to my surprise it lasted quite a while. I couldn't resist nicking a bit to taste what it was like and it was great. The chocolate was really tasty, unlike the kind you sometimes get with novelty chocolates.
Would you recommend this product to a friend? Yes