To ensure you receive your gift on time please check the delivery information tab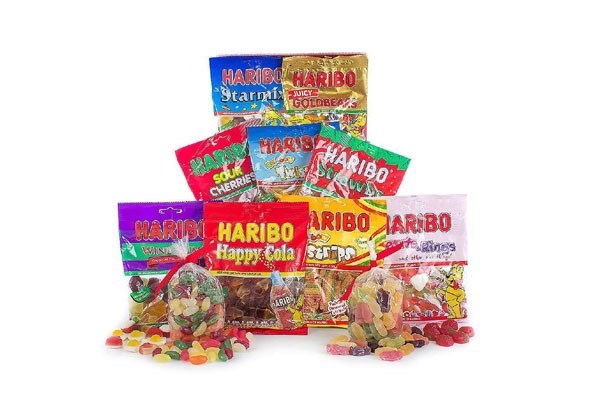 Haribo Hamper
Product code: 1154012
Write a review »
A gigantic hamper of Haribo favourites – for kids of all ages!
UK Courier Delivery : Date of your choice
Summary

Fine Print

Delivery Information
A sturdy green metallic box containing all the very best sweet treats that Haribo has to offer. Gorge on Starmix, Tangfastics, Cola Bottles, Rainbow Twists, Rhubarb and Custards, Terrific Turtles, Giant Strawbs, Fruity Frogs and more! Alternatively, you could share them with your nearest and dearest. After all, there's something for everyone here!
Click here to view a full list of ingredients
What's included?
Haribo Happy Cola Bottles 160g
Haribo Hearts & Rings 160g
Haribo Juicy Gold Bears 150g
Haribo Mini Jelly Babies 200g
Haribo Mini Rainbow Twists 150g
Haribo Sour Cherries 160g
Haribo Sour Rainbow Strips 150g
Haribo Starmix 160g
Haribo Strawbs 160g
Haribo Wine Gums 160g
Haribo Jelly Beans 200g
Red Fluted Gift Box
Any restrictions?
Delivery to UK mainland only
What do I need to know?
Choose your preferred delivery date, for your convenience
Delivery Type
Delivery Time
Price
UK Courier Delivery
Date of your choice
£6.50
(You may choose a specific delivery date for delivery at the basket page. This product must be signed for on delivery. Please note: This item may be delivered to mainland UK addresses only - excluding Northern Ireland.)