To ensure you receive your gift on time please check the delivery information tab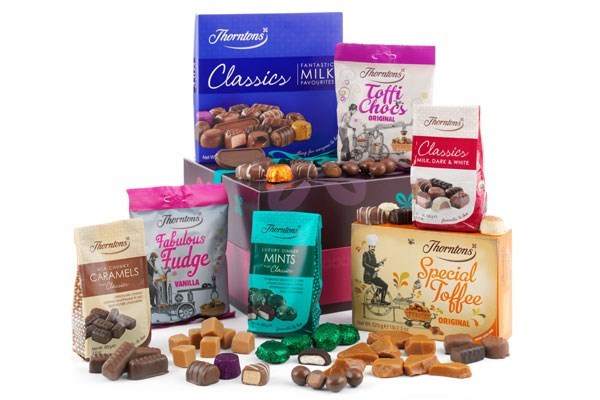 Taste of Thorntons Hamper
Product code: 11515610
4 out of 5 (based on 2 reviews)
Write a review »
This fantastic hamper from Thorntons is sure to put a chocolate smeared smile on someones face!
Standard UK delivery : 3-5 working days

Specific date delivery : Choose a date
Summary

Fine Print

Delivery Information
The Taste of Thorntons Hamper includes a tempting range of delicious chocolate that is sure to go down a treat with those you love. This fantastic selection is a perfect gift for someone who wants to sample the different textures and flavours of a variety of sumptuous flavours! They can feast on an indulgent selection including smooth chocolate, chewy toffee and creamy toffee. Each bag of treats is a joy to open and devour, from scrumptious milk caramels to smooth creamy fudge made with real clotted cream. This delectable feast is sure to add an extra special touch to a gathering!
What's included?
Chocolate Smothered Toffi Chocs (135g)
Classics Luxury Dinner Mint Bag (105g)
Classics Milk Caramel Bag (103g)
Classics Milk, White & Dark Bag (106g)
Original Special Toffee Box (525g)
Vanilla Fudge Bag (140g)
Classics Milk Signature (276g)
Any restrictions?
Please note if there is nobody available to accept delivery or if goods become unsuitable due to non-delivery we cannot accept liability
Please see the calendar on the checkout page for available delivery dates for Specified Date Delivery
Please note weights are approximate
Delivery Type
Delivery Time
Price
Standard UK delivery
3-5 working days
£4
(Available for delivery to UK addresses only. Standard delivery takes 3-5 working days (Mon-Fri). If nobody's home to sign for your goods, the driver may leave them in a secure location at their discretion.)
Specific date delivery
Choose a date
£7
(Available for UK delivery only. This item will be delivered by courier on the date you select from the calendar at the checkout page. Please be aware that delivery to certain UK postcodes will take longer due to their remote locations. If nobody is available to sign for your goods, the driver may leave them in a secure location at their discretion.)
Taste of Thorntons Hamper -

£20
Customer Reviews
1 out of 2 (50%) reviewers would recommend this product to a friend.
Read all reviews »
Set the record straight
20 November 2014
Sparkes
Location: Crewe Age: 45-54 Bought For Myself Occasion: Christmas
Very Pleased with the service. I ordered this as a gift and after reading the previous review was unsure if to just go to the store and buy one as did not feel that needed all the hassle. I ordered on Monday and it arrived on Thursday morning with no hassle at all. Great as a joint gift for a family for Xmas!!
What would you improve for next time? Possibly offer a cheaper rate for delivery date as think £3.95 is a little steep.
Would you recommend this product to a friend? Yes
Delivery is awful
29 May 2013
Sarah2702
Location: Age: 45-54 Bought For Myself Occasion: Christmas
My boyfriend was chuffed with this once he'd FINALLY got it, however when they say choose a date for it to be delivered, I didnt expect it to take a WEEK later to deliver chocolates! Thorntons delivery is terrible, when asked when it would be delivered they just kept telling me the next day and the next day etc.. Finally had it delivered a week after Id requested so totally ruined the surprise to the point where the day before it was actually delivered I requested my money back, it was only then they decided to get their arses in gear.
Would you recommend this product to a friend? No
Taste of Thorntons Hamper -

£20