Cook, eat and run - learn how to make a meal in 30 minutes with this lesson for two
Buy now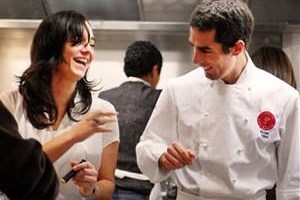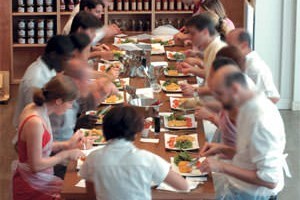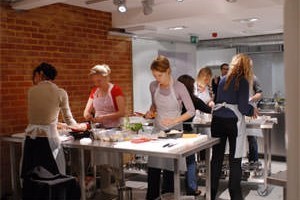 This is your chance to try the modern cooking school that teaches busy people how to cook without spending all day in the kitchen! During your lesson for two, the professional chefs at L'atelier will help you guide you in mastering different cuisines from around the world that you can easily repeat at home. You can also enjoy a glass of wine each and dessert of the day made by the chef. Soon you will be hosting your own dinner parties with recipes and food from your lesson that are guaranteed to impress your friends!
This cookery lesson for two is a great way to learn how to make a new dish in a fun and friendly environment. During your experience a professional chef will guide you through the creation of one delicious meal, offering expert advice and top tips. The cookery lesson will last approximately 30 minutes. After the class you may sit around the large dining table with your fellow classmates and enjoy the dish you have cooked. You will both be treated to a refreshing glass of wine to enjoy with your meal, as well as receiving the dessert of the day to top it all off! The recipe for your meal will also be emailed to you after your experience, meaning you can recreate it at home and impress your friends! Your experience will last around one hour, including tuition and time to eat your creation.
This experience is available at 2 Locations:
Greater London (London) - Oxford Circus
Greater London (London) - Saint Pauls
Your voucher is valid for 10 months for two people. Pre-booking for this experience is essential. Classes run Monday to Friday only. Experience times and meals cooked will vary every lesson - please ensure that when you book online it fits your dietary needs, as no changes can be made on site. You will both receive a glass of wine and the dessert of the day (prepared by the chef) with your meal. The facility is wheelchair accessible. The course is suitable for people with all levels of cooking ability. Classes are only bookable up to 28 days in advance and must be booked via the supplier's website. All dates are subject to availability.
30 Minute Cookery Lesson for Two at L'atelier des Chefs
1
1
Fun Cookery class in London
I have been to two cookery classes at L'atelier des chefs London, Wigmore St. The first was a 2 hour Thai cooking class with lunch and a glass of wine included. Once you arrive and have checked in, you can meet the other people in your class, and then you get an apron.We watched the master chef demostrate 3 different recipes on a central work station, and then we had to pair off in groups (on oblong tables) to start preparing the dishes step by step and sharing tasks like chopping veg and preparing sauces etc, I felt I really learnt some useful tips and it was a very sociable experience.The chef did not work one to one but it was still clear what we were going to prepare for our menu.
27 April 2013