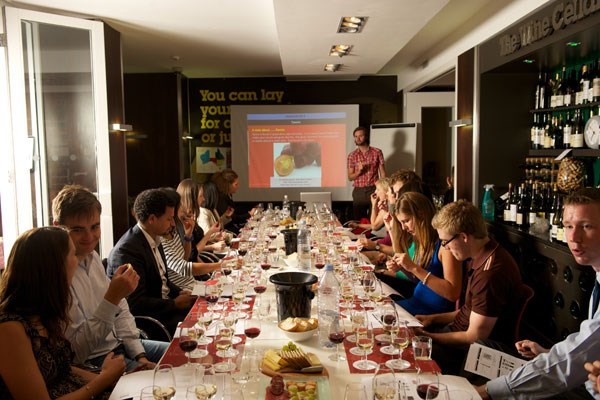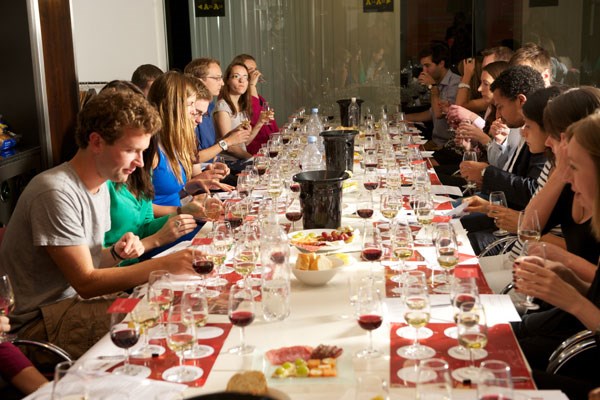 Summary

Fine Print

View on map
The best way to learn about wine is, of course, to taste it. If you're going to be doing this all day it's also a good idea to eat something too. This five-hour experience includes a tasting course, where you'll be introduced to much-loved vintages from the classic wine-producing regions as well as learning about exciting up-an-coming New World producers. During a tutored tasting of at least 12 wines, you'll learn how to discern different flavours and aromas, how to match wine with food, determine the age and quality of wine, the effects of climate on taste and colour, and how you can confidently buy excellent wine when you next shop. You'll be served a delicious two-course lunch, and also taste some fine Champagne during your wonderful day. At the end of the day, you'll be presented with a top-quality bottle of wine to take home as a souvenir. Bottoms up!
What's included?
A one-day wine-tasting course for one
A two-course lunch
Champagne tasting
A bottle of great wine to take home
Any restrictions?
Your voucher is valid for 10 months for one person
Minimum age is 18 years
The experience is available on selected Saturdays throughout the year. All dates are subject to availability
Please inform the supplier in advance of any relevant dietary restrictions
What do I need to know?
No experience is necessary – class is suitable for beginners or more experienced wine lovers
This experience is available at 28 locations.
All Regions:
Saturday Wine Tasting with Champagne and Lunch For One -

£95
Customer Reviews
8 out of 8 (100%) reviewers would recommend this product to a friend.
Read all reviews »
Saturday Yorkshire wine school
22 February 2015
Yorkshire lass
Location: West yorks Age: 45-54 Bought For Myself Occasion: Birthday
We had a lovely time in York at the Saturday wine tasting course. Laura our host was very knowledgeable and friendly. There were 12 wines to taste and we did come away a little on the merry side. Would recommend this day out to all we enjoy nice wines!
What would you improve for next time? The lunch portions were small, with no potatoes. You need a little something more after tasting all the wines.
Would you recommend this product to a friend? Yes
Plenty of wine no whining!
26 July 2013
DawnyG
Location: Wigan, Greater Manchester Age: 55-64 Bought For Daughter Occasion: Mother's Day
A great gift for anyone even slightly interested in wine. A perfect day out on a whistle stop tour of the wine world. A perfectly pitched presentation that was both fun & entertaining in a relaxed atmosphere. Dispelled all the snobbery associated with this activity & at the end of the day we had even learned quite a bit about wine tasting! Definitely not for tee-totallers!
Would you recommend this product to a friend? Yes
Saturday Wine Tasting with Ian Bentley
28 May 2013
CAB1
Location: London Age: Over 65 Bought For Daughter Occasion: Birthday
I would like to say that the Saturday Wine Tasting (May 18th) was a great experience for me. I have been drinking wine for decades but I have always thought of wine 'expertise' as a load of pompous waffle. However, the East London Wine School course not only gave me useful knowledge but also made me appreciate wine in a new way. The way Ian Bentley ran the course and helped us all appreciate both the simple aspects of wine appreciation and some of the behind the scenes facts of different wines made the day both enjoyable and benefitial. Overall I felt as if I had had a one-to-one session and arrived back home with my new wine knowledge bubbling out of me (much to the pleasure and eventual annoyance of the family!).
Would you recommend this product to a friend? Yes
Really good value for money
02 April 2013
Cowboy
Location: Orpington Age: Over 65 Bought For Son Occasion: Anniversary
The course instructor was excellent. We were given a lot of information about wine origins, types of grapes and flavours. Every question was answered to our complete satisfaction. We tasted a total of 12 different wines and were instructed what to look for in colour and taste. We enjoyed it so much that we would like to make another date to taste wines from other regions.
Would you recommend this product to a friend? Yes
Best way of spending a wet Saturday in February
17 March 2013
Siparky
Location: West Yorkshire Age: 35-44 Bought For Wife Occasion: Birthday
An excellent day hosted by Laura from Yorkshire Wine School. Laura was both passionate and knowledgable and created a really relaxed atmosphere. The Hotel Du Vin in York was the perfect setting, and the included two course lunch was excellent offering three choices for both starter and main. Booking via buyagift also meant we received two bottles of wine from the ones tasted, which was really welcome. We extended our day out by spending the evening at the hotel and eating in their excellent resturant in the evening where we received a 20% discount on food and of course wine! That good we would consider do it all over again!
Would you recommend this product to a friend? Yes
Well run, informative and great fun!
28 September 2012
Guifre
Location: West Yorkshire Age: 35-44 Bought For Relative Occasion: Christmas
My wine tasting course was a christmas gift, and as I feared I arrived to find I was the only person to have come without a family member or friend! I need not have worried however, as the tutor ensured everyone felt welcome, and the atmosphere was friendly and relaxed from the start. The content was suited to absolute beginners, but was still rewarding for those with some basic wine knowledge like myself. Introductory material set the scene brilliantly, and our tutor was enthusiastic and keen to answer any questions that arose. When we moved on to the serious matter of tasting the wines, we were encouraged to appreciate the subtleties and nuances of a dozen wines over the day, skilfully chosen to demonstrate the effects of climate and soil, as well as grape variety. In between the white and red tasting sessions we had an excellent and leisurely lunch in the hotel bistro. As well as a really enjoyable day out, the course provided a few new favourites to hunt out in the shops, and the knowledge to make more informed choices when buying. Highly recommended.
Would you recommend this product to a friend? Yes
Wine Tasting For Dummies
16 September 2011
fatbaz
Location: Manchester Age: 35-44 Bought For Brother Occasion: Birthday
The guy puts a lot of effort into this wine tasting experience and is very knowledgeable. All together over the 5 hours we tasted 13 different wines and a champagne, and had some heathly debate and participation across the group. The location for the Manchester event was very close to local transport links, which was good as none of us used the spitoon. Overall a lot to fit into one day, but for a novice it was a very good introduction into wine tasting and I am now considering some of the specific events on wine from different regions.
Would you recommend this product to a friend? Yes
Wine Tasting - Birmingham
24 June 2011
Sean Cameron
Location: Leeds Age: 25-34 Bought For Myself Occasion: Christmas
The day couldn't have gone any better. The hostess knew what she was talking about but got her point across in a laid back and non patronising way. It wasn't stuffy like people think it is going to be. The venue was superb and the meal was hearty and exactly what was rtequired. The portions were generous and my wife and i left feeling as though we had got good value for money.
Would you recommend this product to a friend? Yes
Saturday Wine Tasting with Champagne and Lunch For One -

£95