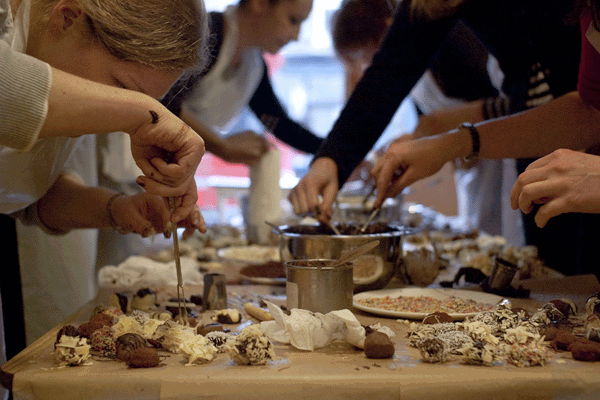 Summary

Fine Print

View on map
Learn to sculpt your own fantastic chocolate creations during this three and a half hour truffle making workshop. Using the finest natural ingredients and flavours, your tutor will take you through a range of techniques, from preparing fillings to shaping and dipping them in a range of colours. After you've wrapped your truffles, you can take home everything you've made to enjoy later - although of course you can eat it all on the way home if you'd like!
What's included?
A Truffle Making Workshop for one including chocolate tasting and presentation of chocolate, truffle making and shaping the filling, tempering milk, white or dark chocolate, dipping and decorating and wrapping your chocolates
Any restrictions?
This voucher is valid for 10 months
This experience is available on Saturdays only
Please note, under 14s must be accompanied by an adult on this experience
What do I need to know?
All dates are subject to availability
There are no nuts used on site, so this experience is fine for anyone suffering from nut allergies – please mention any allergies you may have when booking regardless
Please allow up to three and a half hours at the venue for your experience
Truffle Making Workshop -

£39
Customer Reviews
3 out of 3 (100%) reviewers would recommend this product to a friend.
Read all reviews »
Fun and yummy!
18 July 2015
Estel
Location: London Age: 25-34 Bought For Partner Occasion: Birthday
Very complete workshop! Ideal group of only 6 people, nice teacher, nice venue. It was fun, creative and we ended up making nearly 1/2 kg of truffles each one.
Would you recommend this product to a friend? Yes
Fun day out
20 November 2012
mum to chocolate lovers
Location: midlands Age: 35-44 Bought For Myself Occasion: Birthday
This was a birthday gift to my daughter to go with her Dad- both chocolate lovers and my daughter loves cooking and decorating. Yes, the venue sounded very small, but I guess that was also part of the charm. They brought back lots of chocolates, the workshop took over 3 h and they had a great time. The instructor was really into chocolate and very enthusiastic. Well worth it's money and something different to do.
Would you recommend this product to a friend? Yes
Chocoholics "AA" Meeting for sure!
22 April 2012
Hin
Location: Essex Age: 18-24 Bought For Friend Occasion: Birthday
The store is very little and located in Peckham Rye. I arrived a little early and was offered a free hot chocolate - definitely perfect for a true chocoholic - very rich and thick! The workshop started late due to late arrivals and began with a quick review of Chocolate from start to finish i.e. the cocoa bean to the final product and a mystery flavour taste test of a few chocolates! (Yum). The Shop is very tiny and the workshop is held there.. On my session it was full - there must have been approx 15 of us so it was extremely cramped and it didn't make me feel at ease or give me room later when it came to making the truffles (very disappointing). We then went on to make milk chocolate truffles which we could flavour with spices (alcoholic flavours/ fruity/ nutty/ coffee were not possible), White chocolate vanilla buttercream - this was a group task which involved the instructor putting the ingredients together and us just mixing/ shaping our chocolates - was okay - made much more fun by the people you are with. The dark chocolate we didn't get to make but were later given a small slab of to make our cut out shapes. We then learnt tempering chocolate which is used to coat the truffles - this was fun! The decorating which followed was also great in terms of chocolate/ toppings we could use but the crampness was a major issue for me! The lady next to me got chocolate on my clothes and dripped them over my truffles which was slightly annoying as I was a perfectionist! Once the truffles were made we were given small plastic bags and ribbon ties to package our hand made goodies and boy did they look hand made! Overall the experience was good, well worth doing at least once. The only down side for me was literally too many people in a tiny room with little/ no room to move about to decorate your truffles.
Would you recommend this product to a friend? Yes
Truffle Making Workshop -

£39