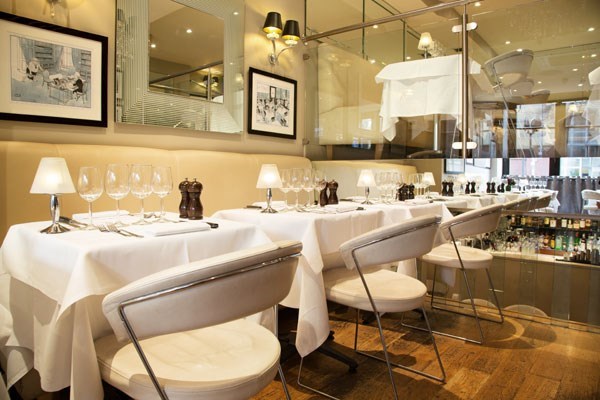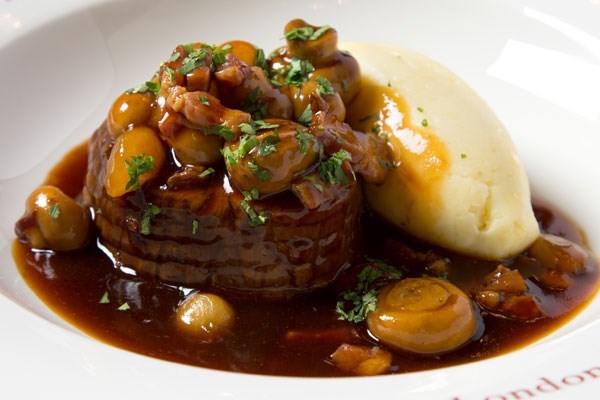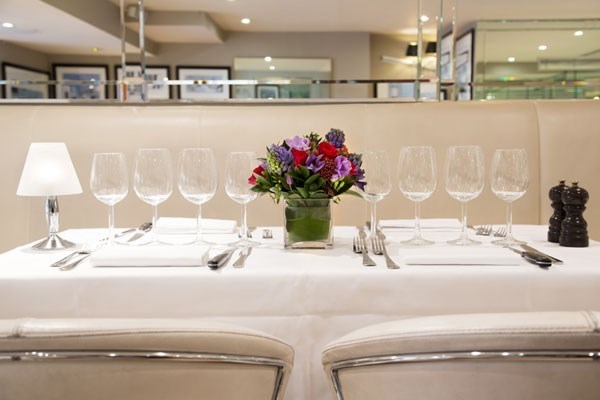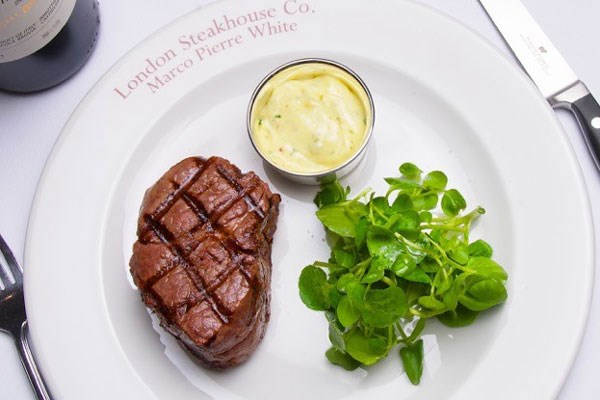 Summary

Fine Print

View on map
Marco Pierre White's Kings Road Steakhouse and Grill reaches new standards for traditional fine dining. Enjoy a three-course meal, with a seasonal cocktail, at this sophisticated and elegantly lit eatery in the heart of Chelsea. All of the food at the restaurant has been approved by Marco Pierre White - Gordon Ramsay's mentor and the youngest ever chef to be awarded three Michelin stars. The restaurant serves an array of delicious starters, including Kipper Pate and the finest quality Gravadlax with Mustard Sauce. For mains, in addition to the signature steaks on offer is also Smoked Haddock Fishcakes, Braised Boeuf Bourguignon and vegetarian options available on request. For dessert, choose from a selection of indulgent treats, including the nation's favourite Sticky Toffee Pudding and decadent Caramelised Lemon Meringue.

Please click here to see a sample menu.
What's included?
A three-course meal at The Kings Road Steakhouse and Grill for two people
A seasonal cocktail each
Any restrictions?
Your voucher is valid for 10 months for two people
Please note it is requested that you attend in Smart-casual attire, jeans are fine, however there is strictly no sportswear permitted
This package includes a three course dinner and a seasonal cocktail each
Please see below with regards to Opening times:
Mon-Thurs: 12pm-3pm and 5.30pm-10.30pm
Fri-Sat: 12pm-10.30pm
Sun: 12pm-10.00pm
Lunch service is 12pm–5.15pm Friday to Sunday and Dinner service is 5.30pm onwards excluding Valentine's Day
Please note that for Friday and Saturday evening voucher bookings reservations can only be made within 48 hours in advance. Should you wish to make a weekend booking more than 48 hours in advance, you will have to exchange the cash value of the voucher and put this towards dining from the a la carte menu
This experience is not available in December
Please note side dishes, tea and coffee, and additional drinks are not included in the voucher package
Additional drinks and courses are not included but may be arranged directly with the restaurant
Please note a discretionary 12.5% service charge will be added to your bill
Example dishes may not be available as the menu is subject to change
Supplement prices are subject to change
This voucher cannot be extended
What do I need to know?
All dates are subject to availability
Kings Road Steakhouse 3 Course Dinner and Cocktail for Two -

£49
Customer Reviews
113 out of 145 (78%) reviewers would recommend this product to a friend.
Read all reviews »
Great gift
26 November 2015
molly
Location: Surrey Age: 55-64 Bought For Son Occasion: Anniversary
sons bought this gift as an anniversary present and it was brilliant. My husband said best steak ever! Great service and made to feel very welcome even though we were using a voucher. We upgraded to VIP package which was well worth it. Would definitely go again.
What would you improve for next time? Nothing
Would you recommend this product to a friend? Yes
Delicious treat
28 October 2015
Bibs
Location: Age: 45-54 Bought For Myself Occasion: Birthday
I went to the restaurant with my friend and had a wonderful time from the minute we walked in. Great staff, attentive but not over bearing and food came quickly and was delicious. Good mixture of people and relaxed atmosphere. It was a very special evening and I would recommend the restaurant and gift to anyone.
What would you improve for next time? Nothing, all perfect
Would you recommend this product to a friend? Yes
Amazing experience
19 September 2015
Sunny
Location: Croydon Age: 35-44 Bought For Myself Occasion: Birthday
Took my boyfriend for his 40th birthday amazing experience great size steak lovely staff
What would you improve for next time? Nothing was anzing
Would you recommend this product to a friend? Yes
Lovely birthday gift
20 July 2015
Dickie
Location: Surrey Age: 45-54 Bought For Daughter Occasion: Birthday
We were given a voucher as a present and booked online very easily. We opted to go to the Kings Road Steakhouse and Grill. We opted to upgrade the voucher (for an additional £50) to include a bottle of wine (up to £30), bottle of mineral water, 2 sides and 2 coffees which seemed good value. We arrived at our appointed time as advised - we didn't arrive early as we were warned we wouldn't be accommodated - but I don't think it would have mattered as the restaurant was fairly empty (early Sunday evening). We were seated at a small table for two which was extremely close to the tables either side of us - but at the start of the meal, the neighbouring tables were empty. The waiter was friendly and efficient, explaining the menu and promptly brought our cocktails which were delicious. He took our food order and the starters arrived which were fresh and flavoursome. Our mains arrived - we both had steaks but my husband had asked for his sirloin to be medium rare (as recommended on the menu), however it was too rare for him so he asked for it to be cooked for a couple of minutes more. The staff immediately apologised and took his plate and came back within 5 minutes with the steak re-cooked along with a new side dishes (which was generous as we were sharing and we'd already eaten the first ones!). Both the steaks (and sauces) were meltingly tender and delicious. We couldn't manage a dessert - although they looked yummy - so shared a cheeseboard which was small but just enough. Unfortunately part way through the meal another couple were sat at the table next to us - they squeezed past to get to the seats and almost knocked our drinks off the table - then because we were so close to them, we couldn't really have a private conversation as it felt we were talking over them and vice versa. That was the one negative of the restaurant - and goodness knows what it would have been like if the table the other side of us had been occupied - it would have been more like a table for six than three tables of two. Because it was slightly awkward, we ended up chatting to the couple next to us - who luckily were very friendly - might have been a bit different otherwise! All in all we had an enjoyable meal - food and drinks were delicious and the staff were attentive, friendly and knowledgeable. We did leave within our 2 hour time slot (would have been interesting to see if staff actually started to hover to move you on) - but it would have been nicer to have had a little more 'elbow room' at/around the table.
What would you improve for next time? Much more space between the tables
Would you recommend this product to a friend? Yes
Very Pleasant
20 July 2015
morgi
Location: chelsea Age: 25-34 Bought For Myself Occasion: Birthday
Very attentive, was my partners birthday and they made him feel very looked after. Service and timings of courses was very high and you only had to rise your eye for a waiter to be right with you. Food was of great value for money and cocktails were amazing.
Would you recommend this product to a friend? Yes
Family lunch!
05 July 2015
Harold
Location: London Age: 45-54 Bought For Son Occasion: Christmas
There was enough choice on the menu to satisfy everyone. The cocktails were delicious with a non alcoholic version for younger members of the party. The food was well presented , delicious and with very attentive staff.
What would you improve for next time? Although you can order bread separately it would be nice to have been offered with the starters.
Would you recommend this product to a friend? Yes
Be prepared to spend more
27 June 2015
Nikki
Location: London Age: 25-34 Bought For Sister Occasion: Christmas
The steak truly was fantastic! However be prepared to spend more - the voucher only includes basic meals so you have to pay an uplift for a nicer steak. You also have to pay for all of your sides. There are meals that come with sides on the basic menu but if you're going for steak then you literally just have the meat on your plate. That aside, the desserts were pretty poor, we tried a few wines and were unimpressed with them and the service was pretty bad. We felt obliged to pay the service charge which they include on the bill but would have preferred not to.
What would you improve for next time? The service
Would you recommend this product to a friend? No
Worth it
15 June 2015
Fricus 55
Location: London Age: 25-34 Bought For Myself Occasion: Other occasion
Lovely dinner for two. We had celebration that evening and we had a good time.
Would you recommend this product to a friend? Yes
Kings Road Steak House
26 May 2015
Lisalea
Location: London Age: 25-34 Bought For Myself Occasion: Christmas
We were seated at table one which was more private as we were near the window and then the door (although I'm sure some would complain of being near the door). Food was very nice, we had fillet on the bone which was very tasty but I struggled as it was quite fatty, if I was to go again I would have fillet off the bone. Dessert was lovely the New York cheesecake and pecan pie was were really good. One critisim was the food was not hot for long. Given steaks are only cooked per order this was probably why but the soup and special of asparagus was just about warm. Staff were friendly and attentive. We're not a fancy couple so it was nice to be looked after very well.
Would you recommend this product to a friend? Yes
Adventure to Darkest Chelsea
24 May 2015
Betty
Location: West Middlesex Age: Over 65 Bought For Relative Occasion: Christmas
We set out early as we knew it would be a long bus journey. We were greeted by courteous waiters. The restaurant was smaller than we anticipated from the photos on the website, but the decor was immaculate and we were able to chat to the couple on the table next to ours. We were served with cocktails and water while we waited for our starters to arrive and laughed at the cartoon pictures on the walls. We both enjoyed our starters very much. My husband ordered a fillet steak abd it was not as tender as he had hoped,but the Cafe de Paris butter was delicious. My Caesar salad was lovely, but I would have liked croutons, rather than the toasted thin cut French bread. We both had the burnt cream pudding, which was a nice ending to the meal. We finished it all off with coffee.
What would you improve for next time? When the booking was made on line we did not receive the confirmatory email which was promised, so had to ring the restaurant to make sure it had been correctly booked. We were rather shocked to get a bill for £45. We found that we had been charged for the side dishes we had, which should have been included in the experience, but the waiter quickly deducted £8. We were surprised that the supplement for the fillet steak was £9, when it was quoted as £7 on the sample menu we downloaded before our booking. We had a glass of wine and a coffee each. The coffee was not very hot.
Would you recommend this product to a friend? Yes
Kings Road Steakhouse 3 Course Dinner and Cocktail for Two -

£49