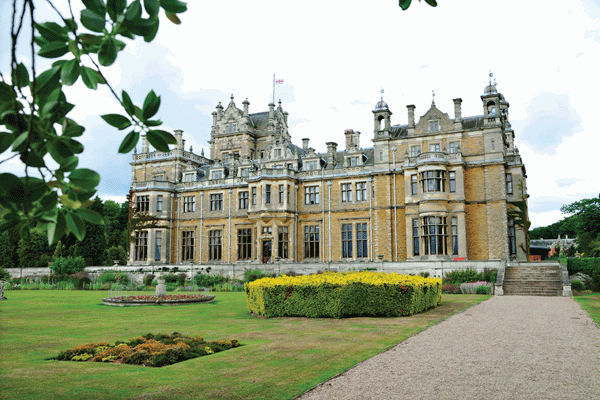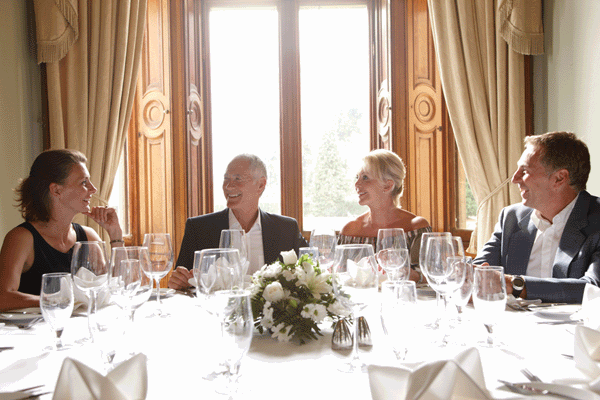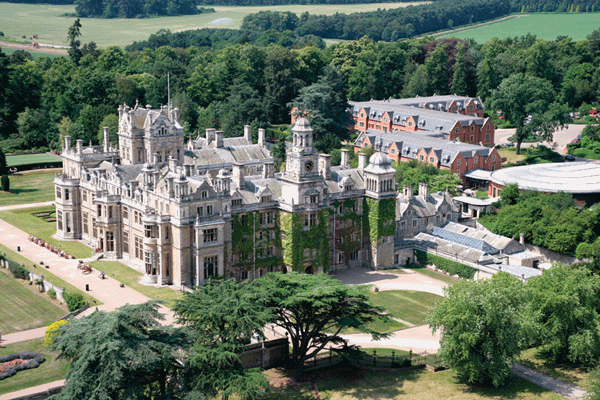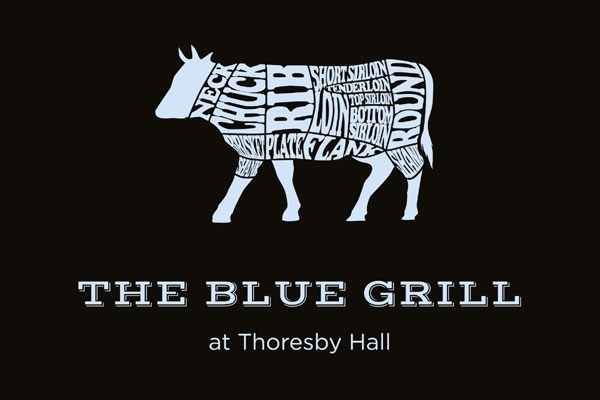 Summary

Fine Print

View on map
The wonderfully presented Thoresby Hall provides the perfect setting for a special occasion meal or even just a treat yourselves with a little luxury. The Blue Room Restaurant offers a calming yet sophisticated menu of classic dishes. There range of options consists of pan-seared scallops and black pudding, or a delicious asparagus velouté and bacon crumb. For your main, you could choose from a trio of local pork, featuring crispy belly, fillet, and cheek. Half a lobster with truffle and parsley potatoes and pan-seared turbot with sauce vierge are two more of the delicious entrées on offer. As for desert, there is a magnificent cheeseboard, as well as lighter options of summer strawberry clafoutis or poached pear with honey ice cream to cleanse those pallets. The Blue Grill was restored to replicate the grandeur of the original house with the walls dressed with blue silk damask and this most elegant room boasts views over the stunning grounds of Thoresby Hall. The Blue Grill prides themselves on using the very best produce and provide great service as well as food and settings to help make this a truely magnificent experience for a memorable evening.
What's included?
A three-course a-la-carte dinner for two in The Blue Room restaurant
Tea or coffee for two people
Any restrictions?
Your voucher is valid for ten months for two people
Suitable for over-21s only
Bookings are subject to availability and we recommend you book at least two weeks in advance
Additional drinks and side orders are not included but may be purchased
Please have your voucher to hand when you call to arrange a date for your experience
Dates are subject to availability
What do I need to know?
Evening entertainment in the hotel's bar and lounge may be enjoyed free of charge after your experience
Three Course Dinner for Two at Thoresby Hall -

£85
Customer Reviews
19 out of 20 (95%) reviewers would recommend this product to a friend.
Read all reviews »
Not quite as good as it used to be, but still 5*
20 May 2015
Will
Location: Thurcroft, Rotherham, South Yorkshire Age: 25-34 Bought For Myself Occasion: Other occasion
We've used these vouchers a few times now and they represent excellent value for money. There have been changes to the restaurant and menu recently, making it slightly more casual. That's a real shame because it's one of the few places in the area that we like to save for special occasions. Don't get me wrong, it's not suddenly churning out pub grub! Still very, very nice but just not quite as good as it used to be. Hope they change back!
What would you improve for next time? Change back to how it used to be. Reduce the number of items on the menu and focus on making each one perfect.
Would you recommend this product to a friend? Yes
Excellent food with fantastic service
13 May 2015
KonaLisa98
Location: Warsop, Notts Age: 35-44 Bought For Myself Occasion: Just because!
Stunning food served by professional courteous staff - a fantastic evening
What would you improve for next time? Everything on the menu to be available
Would you recommend this product to a friend? Yes
WOW
10 April 2015
JUNE
Location: PETERBOROUGH CAMBS Age: 45-54 Bought For Wife Occasion: Birthday
THE EXPERIENCE WAS AMAZING, BEAUTIFUL INTERESTING HALL LOTS TO SEE AND DO, STAFF WERE A1 FRIENDLY AND HELPFUL. WELL SUITABLE FOR DISABLED TOO THE RESTAURANT WAS ELEGANT AND THE FOOD WAS TO DIE FOR WOULD LOVE A STAY THERE THANKS EVERYONE YOU ARE ACE.
What would you improve for next time? NOTHING
Would you recommend this product to a friend? Yes
Thoresby Hall Blue Room Dining
15 August 2014
Maz0989
Location: Nottinghamshire Age: 55-64 Bought For Son Occasion: Christmas
We received this as a Christmas present and initially we had huge problems trying to book the dining experience as we simply couldn't get through to Warner Leisure, Thoresby Hall. Eventually left a message after trying most of the day and received a call back the same evening, very polite and table booked. We visited Thursday 14th August 2014 and were greeted by our waiter and the 'maître d', extremely courteous and friendly. We waited in the library for our table with drinks as we were slightly early and were shown through to the dining room. This is a gorgeous blue room with chandaliers. The 3 course meal was fabulous and we also had the chefs home baked bread(still warm) and complimentary canapés. We would highly recommend the food and the service, the waiter Daniel deserves special mention for his attentiveness. We then retired to the 'Pavilion' for free entertainment, which was a medley of songs & dancing from musicals. All in all a very enjoyable evening, we will certainly be returning.
What would you improve for next time? The telephone communication was dreadful attempting to book.
Would you recommend this product to a friend? Yes
fantastic
09 August 2014
Dolly
Location: Age: 55-64 Bought For Son Occasion: Christmas
Really lovely meal, fantastic service and food cooked well. We will go back. Just fantastic.
What would you improve for next time? Nothing perfect.
Would you recommend this product to a friend? Yes
Dinner with Class
17 June 2014
Glebethree
Location: North Notts Age: 55-64 Bought For Daughter Occasion: Birthday
The dinner for two was a birthday gift, Thoresby Hall is a place I had not been inside since it was a stately home open for viewing. Hoping it would be a good night I waited till it was also our 37th Wedding Anniversary and booked a Taxi to dinner. We had a drink at the bar overlooking the garden then proceeded through the Hall to the Blue Room to be shown our table. It felt a little like sitting down to dinner at Downton but with a friendlier and less formal feel. We made a choice from the menu and the wine list before tucking into the canapes, starter, dinner, pre-desert mango treat, desert and chocolates with after dinner coffee. All excellent and well served by the staff. All in all an excellent night out.
What would you improve for next time? The band in the music room back at the function room, they seemed to only know songs by the Hollies or other songs that they could sing in a Hollies style. I do not dislike the hollies but a little more variety would not go amiss. Having sdaid that many of the week end guests were enjoying it.
Would you recommend this product to a friend? Yes
Wonderful Night Out!
06 April 2014
clanger
Location: Derbyshire Age: Over 65 Bought For Daughter Occasion: Birthday
From arriving at reception to leaving after the show can we say how much we enjoyed our experience. the reception staff greeted us and very kindly showed us to our designated restaurant(the Blue Room) where we were greeted by Luke the maître d' who very kindly guided us through the menu and recommending a fine bottle of Merlot. After being seated and introduced to our waitress for the evening (Shannon) we enjoyed a wonderful meal in beautiful surroundings. following this we retired to the bar and the show which was also 1st class (George Michael tribute Band, we would like to thank everyone for a lovely evening and especially our daughter Gaynor who sent us the Buy a Gift from America. Thank you.
Would you recommend this product to a friend? Yes
Thorsby Hall Dining
06 December 2013
Robm55
Location: Sheffield Age: 55-64 Bought For Wife Occasion: Birthday
Not used to fine dining, I was expecting to feel hungry afterwards, but I wasn't. Canapes were served while we looked over the menu, before being shown to our table. Once we had chosen, we were offered a selection of bread, and then after a 3 course meal, chocolates to take home. Each item on the menu was described fully by our waitress, and her knowledge of the dishes was excellent. I can't really explain in a review what it tasted like, but all I can say is, it was excellent.
Would you recommend this product to a friend? Yes
thoresby hall
01 March 2013
shazdave
Location: peterborough Age: 45-54 Bought For Daughter Occasion: Wedding
We had a fantastic time at thereby hall. It was a thank you gift from our daugher and son in law on their wedding day. The staff and waitors in the restaurant were very helpful and attentive. They explained the meal very well and the service standard was high. The meal itself was delicious. After the meal we went into the bar for the evening entertainment, which was a dolly parton, Kenny Rogers and shania twain tribute act which where excellent. We would definitely recommend this experience to friends and family or anyone else. Thank you for a wonderful evening x
Would you recommend this product to a friend? Yes
forget diets
06 July 2012
threedoggies
Location: Worksop Nottinghamshire Age: 55-64 Bought For Relative Occasion: Wedding
We had an out of this world meal at Thoresby Hall, in the Italian restaurant, which included a complimentary bottle of wine. I loved all the courses so much I couldn't decide which was the best, and that was just the dishes that we picked, I want to go back and try all the rest. The service was excellent, very attentive but not in your face. We were not rushed although they were very busy, and our waitress was very helpful with all our questions. Afterwards we were allowed to go to the entertainment area for a drink and to see the live show. I cannot recommend this place too much.
Would you recommend this product to a friend? Yes
Three Course Dinner for Two at Thoresby Hall -

£85