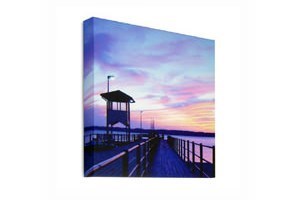 About

Description

View on map

Important Info
Personalising a product is a great way to keep your favourite photos on display in a totally unique way. You could use a photo from a special occasion such as a wedding or christening, or a more informal snap of a family pet, or from your holidays. On ordering we will send you a voucher, which can be redeemed with our supplier. You will need to give them a suitable photo, to be printed onto a picture canvas like that shown in the picture.
After you have redeemed your voucher, please contact the supplier using the number provided with your voucher details and email address. They will then email you a link for you to upload your photo. Once your uploaded photo has been received you will receive your product approximately 7-10 days later. You are advised to order well in advance if you require this product as a gift for a special occasion.
On purchasing this product we will issue you with a voucher, valid for ten months, which can be redeemed with our supplier for your personalised product. You will need to provide the supplier with a suitable photo which can be in either portrait or landscape format, black & white, sepia antique tint or colour. Photos should be no larger than A4 size, i.e. approximately 30cm x 22cm (12 " x 8½ "). Please note that all photos will need a degree of cropping and editing, and that the designers will determine the cropping and editing to provide the best looking result to match your chosen product, in their opinion. The quality of the final fabric print will vary depending on the quality of your original photo. If your photo is valuable or of sentimental value, we strongly recommend that copies are made before sending them to the supplier as neither ourselves nor the supplier can accept responsibility for items lost or damaged in transit. Your photo will be returned to you separately from the goods ordered. Delivery will be around 14-21 days from the supplier receiving your order form and image, so order in plenty of time if this product is a gift for a special occasion.
30x30 cm Personalised Picture Canvas -

£49
Customer Reviews
2 out of 2 (100%) reviewers would recommend this product to a friend.
Read all reviews »
16 November 2010
Mike Vardy
Location: Age: 25-34 Bought For Partner Occasion: Birthday
I bought one of your personalised picture canvases for my girlfriend and had it made up using one of her favourite photos from our holiday in St Lucia last year. It came out really well she was thrilled with it and delivery was on time too which was good.
Would you recommend this product to a friend? Yes
16 November 2010
Patricia Neave
Location: Age: 25-34 Bought For Partner Occasion: Birthday
I came across this whilst browsing buyagift and thought it would make a lovely gift for my mother. She loves to have photos of her grandchildren but this was one step better! It was easy to order and arrived within the estimated time. The canvas is really good quality very impressed and she has it on her wall now.
Would you recommend this product to a friend? Yes
30x30 cm Personalised Picture Canvas -

£49