To ensure you receive your gift on time please check the delivery information tab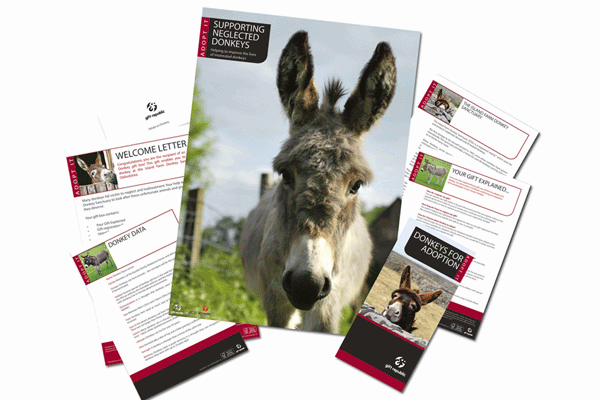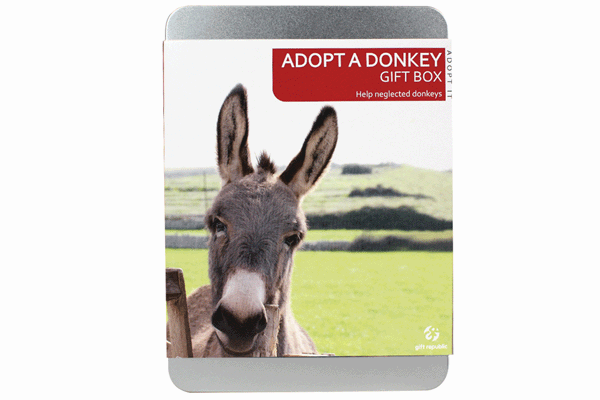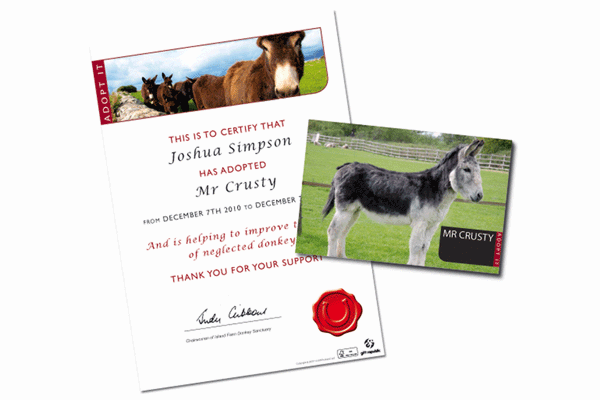 Adopt a Donkey
Product code: 11313189
Write a review »
Support a UK animal charity with a donkey adoption - a great gift for animal lovers
Standard UK delivery : 4-7 working days
About

Important Info

Delivery Information
Adopt a donkey for 12 months at the Island Farm Donkey Sanctuary (IFDS), a registered donkey charity in Oxfordshire. You'll receive a supporter's certificate and a photograph of your donkey, and your money will help support the care of these beautiful creatures. With this wonderfully positive gift for animal lovers - you'll even be able to visit your donkey!


Your donkey adoption tin includes:

- Welcome letter
- Gift registration form
- Donkeys for Adoption booklet
- Donkey Data leaflet
- Donkey souvenir poster IFDS leaflet
- Island Farm Donkey Sanctuary leaflet

Once your gift arrives, look through the Donkeys for Adoption booklet and choose the donkey you want to support. Fill out the registration form and you will be sent a photograph of your donkey and supporter certificate, dispatched within 28 days. You also have the opportunity to visit your donkey at the farm in Oxfordshire - the address for contacting The Sanctuary to arrange a meeting is included in your pack.

Disclaimer: This gift package is produced in association with the Island Farm Donkey Sanctuary (IFDS), UK Registered Charity Number 1121697. The charity does not just concentrate its efforts on one particular project or donkey. If for any reason your chosen donkey is unavailable, the charity reserves the right to allocate the donation wherever they feel the need is greatest. For every person that registers their gift, Gift Republic donates approximately 10% of the RRP directly to the IFDS. The adoption is valid for 12 months from the date of registration. This is a novelty gift item and must be regarded as such.
Delivery Type
Delivery Time
Price
Standard UK delivery
4-7 working days
£2.50
(Available for delivery to UK mainland addresses only. Please allow 4-7 working days for the product to arrive.)