To ensure you receive your gift on time please check the delivery information tab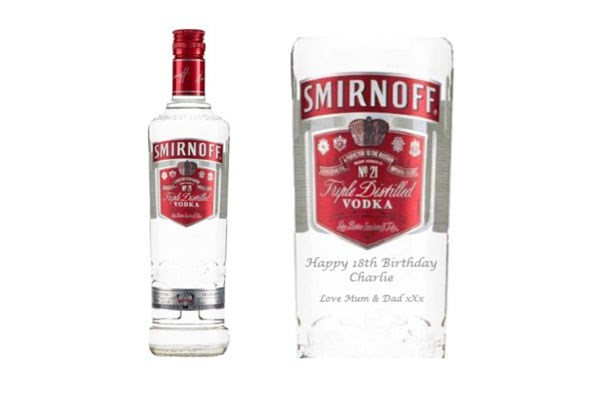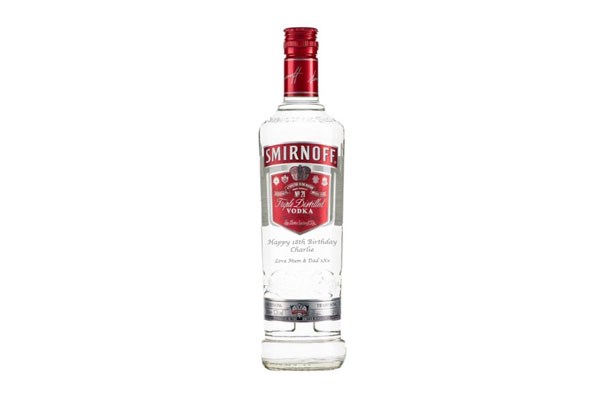 Personalised Smirnoff Red Vodka
Product code: 11231408
Write a review »
Make celebrations special with this vodka with your chosen message engraved on the bottle
Standard UK Delivery : 5-6 Working Days
This well known favourite is the world's best selling vodka and is sure is to make any celebration special. Smirnoff is founded from Russian origins and is triple distilled for purity, making it a great choice for a mixer. Your chosen message can be engraved on the bottle, leaving a keepsake to treasure even after the last drop has been savoured.
Bottle size: 70cl

Please note your message will be engraved on the front of the bottle below the embossed glass. Your message will be engraved exactly as entered - please ensure that you check spelling and grammar carefully before completing your order. This item is suitable for purchase by those aged 18 years or over. By completing the order the customer is confirming they are aged 18 years or over. Proof of age must be provided if requested by the supplier. The courier may request proof of identification (with a photograph) to verify the age of the person accepting delivery. If acceptable identification cannot be provided the goods will be returned to the supplier.

Messages which purport to increase the value of the goods including but not limited to references to "Vintage", "limited edition" or "collectable"and messages including trademarks or slogans will not be approved.

Due to personalisation this item cannot be exchanged or refunded.
Please note that as of the 1st January to the 8th January 2015 the supplier will be closed.
They expect to have dispatched everything received by the 30th December before they close and will resume dispatching orders received within the closed timeframe as of Monday 11th January.
Delivery Type
Delivery Time
Price
Standard UK Delivery
5-6 Working Days
£7.99
(Available for delivery to mainland UK only. This item will be delivered by courier. Estimated delivery time is 5-6 working days. The courier may request proof of identification (with a photograph) to verify the age of the person accepting delivery. If acceptable identification cannot be provided the goods will be returned to the supplier.)