To ensure you receive your gift on time please check the delivery information tab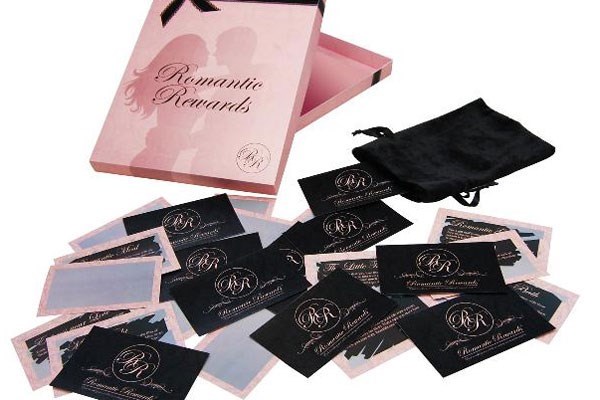 Romantic Rewards
Product code: 11326363
Write a review »
A fun and romantic game for couples – pick a card, reveal the reward and your partner must fulfil the treat!
Standard UK delivery : 3-5 working days

UK Express delivery : Order by 11:30am for next working day
Summary

Fine Print

Delivery Information
Keep your relationship fresh and exciting with this brilliant 'rewards' game, perfect for couples that love treating their other half with little things. If they deserve a treat then allow them to select a card and you then have to fulfil the reward. With each card containing 1 reward with 12 different rewards available across 48 cards, it will always be a pleasant surprise as to what you get - from massages and romantic dinners to your partner satisfying your every whim for the day! The game comes presented in a gift box containing 48 reward cards in a luxury velvet pouch.

Each box contains 48 reward cards in a luxury velvet pouch.

There are 12 different options with 1 per card, which must be scratched off to discover what it says.
Delivery Type
Delivery Time
Price
Standard UK delivery
3-5 working days
£3.99
(Available for delivery to mainland UK addresses only. This item will be delivered by Royal Mail. Please allow 3-5 working days for delivery.)
UK Express delivery
Order by 11:30am for next working day
£7.50
(Available for delivery to mainland UK addresses only. Orders placed before 11:30am will be delivered next working day.)