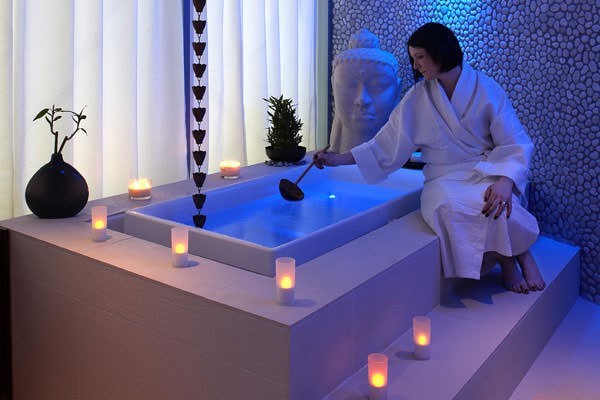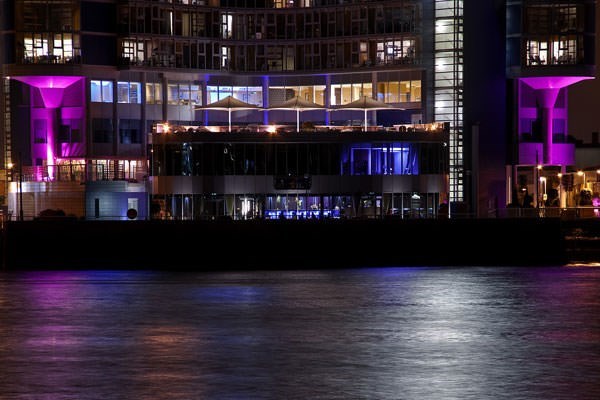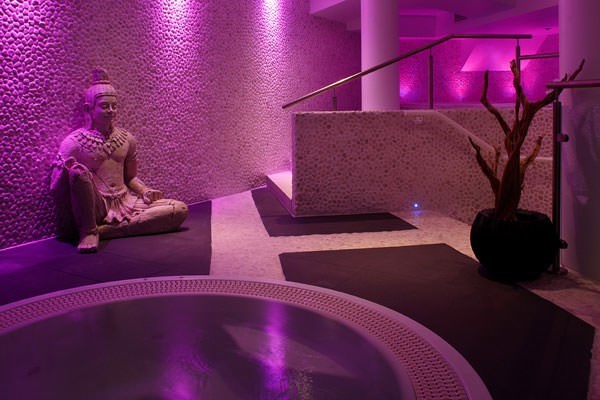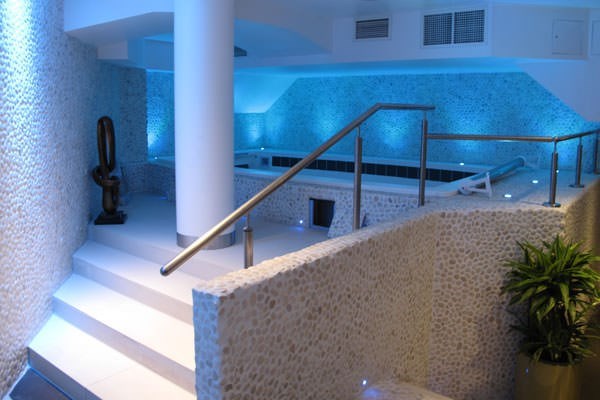 Summary

Fine Print

View on map
The River Wellbeing Spa at Hotel Rafayel in Battersea is a haven of relaxation in hectic London. De-stress your body from the stresses and strains of daily life, and heal your body and mind with the wonderful benefits of a back, neck, and shoulder massage, followed by a body wrap or facial. You will also enjoy a complimentary flute of bubbly and a glass of Aloe Vera juice.
What's included?
A spa day for two at the Hotel Rafeyel River Wellbeing Spa
A glass of aloe vera juice
A glass of bubbly
A 30-minute Back, Neck and Shoulder Massage each and the choice of a 30-minute Facial or Body Wrap each
Any restrictions?
Your voucher is valid for 10 months for two people
Minimum age for this experience is 18
You will have a consultation prior to treatments and a medical health questionnaire is must be completed on the day by each person
What do I need to know?
All dates are subject to availability
2 for 1 Couples Day at River Wellbeing Spa Special Offer -

£109
Customer Reviews
5 out of 10 (50%) reviewers would recommend this product to a friend.
Read all reviews »
A lovely treat
12 August 2015
Shazza
Location: London Age: 25-34 Bought For Friend Occasion: Birthday
The receptionists were friendly & welcoming, although had to wait & ring down to the hotel reception to ask someone to make their way to the spa reception. We were late so this could have been why the desk was unattended. The beautician was also friendly & very good at her job. I went with my fiancé & we both had a back massage & body wrap each. They were done one after the other. We would have liked them done together but we we're told this was not able to happen at the time of booking. These treatments lasted about an hour. You also have use of the jacuzzi, gym, sauna & hydro pool. The facilities are nice & we enjoyed using them. Also included was a glass of champagne. I expected a small, plastic flute. But to my surprise it was a large glass flute, ice cold & really nice. They also have parking on site. I would definitely recommend & visit again :-)
What would you improve for next time? Spa reception to be manned.
Would you recommend this product to a friend? Yes
12 June 2015
Dimples
Location: Age: 25-34 Bought For Myself Occasion: Birthday
Massage and body wrap were great!! Hydro pool and steam room were out of service, apart from that it was a great experience!!
Would you recommend this product to a friend? No
Enjoyable ....as far as it went
16 December 2014
PamperedSue
Location: Surrey, UK Age: 18-24 Bought For Partner Occasion: Anniversary
I purchased this as a treat for us to enjoy for my husband's birthday. The treatments were very relaxing and our therapists were attentive and skilled. We both enjoyed relaxing massage treatments which were done well in a pleasant therapy room. We were surprised though at the relatively small size of the spa - I'm not sure that groups e.g. a hen party or similar would enjoy the venue quite as much as I'm not sure how well it would cope - the lap pool is very small as is the hot tub, and steam room. They were fine for us as we were the only ones using the facilities on our visit.
Would you recommend this product to a friend? Yes
Disappointing Spa Day
06 August 2014
Missy S
Location: Essex Age: 25-34 Bought For Myself Occasion: Birthday
Totally disappointed in the Couples day at River Well being Spa. Upon our arrival at the spa we checked in at reception where we were told that our massage and facial would be at 11.10. I pointed out that our voucher was for one of four very specific treatments (as listed in the buy a gift description), of which i had specifically requested upon booking. We were told that no it was a massage and facial. I showed the voucher to be told by staff that no that information is not right. I booked up for a specific treatment which we were told we could not have. We ended up having to agree to a massage and facial even though we had paid for different as the staff at reception were so argumentative, and this was my friends 30th birthday and we did't want to create a scene. Highly disappointing and not acceptable. We were led to the changing rooms and shown all the facilities that were on offer to us. Which I must add were very limited and in a very cramped unluxurious setting, and also all the facilities that are stated on the buy a gift voucher were not there. After changing and going to use our lockers we were greeted with a scene of half broken locker key straps and an array of keys with no straps to attach to your wrist. We therefore had to place our keys in our robe pocket, which you then have to leave untended on hooks outside if you wish to use the sauna and steam. Not very reassuring when you have to leave all of your belongings in a locker. Hoping that everyone attending the spa would be trustworthy we headed out the have a sauna and steam before we had our treatment. We went to use the sauna to discover that it was off. Next stop steam, and it was off. Not only was the steam room off but also it smelt horrific. We told reception who seemed to have no idea what we were talking about. Your spa opens at 9 am. This was 10.30 and you facilities are not even working. They said they would send maintenance. It was a good job we weren't waiting around for someone to tell us it was on as that never happened! Having to settle with just a quick Jacuzzi before our treatment, and it had to be quick as it took us about ten minutes to fully submerge as it was scolding hot and could not get straight in. There isn't really much I can say about the treatment it self. The massage if you can call it that was a collection of different ways I could be leaned on. Very little oil use and on my arms none at all so when I was being massaged it felt like my skin was being pulled, and was very uncomfortable. The facial itself was nice, but the whole thing felt like my technician didn't know what to do. It felt like it was a good job we were in a double room so she could watch what to do. Maybe if I was asked what pressure I wanted or at least given some kind of information that would be ok. Mind you if I had actually been given the treatments I had paid for too that would have been nice. The sauna and steam were at last working. We decide to try the hydrotherapy pool and surprise surprise that didn't work. Why would it nothing else does? So after a disappointing day it was time to shower and head off. I would like to say at least it was a nice shower but when the water wont drain out of the shower to the point you are standing in nearly 2 inches of water it isn't nice.
What would you improve for next time? Actually give customers what they pay for!!
Response from Buyagift
13 Oct 2014
HI, Thank you for submitting your review! I'm really sorry to hear that you were left feeling disappointed with your Spa Day. I would really like to look into the issues you have raised further. In order for me to be able to do this, please can you contact tellusmore@buyagift.co.uk with your voucher reference number and the information you have included above. I look forward to hearing from you regarding this and being able to look into this further. Thank you once again for letting us have your feedback, we really do appreciate it.
Would you recommend this product to a friend? No
Beautiful Day
01 July 2014
pj
Location: London Age: 18-24 Bought For Partner Occasion: Anniversary
As there were tube strikes on the day of our spa appointment, our masseuse wasn't there on time, but the staff there were extremely pleasant and kindly explained the situation while giving us complimentary teas and cake, directing us to a beautiful seating area with a great view. The rest of the day continued to be just as amazing, as we enjoyed our treatments and the facilitates available. The lighting and décor of the spa were just right and really got us into the relaxing mood. Couldn't have asked for a better day! I do advise to book fairly early as the place is quite small and wouldn't be as enjoyable if it was busy.
What would you improve for next time? nothing at all!
Would you recommend this product to a friend? Yes
Disappointed
25 May 2013
Rather not say
Location: Age: 25-34 Bought For Myself Occasion: Birthday
Disappointed disappointed disappointed. The treatment was ok although my girlfriend has never had a facial treatment where her make up isn't removed beforehand. There were no lockers in the men's changing room to store your personal belongings. The changing rooms both male and female were small and inadequate for use with no privacy when getting changed. The jacuzzi only fits three people which isn't very good when the spa is fully booked. The steam room wasn't switched on until we were just leaving as the male member of staff said it was his first day and he didn't know how to turn it on. The fitness pool didn't work and was only the size of a pool table. The gym is of small size and has limited equipment. The robes, slippers and towels supplied by the spa appeared well used and grubby with my girlfriend being given two left footed slippers. We had to find a member of staff to be given our complimentary glass of champagne, the relaxation room isn't very relaxing at all and was cold even though there was a heater which wasn't switched on. I would NOT recommend this to anyone, it was bought as a gift for me and the experience has left me very disappointed !!!!!!!
Response from Buyagift
28 May 2013
Hi, thanks you for submitting your review. I really am sorry to hear that you and your girlfriend were disappointed with your visit, and very sorry to hear that the facilities were not what you expected. I'd really like to look into this with the spa and find out what went wrong, so I've now emailed you directly for further information. I look forward to hearing back from you.
Would you recommend this product to a friend? No
Not a spa
24 May 2013
Firsttime
Location: London Age: 35-44 Bought For Wife Occasion: Just because!
This is not really a Spa. It is more a hotel gym with a little bit of spa treatments. The place is small and very cold. Although the massage I had was good the rest was not a Spa experience. The changing rooms and showers were cold and not relaxing. The relaxing room was ok but, with a helipad next door to the hotel with helicopters coming in is not really a relaxing noise free place to sit. As said this is a nice gym with spa like treatments but, not a Spa. Would not be paying for this but more of an add-on if i was staying at the hotel.
Response from Buyagift
28 May 2013
Hi, thank you for sharing your feedback. I'm pleased to hear that you enjoyed your massage, but I'm sorry to hear that you did not find the venue to be relaxing, and that you were disappointed with some parts of this experience. I'd really like to look into this a bit more for you, so I've now emailed you directly.
Would you recommend this product to a friend? No
Relaxing and indulgent Spa Break
17 May 2013
MissFizz
Location: London Age: 25-34 Bought For Friend Occasion: Birthday
A spa session at the River Wellbeing Spa in Battersea was a gift for my 30th birthday. It was a great present which made me totally relax away from it all. I took my boyfriend and we both had a half an hour massage, I chose the detoxyfying body wrap and he went for a facial. There is only limited parking at the venue which is used by the hotel, spa and a restaurant. After ten minutes we were parked and settled into the plush reception area. The massages took place together with 2 therapists, who were both friendly and professional. My masseuse also asked my what type of pressure I preferred and had a good technique. I have never had a body wrap before and it was a strange experience, the wrap warms your body and then once unwrapped your body feels cold but makes your skin feel smooth. The spa facilities in Wellbeing Spa are small and is also serviced by the hotel. Although the spa area is nice I wouldn't say it is extensive enough to spend hours there. The relaxation room is nice but not suitable to wear wet garments in there. All in all I would recommend the spa package.
Would you recommend this product to a friend? Yes
Total waste of money
27 February 2013
Oggi
Location: Age: 25-34 Bought For Myself Occasion: Birthday
I went there with my boyfriend on my boyfriend's birthday. I bought the voucher as a birthday gift but it was rather embarrassment than a gift. It was nothing like I expected and it was described on the voucher. The spa room and facilities' (Shower, sauna, and steam room - out of order e.g.) area were very cold and really dirty. Also, we booked hot stone massage but they told us very bad excuses and we did not get. The staffs were very unfriendly. They did not offer the champagnes we had to ask and served them with attitude and the glasses were filthy dirty. I would not recommend it to anyone.
Would you recommend this product to a friend? No
better than expected
04 October 2012
Jade
Location: birmingham, westmidlands Age: 18-24 Bought For Partner Occasion: Christmas
I went with my boyfriend to the rafeal hotel (river wellbeing spa) to an apsolutly stunning place, beautiful hotel and surroundings. We arrived to have a lovely relaxing massage, staff were friendly and nice. We then went into the gym facilitys which were nice and private, not too busy with the view of the river thames outside. Then we used the sports pool which is a good workout, its only small; you swim against the current as you change the settings. Its even better than the gym, we then used the jacuzzi pool which was romantic and secluded, then the sauna. The steam room wasnt working when we were there but was no issue at all. We had robes and slippers given to us. We then asked for aloe vera juice and champaine, they were happy to help and quite relaxed; we entered the relaxation room with stunning views to be given out aloe vera juice which was beautiful and a nice glass of bubbly. Was a lovely day and would recommend it to anyone, would even say book a night in the hotel aswell while your there it would be worth it.
Would you recommend this product to a friend? Yes
2 for 1 Couples Day at River Wellbeing Spa Special Offer -

£109