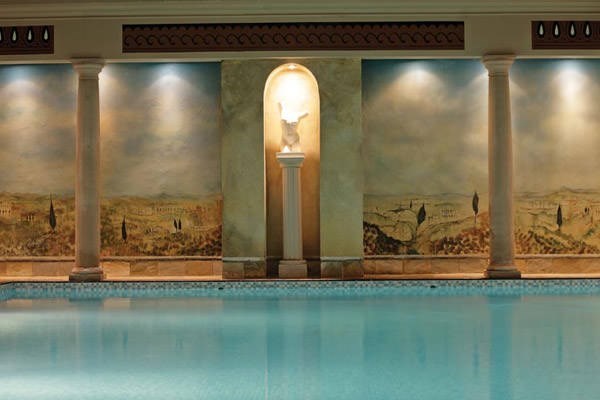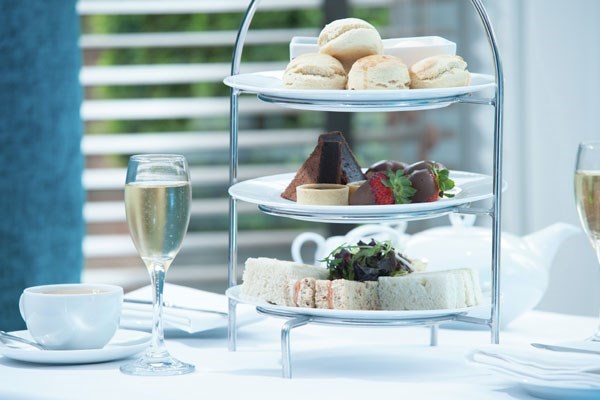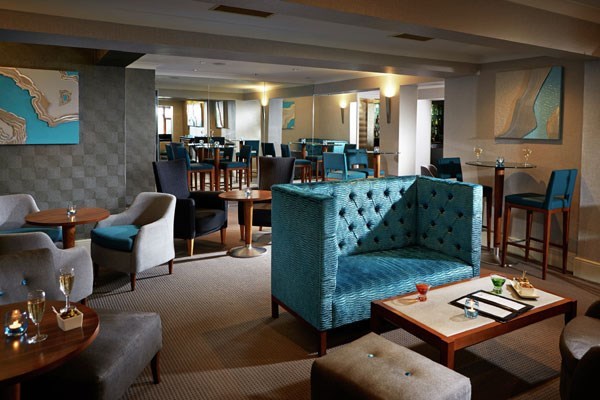 Summary

Fine Print

View on map
Set in immaculate grounds and just 30 minutes from London, 4-star Rowhill Grange is an impressive 18th-century manor house with a deserved reputation for elegance and luxury. The glorious Roman-themed Utopia Spa boasts a steam room, bubble tubs, pressure jets and a steam room for ultimate relaxation. It has garnered numerous awards and is frequently lauded as one of the UK's best luxury spas. You'll enjoy a back, neck and shoulder massage, to squeeze out all the tension held in these areas, and then you are free to recline in the steam room, chill out in the spa tub, swim in the stunning pools, and generally make yourself at home in the superlative spa facilities. You'll even be served a fabulous two-course lunch, so you really can relax and enjoy a whole day of pampering and indulgence.
What's included?
A spa day for one at Rowhill Grange
A back, neck, and shoulder massage
A two-course lunch
Full use of the spa facilities
Any restrictions?
Your voucher is valid for 10 months for one person
You must be 18 or over to take part in this experience
This voucher is valid from Monday to Thursday
You may use the spa from 9am - 3pm
All dates are subject to availability
What do I need to know?
Additional treatments can be arranged with the spa if desired
Please note some school holidays dates may be excluded
Express Spa Day with Lunch at Rowhill Grange -

£98
Customer Reviews
10 out of 10 (100%) reviewers would recommend this product to a friend.
Read all reviews »
a wonderful day
10 June 2015
susieanna
Location: Southeast Age: 55-64 Bought For Son Occasion: Birthday
I was given this voucher as a birthday present and it was a lovely day. I went on my own and everyone made me feel very welcome. The massage was wonderful, the young lady explained everything clearly so I knew what was going on. Lunch was a delight so much to choose from and a lovely restaurant . This is something I would really recommend either on your own or with friends it truly was a marvellous day.
What would you improve for next time? Nothing
Would you recommend this product to a friend? Yes
great value
12 May 2015
Sheffield
Location: s e London Age: 55-64 Bought For Myself Occasion: Just because!
lovely location, restaurant and spa. Beautifully clean and tidy , unlike some ( and yes it is the customers who leave wet towels about and other stuff they are too lazy to put in bin etc but not all spas accept they have slobs as part of clientele and so spa staff leave the mess rather than clean up ) and excellent friendly staff. My treatment massage was good if rather quick
What would you improve for next time? better dietary options for lactose intolerant daughter
Would you recommend this product to a friend? Yes
It's a lovely place
10 April 2015
Happy Customer
Location: Kent Age: 35-44 Bought For Husband Occasion: Christmas
I absolutely love Rowhill Grange and any excuse to visit is fine with me. So when my husband got this gift for me for christmas it was perfect. The place is beautiful, the staff are very helpful and friendly they cannot do enough for you. The food is amazing and will always cater for your needs.
Would you recommend this product to a friend? Yes
Brilliant Day
20 February 2015
lizzie
Location: Tonbridg, Ken Age: 45-54 Bought For Sister Occasion: Birthday
3 sister/sister-in laws booked this Spa Day as a birthday treatto each other. We arrived at 10, so we didn't have to drive through rush hour traffic, but still had enough time o have a relaxing day. The massage was very relaxing and the therapist asked lots of health questions first and was keen to give a massage suited to you personally. Lunch was delicious and served my nice kind, courteous waiters. We took full use of the swimming pool, hot tub and steam room.
What would you improve for next time? Water temperature in he hot tub and spa pool could have been warmer.
Would you recommend this product to a friend? Yes
23 December 2014
PollyHutchinson
Location: Kent Age: 18-24 Bought For Myself Occasion: Birthday
It was amazing. The massage was brilliant, they made you feel so comfortable by letting you instruct them to if you need it lighter or harder. And they even give you a list of products they used at the end and an after care guide. From the beginning they were welcoming and give you a full itinerary of the day, which you can change subject to availability. I would not change the day I spent here for the world and would definitely go back again!
Would you recommend this product to a friend? Yes
Amazing day!
17 March 2014
kezzaflipflop
Location: Ccrawley, West Sussex Age: 35-44 Bought For Myself Occasion: Just because!
I booked this spa day for myself as a treat and used the e-voucher facility - the e-voucher arrived immediately and within 30 minutes I had booked the spa day for the following week. The staff are wonderful at Utopia Spa - very helpful and made me feel relaxed and welcome. I arrived at 9am and was given my itinerary for the day In a small lounge area, including what time my massage and lunch were booked for. complimentary coffee, tea, herbal teas and flapjacks were offered on arrival, as well as a 2-course menu to pre-book lunch (starter and main course) which had 3 or 4 choices for each course (cannot remember exactly)!. The facilities were first class - excellent changing rooms with hairdryers, GHD straighteners, shampoo/body wash and conditioner. Lockers, towel and robe are provided and allocated on arrival. Flip flop style shoes should be worn but these can be purchased on arrival for a small amount. The saunas are located within the changing rooms and the steam room is located by the hydro pool. The hydro pool is amazing - good, warm temperature - and had jets operated by push buttons. There was a row of airbeds in one side of the pool, a powerful tap style jet pouring into the pool, a fan style jet and a waterfall. at the side of the hydro pool is a warm jacuzzi, also operated by push button. I did not go upstairs, but this is where the main swimming pool is situated.The showers in the changing rooms are lovely - very clean and quite powerful. My massage was booked at 12pm and was amazing - very soothing music is played throughout, the lights are dimmed and a choice of aroma is given - relaxing (lavender) or uplifting (citrus).My lunch was booked for 12.30pm and was delicious - I chose tomato, mozzarella and pesto salad to start and salmon with 3 beans and chorizo for the main course. you can purchase drinks with your meal but still or sparkling water is provided, as well as a choice of breads. The lunch room was a lovely, bright conservatory and again the staff were very welcoming. Robes can be worn to lunch! I did not use the gym or fitness classes on offer and left just after 1pm feeling on top of the world, although the spa can be used up to 3pm. Recommended items to take are 2 sets of swimwear, flip flop style shoes, clean trainers and sportswear if you wish to use the gym. I loved this day and loved the spa and my only regret is perhaps not booking an additional treatment! I would recommend this day highly.
Would you recommend this product to a friend? Yes
brilliant day
28 July 2013
aimee
Location: london Age: 25-34 Bought For Myself Occasion: Christmas
I bought this for myself, my sisters and mum for Christmas. It's been the best day we have had together for a very long time. The spa pools are lovely and the back massage was lovely and so relaxing. The staff were very helpful. We had an amazing day and we are now looking at booking again.
Would you recommend this product to a friend? Yes
Fantastic day
31 January 2012
Moomin1982
Location: Tunbridge Wells Age: 25-34 Bought For Myself Occasion: Just because!
I'd always wanted to try out Rowhill Grange and my friends and I weren't disappointed! Tea and cake on arrival, lovely day in the spa and having massages and 2 course lunch to finish it all off. Would totally recommend having some dessert as well, the chocolate tarte was great! Can't wait to get the girls together and do it again :0)
Would you recommend this product to a friend? Yes
Relaxing day
08 April 2011
Parma Violet
Location: Kent Age: 25-34 Bought For Myself Occasion: Other occasion
Had a lovely day at Rowhill Grange. The massage was one of the best I have had. Lunch was delicious - I had smoked salmon to start followed by Sea bass. Highly recommended.
Would you recommend this product to a friend? Yes
Great Birthday Present
07 January 2011
Lobsterchick
Location: Canterbury Age: 25-34 Bought For Myself Occasion: Birthday
The spa itself is lovely. You don't need very long there, so I wouldn't do the spa without treatments etc. The express day spa was perfect for our group of three. We had a treatment and a two course lunch included and we decided to go for one of the afternoon tea options before heading home. Great, slow paced, relaxing day :-). I have already booked another one!
Would you recommend this product to a friend? Yes
Express Spa Day with Lunch at Rowhill Grange -

£98