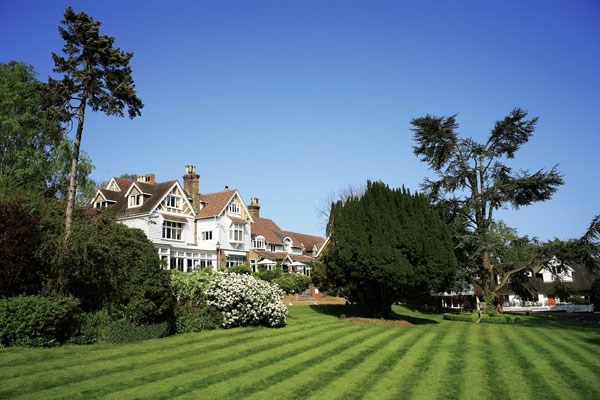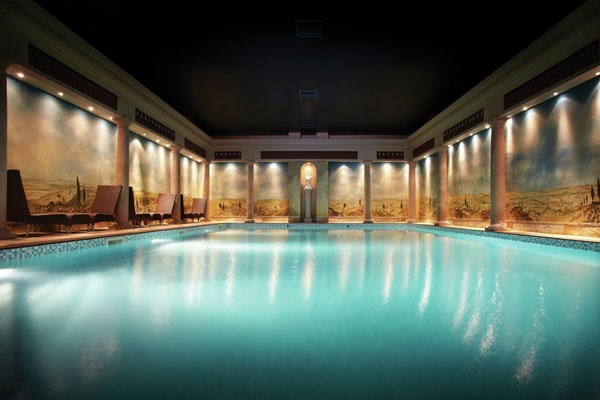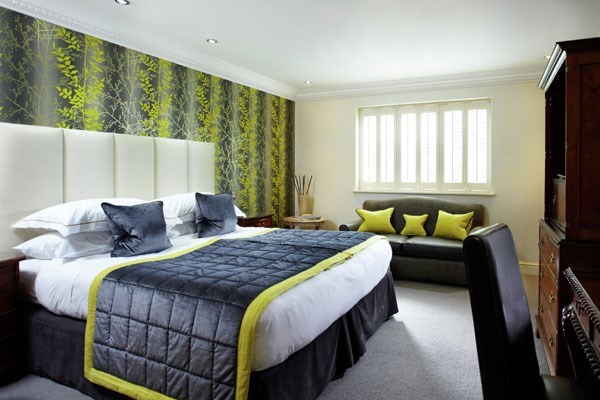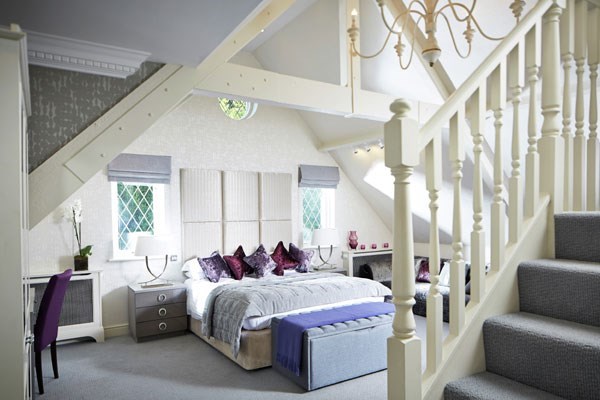 Summary

Fine Print

View on map
Just 30 minutes out of London you'll find multiple-award-winning Rowhill Grange. Set in 15 acres of private grounds, the tranquil haven feels so much further from the bustling capital. Two people can stay at this luxurious 5-star hotel for a night, taking advantage of the superb facilities at the Utopia Spa. You'll also both receive a 25-minute back, neck, and shoulder massage. After a day of pampering and ultimate relaxation, both of you will enjoy a delectable dinner, with a generous £30 voucher each to spend on whatever you please. You'll dine in RGs Restaurant, holder of 2 AA Rosettes. The menu puts emphasis on fresh local produce, and you'll see why this place has been creating a buzz amongst Kent foodies since its opening. After a great night's sleep in your 5-star room, furnished with every convenience you could require, enjoy a sumptuous breakfast to round off a stay in the lap of luxury.
What's included?
One night's accommodation for two people in a classic room
A full English breakfast in the morning
Full use of the hotel's Utopia Spa facilities throughout your stay
A 25-minute back, neck and shoulder massage each
£30 each towards dinner in the hotel's restaurant
Any restrictions?
Your voucher is valid for 10 months for two people
Available Sunday-Friday
Please note you must be over 18 to visit the spa
Spa facilities will be available for you to use between 3pm on your day of arrival and 1pm on your day of departure. Treatments must also take place within this time slot
What do I need to know?
RG's Restaurant has a smart dress code and does not permit sportswear or trainers
All dates are subject to availability
One Night Spa Escape for Two at Rowhill Grange -

£299
Customer Reviews
10 out of 10 (100%) reviewers would recommend this product to a friend.
Read all reviews »
The Rowhill Grange Hotel & Utopia Spa
06 November 2015
Sophie
Location: Kent Age: 18-24 Bought For Myself Occasion: Birthday
This was the best money I have ever spent! I bought this for my boyfriend's birthday (and also got 25% with a discount code - bonus!) and booked it straight away as I called and asked for my gift code early in order to book this, and they done this straight away for me. - Very good service at Buyagift. The day we arrived, we checked-in and then we were told that they had given us a complimentary room upgrade to a suite!! I was thrilled and couldn't be happier! The room was lovely, the spa was so relaxing, and the dinner was amazing! I only had to add another £5 to dinner, which was great for me! This offer also includes breakfast which was even better. To get all of that for the price given was fantastic! A normal spa day for one there without the food or hotel stay is £99 per person, so for all this included is absolutely brilliant. I would definitely recommend, we had a wonderful time, and the best hotel stay we have ever had. Thank you so much Buyagift! :)
Would you recommend this product to a friend? Yes
Lovely gift
25 June 2015
Carly
Location: Chislehurst Age: 25-34 Bought For Husband Occasion: Anniversary
One night spa escape at rowhill. Was lovely so relaxing, great food amazing spa. Back massage and staff brilliant!
What would you improve for next time? Not 2 single beds pushed together in room
Would you recommend this product to a friend? Yes
Great Gift
22 August 2014
Colin
Location: Medway Age: 45-54 Bought For Colleague Occasion: Just because!
Staff were great, room was great, massage was excellent, facilities were fab, John your member of staff pushed the boat out and pampered to our every need, an all round great stay.
What would you improve for next time? Car parking signs were not clear with regards to which way to go.
Would you recommend this product to a friend? Yes
Spa
29 July 2014
Dennis
Location: London Age: 55-64 Bought For Daughter Occasion: Birthday
The whole experience is an enjoyabe one. All the staff are polite and nice, the masseuse was very good and it's a shame that it's only half an hour. It was very relaxing and will definitely recommend it. The food was good and the price reasonable.
What would you improve for next time? The stairs smell a bit, and an air-conditioned room would have been nice especially on hot evenings.
Would you recommend this product to a friend? Yes
Absolutely amazing! Loved it every bit of it.
22 July 2014
Sulti
Location: Cheshunt, Hertfordshire Age: 25-34 Bought For Wife Occasion: Christmas
I found this gem when browsing on Buy a Gift for a special treat. I purchased it around early December to give as a gift for my partner. Using the 30% voucher codes as well, I managed to secure a really good deal which included two people sharing a classic room for one night, full use of spa facilities on both days (checking in at 15:00 on day of arrival and checking out 13:00 the following day), a 30 minute back and shoulder massage each, £30 each towards dinner on the night of arrival each and full breakfast the next morning. I must say this place is gorgeous, from the grounds to the brilliant customer service, amazing spa and just all round divine experience. The hotel itself is located in Kent and with acres of beautiful open space, gorgeous flowers and scenic view with horses in the front garden. We went in July and so the weather was really hot and managed to take lovely pictures outside. The staff treat you with such upmost respect and curtesy, that you really do feel at ease and pampered all the way through. They explain everything to you in so much detail and take the time to show you around explaining all their facilities and so on. We had a classic room and it was stunning. If that's want the classic room looks like I wonder what the higher class rooms are like. Everything is so tidy and immaculately decorated. You have a bit of classic and modern mixed in. You get given countless towels, bath robes, slippers, shampoos, shower gels, personalised welcome message, tea, coffee, biscuits which are all complimentary. It's just gorgeous. The Utopia Spa is a place in its own right. It is decorated like the Roman times and oozes the X Factor, A list quality. The changing rooms are spotless, full of lockers, individual shower cubicals fitted with its own conditioner and shampoo dispensers. These are marvellously decorated in beautiful wooden tiles and feels like you are somewhere in the Mediterranean. When you come out, there are fresh towels and an area with hairdryer, GHD's, make up removers, cotton buds…the lot. Everything is nicely thought out for the visitors convenience. The actual spa comes with a sauna, steam room, Jacuzzi, swimming pool and massage therapy pool, full of massaging buttons to stimulate your whole body. One might think what happens when it's full of people, but there is space and enough lounges for everyone at one time. The spa itself was amazing, the staff are extremely professional and friendly and give you a consultation before and after your massage and how you can improve your body condition. I really enjoyed it, I didn't want it to end. The dinner in the evening was superb. We were in the a la carte restaurant which means you have to dress formal, no trainers. We were greeted to the highest standards and the posh setting just suited it all. The good thing about this place is that you can still be yourself and not feel out of place. The menu portions are very a lar carte and if like me you are greedy, at first glance you may seem disappointed. However, very tasty food and filling. For my starter I went for the salmon and egg, it was delicious, I could have had another three portions. My main was the lamb dish, it was okay but I enjoyed my partners dish more where he ordered the sirloin steak with peppercorn sauce. Oh my God that was absolutely delicious. The steak was perfectly cooked and quite a large amount of meat. We shared the dessert of toffee ice cream and cake with bananas. Again it was nice, but I've had better. We paid an additional £36.00 to this bill with soft drinks. Breakfast in the morning was even better, you get continental breakfast included consisting of fresh croissants, pastries, toasts, fruits and yogurts and variety of cereals. This you can eat as much as you want and tea and coffee are freshly delivered to your tables in pots as you request, all in the price. If you specifically have full breakfast included in your plan like us, you get to also choose a hot breakfast also. I went for the Eggs Benedict with salmon…….it was out of this world, gosh it was just spot on. This is an absolute gem, I don't understand why it's not five star quality. I loved every minute of it and whilst I don't like going to go to the same place twice as I like trying different things……..this may have to be an exception.
What would you improve for next time? Nothing!
Would you recommend this product to a friend? Yes
Lovely birthday present
18 July 2014
Teacup
Location: West Wickham Kent Age: 55-64 Bought For Daughter Occasion: Birthday
Everything was very good. Lovely hotel, beautiful grounds, staff all very friendly and helpful. Good facilities not overcrowded. Would recommend and buy as a gift for someone.
What would you improve for next time? N/A
Would you recommend this product to a friend? Yes
Amazing treat but not cheap
20 May 2014
Vlp1979
Location: Beckenham Age: 35-44 Bought For Friend Occasion: Birthday
I was brought this as a gift from a friend, amazing welcome from hotel staff, John the porter very sweet took are bags to are room and told us what was what. Lucky to be a beautiful day so sat out on the terrace had a cocktail each and a jug of pims bill can to £50 do not cheap. The staff in the restaurant were lovely and very attentive. We had £30 each towards dinner bill, thus just about covers the main course. Treatments booked for you so no choice area were at 10am the receptionist not the most welcoming which I believe let the stay down and lockers u have to put your stuff continually broke (battery operated you put your own code but took four attempts to find a locker that worked) I had a express facial part of package and paid for an extra treatment which was £50, the therapist are lovely and well worth the visit. A lovely place but will say what seems like a great deal money wise you will end up spending quite a bit more when there. But it was worth it as lovely relaxing place
What would you improve for next time? The receptionist at the spa need to be more welcoming and I would like to say when I'm having my treatments not be told when I am
Would you recommend this product to a friend? Yes
lovely stay
13 April 2013
Claudine Pettitt
Location: Croydon Age: 35-44 Bought For Friend Occasion: Birthday
My friend and I brought the spa break as a joint Christmas/ birthday present for each other. We have been to Rowhill Grange on numerous occasions for day and overnight stays.We choice to go through buy a gift as there was an offer for 20% off, so it made it a bargain. we arrived at 3pm and were shown to our room , which was lovely, changed into our rope and then headed for the spa, we found beds to relax on, then enjoyed a swim and then went to the therapy pool to enjoy the water jets. We both had a back massage which was most relaxing. we had a delicious meal in the restaurant, then after drinks in the bar. After a refreshing nights sleep we enjoyed a full breakfast and headed back to the spa, more relaxation ( lovely) and after a mud detox and Ionethermie treatment, we left to go home. A wonderful stay in a beautiful setting, helpful and attentive staff, a most relaxing break, we we will be returning.
Would you recommend this product to a friend? Yes
Amazing pampering experience, we want to go back!
03 January 2012
Nat & Dazza
Location: Essex Age: 25-34 Bought For Partner Occasion: Christmas
I visited Rowhill Grange, just before New Years Eve with my fiancé. We had the most wonderful experience. The staff were really friendly and could not do enough to help throughout our stay. The spa facilities were beautiful, set out like Roman baths, and so relaxing. We both received a 30 minute back massage, which was the perfect way to switch off and unwind. Our luxury room was spotless and really comfortable. The food was delicious and top quality dining. The waiter's could not do enough for you. We also treated ourselves to the chocolate afternoon tea which was perfect for the chocoholics that we are and beautifully presented. I would definitely go back to Rowhill Grange (tomorrow if I could)!
Would you recommend this product to a friend? Yes
Little Gem!
16 August 2011
Kissikins
Location: East sussex Age: 35-44 Bought For Myself Occasion: Just because!
I bought this gift for my Husband who needed to be totaly spoiled. We were Greated and treated throughout our whole stay as if we were the only people residing at the hotel, dispite a rather extensive and beautiful wedding being held at the same time as our stay! we enjoyed every moment of our fabulous massage treatment by freindly poite and well trained therapists and idly willed away hours of relaxation in the breathtaking spa Our dinner in AG'S restarant was a true fine dinning experience with exceptional watressing service. our classic double room was clean, sumptious and beautifully decorated, we were just a little dissapointed that there was no air conditioning but a fan (rather noisey) was supplied instead which surficed I will absolutley return , the sooner the better!
Would you recommend this product to a friend? Yes
One Night Spa Escape for Two at Rowhill Grange -

£299