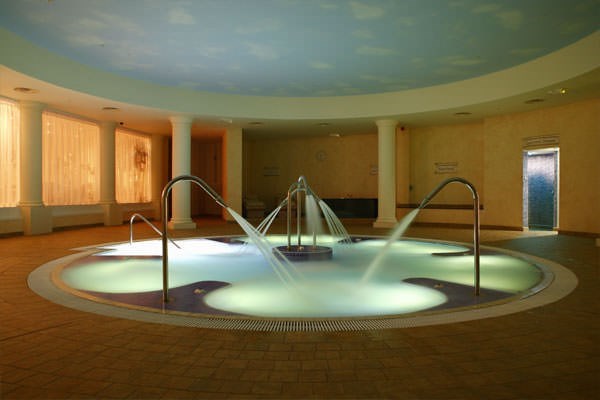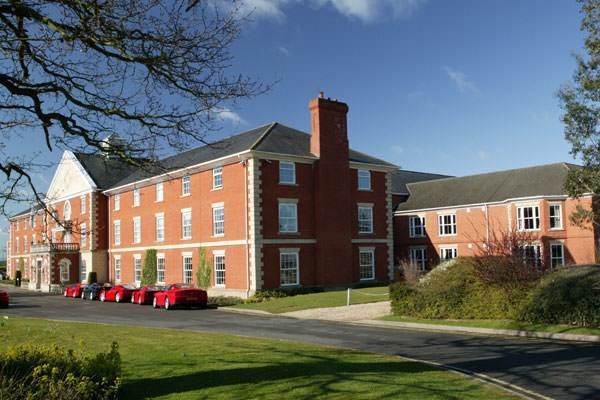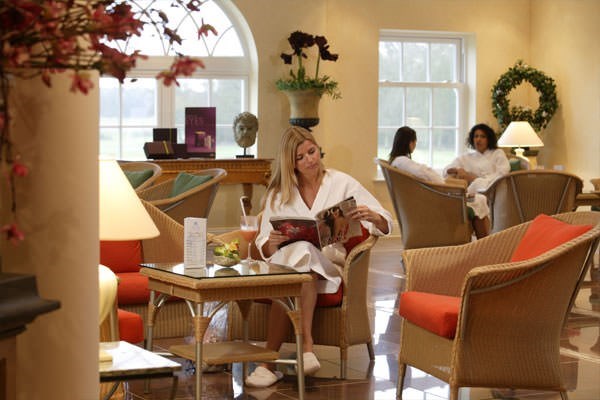 Summary

Fine Print

View on map
Step into the ultimate indulgent break at one of Northamptonshire's most acclaimed spa destinations. Fully unwind with two nights' accommodation included and complimentary WiFi and bathrobes provided in your luxurious hotel room. On the day of your arrival you'll enjoy use of the incredibly re-energising Heat and Ice Experiences, incorporating a hydrotherapy pool, Sanarium®, Caldarium Hot Room, aromatherapy crystal steam, experience showers, foot bath and sauna. Staff will advise you on how to alternate heat with the ice cave and cold showers to stimulate your senses, and cleanse and hydrate the skin. You'll also be invited to use the Leisure Club's excellent pool and gym. What's more, on each evening you'll receive a tasty dinner and you'll also receive breakfast each morning before you're sent you on your way, totally reinvigorated and ready to face the world again!
What's included?
Two nights' accommodation in a standard room for two people
A three-course dinner each evening for both of you
Breakfast for two each morning
Use of the Heat and Ice experiences and leisure club facilities from 8:30am on the day of arrival only
Any restrictions?
Your voucher is valid for 10 months for two people
Minimum age is 18 years
Stays are not available 24th-26th December, 14th February, 3rd-17th June and 2nd-15th July
Your voucher may be used any day of the week
Treatments are not included in this package but may be arranged directly with the spa if required
Please discuss any specific dietary requirements with the hotel when booking your stay
All dates are subject to availability
What do I need to know?
Guests must bring their own swim wear and gym wear
Lockers, towels and robes will be provided
Two Night Spa Break at Whittlebury Hall -

£340
Customer Reviews
3 out of 4 (75%) reviewers would recommend this product to a friend.
Read all reviews »
Not to be missed
01 May 2015
Al
Location: kent Age: 45-54 Bought For Husband Occasion: Christmas
great experience very relaxing break .set in beautiful area within walking distance of Silverstone. Good breakfast and evening meal supplied and ability to order an afternoon tea in the Silverstone bar surrounded by pictures of past motor racing stars.
What would you improve for next time? perhaps more variety for evening meal
Would you recommend this product to a friend? Yes
Whittlebury Hall
23 June 2014
KaylandDan
Location: Wales Age: 18-24 Bought For Partner Occasion: Christmas
My boyfriend bought me a 2 night stay at Whittlebury Hall hotel and spa. During the planning of how we were going to get to the hotel we did not realise how far away it was. As a result we had to take a megabus to Birmingham, a train to Wolverton and then a taxi to the hotel. When we arrived at the hotel the staff at the reception desk worked quickly and were pleasant, however we were not given a tour of the hotel and so we did find ourselves lost on a number of occasions. We were told that our rooms would be available after 3pm and as we arrived at 11am we could leave our luggage with the porter who would later take them to our room. We were able to use the Day Spa as soon as we arrived, however it did take us a while to find it. The heat and ice experience at the spa was very enjoyable, although the spa was very busy during the whole weekend. We were unable to use the waterbeds as they were constantly in use. I did want to have a treatment done at the hotel but upon seeing the prices i quickly changed my mind. Me and my boyfriend did enjoy the free water and fruit at the spa. The wooden beds around the swimming pool were very uncomfortable and gave me a painful back after lying on them. We also faced confusion as to whether we were able to leave the spa with our robes on. As a result we handed our robes and towels in to reception to go to our rooms, and later seen other guests going to their rooms in their robes. Our hotel room was very spacious and clean. However, the room was so warm. We did have a fan but it was in one corner of the room so it did not have much effect. We had a tiny window in the corner of the room that was so high up I was unable to see out of it. The bathroom door did not lock. We had a few problems with our card to enter our room, we had to go to reception to find out why we could not enter - this was quickly resolved. We had our dinner at Astons restaurant where the staff were very friendly. We were given a 3 course meal as part of the voucher, however neither me or my boyfriend liked any of the starters on offer. We did enjoy our main course. My boyfriend also has an egg allergy, we did notify the hotel about this, however he only had the option of one dessert as the rest had traces of egg. We ordered room service on one day and was very shocked at how expensive it was. The Bar was also expensive - £12 for a pint and two shots of whiskey. As the hotel is situated 20 minutes from the town centre we found ourselves rather lost as to what we could do during the night. There was no entertainment at the hotel and therefore we went back to our room after dinner. When we were leaving the hotel we asked reception to ring a taxi as we needed to get to the town for the train. When we got out of the taxi the driver charged us double of what we paid to get to the hotel on the first day! We asked the driver the reason for this and he replied that his firm was the other side of Northampton - why would the reception staff order a taxi so far away? We thought this to be rather unfair.
What would you improve for next time? I think the hotel need to look at entertainment during the evenings as there was nothing around to keep guests entertained. The hotel also need to look at how many people are staying at one time as the spa was constantly busy,
Would you recommend this product to a friend? Yes
An awesome expereince
26 March 2014
Kay
Location: Leeds Age: 55-64 Bought For Daughter Occasion: Birthday
This was a brilliant expereince of two days to celebrate my 60th birthday; hotel facilities and the staff were exceptional. SPA facilities were just wonderful and relaxing just what I wanted; although the SPA staff could have been more friendly and welcoming - this marred my expereince to some extend otherwise this experience would have got a 5 star.
Would you recommend this product to a friend? Yes
Misinformed
23 November 2013
Visitor
Location: Age: 18-24 Bought For Partner Occasion: Christmas
The hot and cold treatments are not available on the second day of the stay or so we have just been informed. Even after showing the receptionist the bunya gift website they say we do not have this experience on the second day. Most unsatisfactory .
Would you recommend this product to a friend? No
Two Night Spa Break at Whittlebury Hall -

£340