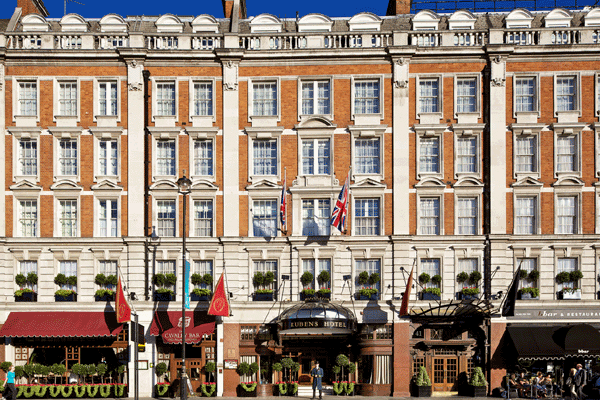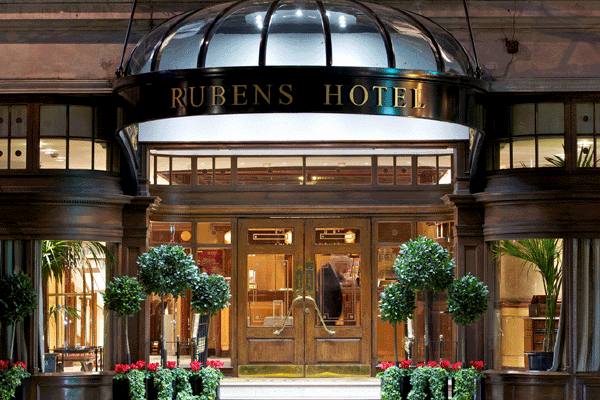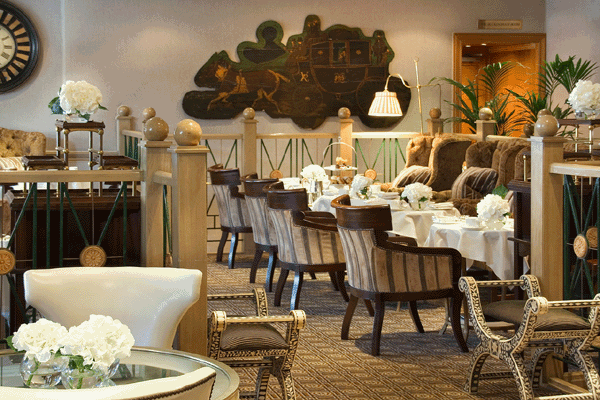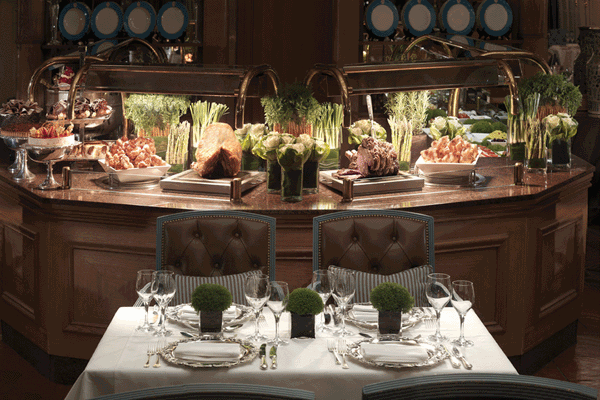 About

Description

View on map

Important Info
Rubens at the Palace is one of London's finest luxury 4-star hotels. The closest hotel to Buckingham Palace and just a stone's throw away from London's most important theatres, Rubens at the Palace is the perfect base for a short break in the capital. Built in 1911 it embraces an era of fine living - the chandeliers gleam brightly, the décor is rich and the staff are helpful, discreet, and attentive, making you feel welcome from the moment you step through the door. You'll stay in a luxurious room with impeccable facilities and style; enjoy a complimentary glass of bubbly in the hotel bar and a three course carvery meal at The Old Masters' Restaurant, plus a delicious full breakfast on the morning of departure.
On arrival at Rubens at the Palace you will be checked in by the friendly and attentive staff, and directed to your double room. Each room has air conditioning, high-speed internet access for your laptop and a state-of-the-art entertainment system including interactive TV, a huge selection of on-demand movies, and a music library. Enjoy a complimentary glass of champagne at the hotel bar before dining with a three course, buffet-style carvery meal served at the hotel's Old Masters'Restaurant. After a relaxing night's sleep, enjoy a delicious full breakfast - perfect to set you up for a day exploring London.
Your voucher is valid for 10 months for two people. This hotel break package includes one night's accommodation in a standard double room, a three course carvery meal in The Old Masters' Restaurant restaurant, a glass of bubbly in the hotel bar and a full English breakfast for two people. The voucher may be used for stays on Fridays, Saturdays or Sundays. Stays are not available in June or July or on Valentines Day or New Years Eve. The Old Masters restaurant carvery is open from 5.30pm-7pm. All dates are subject to availability. The hotel is pet friendly - please mention upon booking if you wish to bring your pet. Minimum age is 18 years.
One Night Break with Dinner at Rubens at the Palace -

£289
Customer Reviews
16 out of 17 (94%) reviewers would recommend this product to a friend.
Read all reviews »
Excellent hotel for a short break
19 August 2015
Little Win
Location: Leamington Soa Age: Over 65 Bought For Daughter Occasion: Christmas
The Rubens Hotel is a lovely place to stay and we enjoyed our time there very much. Our room was well presented with a superb shower and all the usual toiletries. A surprise birthday cake had been left in the room for me, a very kind gesture. The staff in reception were very attentive and helpful. Our evening meal started with champagne in the lounge and then we went through to the Old Masters Room for our three course dinner. This was a carvery with plenty of choices. The Rubens is situated in Buckingham Palace Road only a short stroll from Victoria station, which makes it an ideal location for sightseeing.. Definitely to be recommended.
Would you recommend this product to a friend? Yes
A very memorable experience
30 June 2015
Barrythefoot
Location: Colchester Age: 55-64 Bought For Friend Occasion: Other occasion
On arrival at the Hotel the staff were very friendly and helpful in sorting my car out for parking. The room was ideal for an overnight stay and comfortable for sleeping etc while we thought the evening meal was truly tasty and choice of wine superb although a little expensive but overall slept very well. The breakfast was a lot better than a Hilton one and nearly as good as a P & O cruise experience but would certainly recommend this hotel and will visit again due to its location.
What would you improve for next time? Staff and food brilliant but perhaps a flight of wine or a more reasonable price would increase your profits and volume drunk. I observed many people visiting the local pubs etc as they were more affordable. Why let people drink elsewhere when most are not driving and you could create a great atmosphere and clients returning to your super Hotel. P & O charge sensible prices so that all passengers can afford to drink and be merry but sensibly
Would you recommend this product to a friend? Yes
Wonderful gift
06 June 2015
Young & single
Location: Brighton Age: 45-54 Bought For Friend Occasion: Christmas
I was given this treat as a Christmas present, we up graded to a twin room (really worth the money) staff very friendly and helpful. The evening meal was excellent, you really must try the beef, cooked to perfection. Breakfast was a real treat, everything you could want. Relaxing break. Excellent location. Book and enjoy the experience too.
What would you improve for next time? 2 nights not just 1
Would you recommend this product to a friend? Yes
Our only consideration when staying in London
27 May 2015
London explroarers
Location: Lincolnshire Age: 55-64 Bought For Wife Occasion: Just because!
Conveniently located about 500M from Victoria station and also about the same distance from Buckingham Palace, well located for sight-seeing, especially under your own effort, on foot, bus or tube. This is a quality hotel available at a reasonable price. The buyagift offer we have used twice before and found very good value for such a hotel. Check out just what is included in the Buyagift deal, we have never been disappointed! Very clean throughout, plenty of staff to look after you giving very good service. All in a friendly, totally professional way. I am sure once tried you will return! The quality of staff and service reminds me of what up market hotels are like in some famous films. But, you can sample this one for real! We will return!
What would you improve for next time? Nothing!
Would you recommend this product to a friend? Yes
Christmas gift
01 September 2014
Joey
Location: Oxfordshire Age: 55-64 Bought For Partner Occasion: Christmas
Lovely, welcoming, helpful staff. Beautiful hotel, food was wonderful. Excellent location easy access to all tourist attractions in London.
What would you improve for next time? Room was quite small but adequate.
Would you recommend this product to a friend? Yes
Best Gift Ever
25 August 2014
Ros
Location: East Anglia Age: 55-64 Bought For Daughter Occasion: Anniversary
A gift from our children, and what a gift!. We arrived at the hotel to be met by the doorman who took our luggage and then showed us to reception. The staff are the most friendliest we have ever come across. Our room was beautiful we felt like royalty. After a short while in our room we received a phone call to ask if we had everything we needed. The gift was bought for our wedding anniversary. A tray arrived at our room with a card from the staff and two beautiful pieces of cake, such a lovely thought. As part of the gift we received a glass of champagne each before we had dinner, which was lovely and far more than we could eat. After dinner the staff call a taxi for us to go into London where we had a wonderful evening. Nothing was to much trouble for the staff. The whole experience was one we will never forget and if we get the chance will certainly do again. Thank you.
What would you improve for next time? Nothing it was perfect!
Would you recommend this product to a friend? Yes
A GIFT FOR MAKING MEMORIES
12 August 2014
Harribelle
Location: Grimsby N.E.Lincs Age: 55-64 Bought For Brother Occasion: Christmas
From the moment we arrived we were made to feel special. The hotel was everything it claimed to be and more, a great place to stay.
What would you improve for next time? Nothing everything was perfect.
Would you recommend this product to a friend? Yes
Unexpected surprise
04 July 2014
MCKING
Location: london Age: 25-34 Bought For Mum Occasion: Christmas
This is an amazing hotel and not somewhere i normally would have booked myself. It is a proper old style hotel, exactly how a luxury hotel should be. The rooms are amazing and could not have asked for more.
What would you improve for next time? The carvery was a little disappointing
Would you recommend this product to a friend? Yes
dinner was awful but hotel nice
11 February 2014
Laura
Location: Wiltshire Age: 35-44 Bought For Brother Occasion: Birthday
In the deal was to eat at the hotel restaurant. We were very disappointed with the food. The beef was very fatty so couldn't eat it and the chocolate cheesecake has lumps of gelatine in it!!! Also the duvet didn't fit the bed...too small!! However our room was lovely and they bought me up some cookies when I asked guest services!! Very friendly staff too. Hotel itself was nice just don't eat there!!
Response from Buyagift
18 Feb 2014
Hello I'm really sorry that you weren't entirely satisfied with your experience. I have ensured that your feedback will be passed to the hotel for review. Again, I am very sorry for the disappointment caused.
Would you recommend this product to a friend? No
Value for money
22 November 2013
DoDo
Location: Kent Age: 55-64 Bought For Colleague Occasion: Anniversary
The package of night, dinner and breakfast at the Rubens Hotel was all that it said it was. Hotel was a great location. The staff were particularly attentive and helpful. Room was a bit small but then we were out all day. Powerful shower. Dinner was excellent and the 2 glasses of champagne included in the package was good quality. All in all a lovely night at the Rubens. One negative point in my view - the fried eggs at breakfast could be cooked in a little less oil!
Would you recommend this product to a friend? Yes
One Night Break with Dinner at Rubens at the Palace -

£289