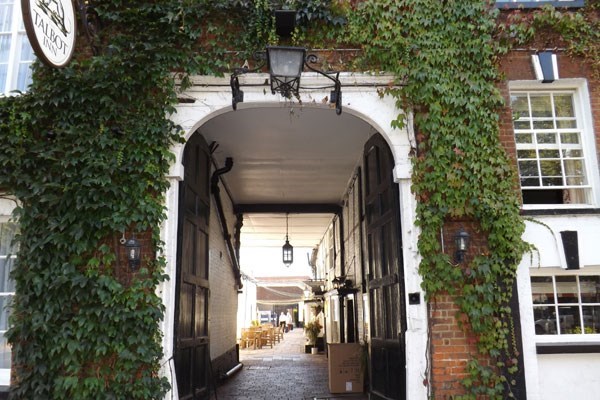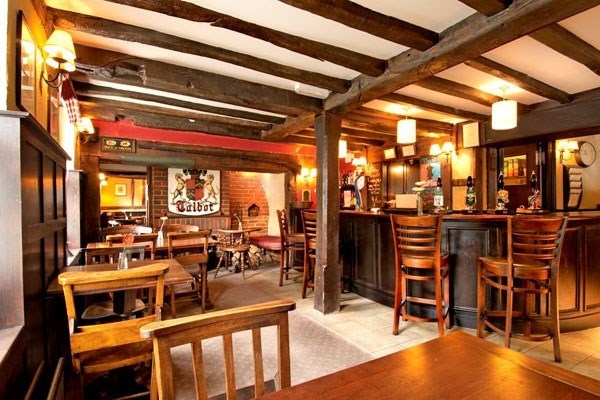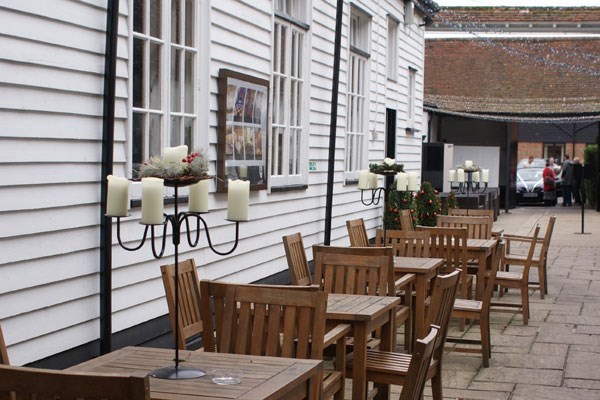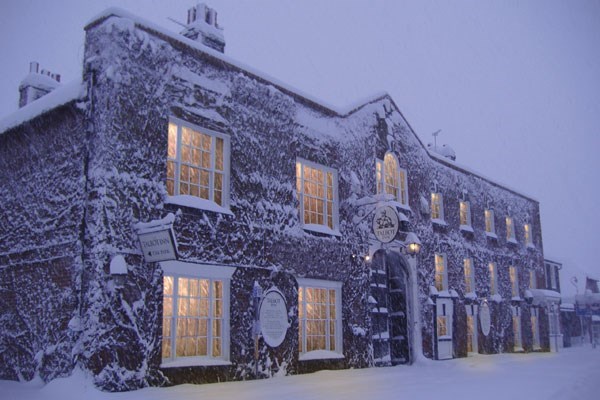 Summary

Fine Print

View on map
Unwind at this historic coaching inn with a short break for two, with tasty dinner and breakfast included. Check into your tastefully-furnished room, with all mod cons including complimentary Wi-Fi and a plasma TV. In the evening you'll dine in the hotel's restaurant, where classic dishes are executed to high standards using local produce. You have £25 per person towards dinner included in your package. After a night's rest in your comfortable room, you'll be set up for the day ahead with a continental breakfast. The hotel is ideally located just half an hour from London and only 20 minutes from both Gatwick and Heathrow airports, as well as being close to Hampton Court Palace and Kew gardens, making it a convenient stop-off, as well as a great location for a relaxing short stay.
What's included?
A one-night stay for two at The Talbot, Ripley, in a double or twin room
An a la carte dinner for two, up to £25 per head, drinks not included
A continental breakfast each
Any restrictions?
Your voucher is valid for 10 months for two people
The voucher may be used for Thursday - Sunday stays, excluding Christmas and the New Year period
Dinner is not available on Sunday nights as the restaurant is closed
You may choose dinner from the hotel's a la carte menu, up to a value of £25.00 per head on food only (drinks are not included)
Pets are welcome at the inn - please mention when booking
Additional meals are not included but can arranged directly with the venue
Please mention any dietary restrictions when booking
The Inn has disabled access; please enquire when booking due to availability
What do I need to know?
Check-in is from 3pm, and check-out is by 11am
One Night Break with Dinner at The Talbot Inn -

£119
Customer Reviews
7 out of 15 (47%) reviewers would recommend this product to a friend.
Read all reviews »
Dog Friendly
05 May 2015
BillyWhizz
Location: Essex Age: 45-54 Bought For Daughter Occasion: Christmas
Very dog friendly hotel. Our dogs were allowed to stay with us at breakfast and dinner. We ate both meals in the bar, not in the restaurant, but very comfy. Staff were polite, friendly and very helpful. The hotel is in a lovely area, with lots of good walks nearby.
What would you improve for next time? It would be nice if they provided a snack menu for residents on a Sunday evening.
Would you recommend this product to a friend? Yes
Terrible
23 March 2015
anoft
Location: Herefordshire Age: 45-54 Bought For Relative Occasion: Just because!
This was quite possibly the worst experience ever. Hotel room really shabby and food inedible!! The Inn has NO links to Marco Pierre White. The staff, however were still smiling!
Would you recommend this product to a friend? No
biggest disapointment ever
25 September 2014
frog
Location: yorkshire Age: 45-54 Bought For Wife Occasion: Christmas
1.nothing to do with pierre white 2.unclean room -moldy showers ,dead flies, cockroaches in first room then moved to another room. 3.staff did not seemed interested in cockroaches in room 4.food a big disappointment. tasteless fishcakes with soggy spinach swimming in bottom of bowl .,scollops too small and bland.risotto was overcooked and tasteless 5.whole bar area and passageway smelt of grease 6.tables outside not wiped and still had full dirty ash trays on next morning whilst breakfast been served.
What would you improve for next time? everything needs a good steam clean and staff need to smile and look like they enjoy working there
Would you recommend this product to a friend? No
Extremely Disappointing
17 September 2014
Gardengirl
Location: Hove, East Sussex Age: 45-54 Bought For Brother Occasion: Christmas
Firstly and most importantly the hotel is not owned by Marco Pierre White any longer, he sold it about 3 months ago which we were only informed of on our arrival at the Talbot on the 13th September 2014 having booked our experience back in June . So as you can imagine we were left wondering what our gourmet break had in store for us. It is true to say that we were left feeling hugely disappointed. The Talbot from the outside is a beautiful old coaching house clothed in a rambling creeper promising great things. However from the moment you step inside expectations are greatly lowered. The reception is dark and dingy and has a strange smell, it all looks very tired and shabby not at all welcoming. The common ways are shabby with visible damp patches on the ceilings which might account for the strange smell. The carpets look dirty. Parts of the hotel have a contemporary feel but the fusion between old and new doesn't really work and it all feels a bit odd . We had upgraded to a deluxe room for an extra £25 but the first room we had been allocated has to be the smallest room I have ever been offered. It was dark, on the main road, and also very close to the venue for the disco for the wedding that was taking place. The room (a standard room so £25 refunded) we ended up taking was in the Ripley block, a newer part of the hotel, but with an atrium roof on the landing this block was extremely hot the only ventilation being the entrance door on the ground floor propped open with a very sad pot plant. The view from our bedroom window was a piece of scrap land housing scrap metal, cars, and the beginnings of a huge bonfire but the room was at least bigger, more welcoming, and away from the disco. The courtyard area of the hotel housing an array of different styles of outside furniture has the potential to be fantastic but is in fact souless and drab. Finally the food. The menu was basic and uninspiring I have seen more attractive menus in pubs. The food was average. The restaurant staff however were very attentive, efficient, and friendly, which goes for all the staff we encountered during our stay at The Talbot - it must be a difficult time for them having just been taken over. In summary the place feels unloved, the food is mediocre not remotely special and we couldn't wait to go home!
What would you improve for next time? The Talbot needs refurbishing and a good management team put in place and then maybe people will get the break they desire.
Would you recommend this product to a friend? No
Slightly disappointed
22 July 2014
Harveydouble
Location: South England Age: 25-34 Bought For Husband Occasion: Christmas
I think we had rather high expectations as this hotel was linked to Marco Pierre White. We were impressed by the appearance on arrival; its a lovely old coach house that has been renovated. Our room was in a converted stable block. It was a reasonable size and as described on the website. I had to rinse out the kettle, the spoon and the tea cup from the in room facilities before using them as they were dirty. I would have to agree with one of the other reviewers that the cleaners need to pay more attention when preparing the rooms for guests - the bathroom and the bedroom needed finishing off in the corners. Our room looked out onto the Champagne Terrace and Garden. On the table outside our room were some glasses (about 5 or 6) when we arrived. These still hadn't been cleared away when we left the next morning. The evening meal was cooked well, but the restaurant needed a bit of work doing to it, there was some rubble in the corner and some stains on the floor and ceiling, which looked like there had been a leak. Breakfast was slightly disappointing. I would have expected some kind of bread with a continental breakfast but we had to find a waiter and ask for some toast. This then took 10 minutes to arrive. We didn't have a cooked breakfast, more because no-one came to take our order. I thought the 'platters of fruits' description was misleading as there was a platter of melon, and some grapes on the cheese board, but that was it. When it came to check out, I had to wait for a staff member to come to reception, and then wait for the one that knows how to process check-outs. Once she did arrive, the process and using the voucher was quite simple.
What would you improve for next time? Cleanliness Better service - more attentive staff.
Would you recommend this product to a friend? No
Disappointing stay
14 July 2014
Molly
Location: Age: 45-54 Bought For Daughter Occasion: Christmas
The picture of the hotel on the gift voucher is very misleading! It looks like the hotel is in the countryside when in fact it is in the High Street! We didn't get to stay in the lovely old part of the building, instead we were outside in what looked like a Travelodge! We were on the ground floor next to the main entrance and all through the night people were coming and going and standing outside our room smoking and chatting until 4am! Needless to say we didn't get any sleep. The hotel restaurant was not very clean and looked like no effort had been made to make customers feel comfortable. There were only 3 couples eating that evening, despite it being a Saturday night so there was no atmosphere. Can't fault the food or the waitress who was lovely. All in all we were quite disappointed and would not recommend this to anyone!
Would you recommend this product to a friend? No
Don't be fooled by the photo
25 May 2014
Ginger
Location: Kent Age: 45-54 Bought For Friend Occasion: Birthday
A birthday stay with dinner at the Talbot Ripley didn't live up to its billing unfortunately. Yes it's an ancient coaching inn but you don't get a room in that part rather it's in a modern build out the back! The gift included dinner but on closer examination it was limited to £25 per person and excluded all drinks. The menu was good but there was no way 2 people could eat even 2 courses for £50 and our 3 courses with a bottle of the cheaper wine available came to just about £100. Breakfast was good but to upgrade from continental to English added another £9 per person and you couldn't just pay the extra you had to pay for both breakfasts. Good enough but not good value when you consider the cost of the gift and what we actually got for that.
What would you improve for next time? Make sure the voucher covers the actual cost of the stay and the meals. I am sure the person who gave me the gift never intended it to cost me another £60 - £70 on top of what she paid.
Would you recommend this product to a friend? No
An amazing weekend away!
22 May 2014
Haggy1
Location: Age: 25-34 Bought For Mum Occasion: Christmas
Food was great. Staff were great. Hotel was great. Extended break for an additional night.
Would you recommend this product to a friend? Yes
Talbot Inn stay
26 April 2014
Miss-M
Location: Surrey Age: 25-34 Bought For Myself Occasion: Just because!
Unfortunately this was not as good as we expected. The whole place seemed run down and lacked tlc. My partner and I had chosen this as a romantic getaway; there was nothing romantic about it. The Talbot Inn clearly has masses of potential, beautiful building in a great location; but it's lack-lustre lets it down.
Would you recommend this product to a friend? No
Great Place
26 March 2014
guineapigs5
Location: Tonbridge, Kent Age: 45-54 Bought For Daughter Occasion: Christmas
Having read some online reviews, had mixed feelings about what to expect. After finally locating the Talbot (description on how to get there from BuyaGift.com a bit confusing) found the staff very pleasant and attentive, room clean and good, food excellent. Not very busy the night we went, not a huge choice on the menu as thought there would be but adequate and cooked really well. Breakfast was adequate too. This was a gift from our children for Christmas and probably wouldn't have gone otherwise due to price, but a lovely experience (although we didn't see Marco!)
Would you recommend this product to a friend? Yes
One Night Break with Dinner at The Talbot Inn -

£119