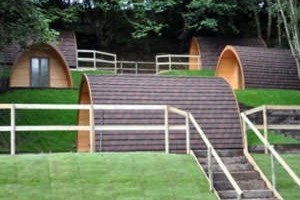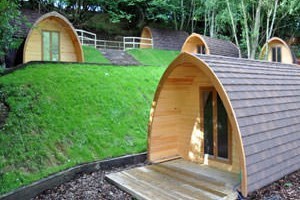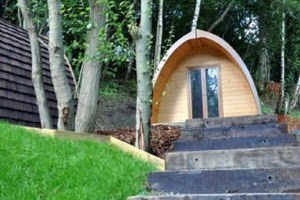 About

Description

View on map

Important Info
If you find yourself torn between creature comforts and the lure of the great outdoors then a two night stay in a camping pod at Marshbrook could be just the experience for you! You'll enjoy the best of both worlds in your wooden cabin, which offers the stability of permanent accommodation, a decking area, an electrical socket and indoor heating. Shropshire is famed for its natural beauty, and you'll find plenty of ways to explore this unique area during your break for two.
Upon arrival you will be able to check into your camping pod. These sturdy wooden cabins are made from naturally warm materials, and your pod will feature an electrical socket, heater and wooden platforms for you to sleep on, as well as an outdoor decking area - perfect for eating, sunbathing or simply relaxing. Please note: as this is a camping break you will need to bring your own mattresses/camping mats and sleeping bags.

Shropshire is one of the most unspoiled areas of England, stretching from the dramatic moorland and breathtaking landscapes of the Long Mynd to the one of the best preserved Norman towns of Ludlow - and Marshbrook offers tailored bicycle, walking and hiking tours which allow you to really explore this beautiful county. There are many farmer's markets, country shows and art shows to visit in the surrounding area and Church Stretton, Marshbrook's nearest village, is affectionately nicknamed 'Little Switzerland' due to its outstanding natural beauty.
Your voucher is valid for 10 months for two people. Each additional guest is £5 per person per night. This package includes two nights' accommodation in a wooden camping pod at Marshbrook. Stays are available Sunday - Thursday and are not available during Bank Holiday weekends. You will need to bring your own mattresses/camping mats and sleeping bags. Marshbrook asks you to check in to your cabin after 2pm and vacate by 11am on the day of departure. For booking amendments there will be a £10 admin fee. Pets are welcome on the camp site. Unfortunately there is no disabled access on this experience. Bicycles are available for hire from the on-site hire shop. All dates are subject to availability.
Two Night Stay in a Camping Pod at Marshbrook -

£85
Customer Reviews
9 out of 10 (90%) reviewers would recommend this product to a friend.
Read all reviews »
Friendly, welcoming, and great for dogs
11 March 2015
kjr203
Location: Milton Keynes, South East Age: 25-34 Bought For Mum Occasion: Christmas
We've been to Marshbrook twice now, and can certainly recommend it for those who enjoy the camping experience but don't fancy pitching a tent for a short break. The pod was very spacious, even with two excitable dogs in it, and the lights and heater made it very comfortable to sit in late into the night. The campsite facilities are slightly basic, but there are free hot showers. The local inn is great for food, and dog friendly - the staff there were very welcoming. The surrounding area is great for walking - we've managed a couple of very nice walks up Minton Hill and Ragleth Hill from the campsite, and by car it is quick to get to the Long Mynd, the Stiperstones and the Teme Valley.
Would you recommend this product to a friend? Yes
A gift from colleagues
15 August 2014
M & R
Location: Sheffield Age: 25-34 Bought For Colleague Occasion: Other occasion
A very enjoyable stay and a nice and easy process on arrival and helpful staff. The pod was simple but had everything we needed, lights, electricity socket, clean and plenty of room for the two of us and our stuff. It was nice chatting with other campers in the evening whilst barbequing and the local pub was great and good food. We went walking around the local area and the nearby villages and towns were lovely, an excellent location.
Would you recommend this product to a friend? Yes
Pods
30 May 2014
d from wiltshire
Location: Wiltshire Age: 45-54 Bought For Friend Occasion: Christmas
If your not keen on putting up a tent and hate being damp if this great british weather deals it's usual hand of petiods of rain then pods are for you. It was grest to step into dry accommodation which included a heater. The Station Inn on site provided scrumptious food and a place to chat to the friendly locals. It would be a great place for a crowd to book all 6 pods! I would go podding again.
What would you improve for next time? Opening hours of the cafe, reception and pub more clearly advertised.
Would you recommend this product to a friend? Yes
Cozy getaway on the coutryside
26 May 2014
Em
Location: London Age: 25-34 Bought For Friend Occasion: Wedding
A friend purchased this for my husband and I. Unfortunately it was raining on the weekend we stayed which meant we were mostly confined to the pod. Luckily, being quite spacious for 2 as well as being warm and cozy this wasn't too much of a problem. We had hoped to go for some local walks but found this difficult as there wasn't much of a walkway for pedestrians on the roads in the area so we decided it was too dangerous alongside the road. We did however drive to Church Stretton and do a local walk that took about 30-40mins up to a waterfall. We also went out to the Ludlow food centre and purchased local cheese to take on this walk and had a picnic by the waterfall. I would recommend this! There are no bbq facilities at the campground (that i could see) which would be my only bad feedback. The only place to eat if you're not driving is the pub next door. The pub is good but could get boring more than once! It´s also not open for breakfast during the week so prepare to go for a drive (not a long one). I would recommend you take a car if you stay here!
What would you improve for next time? BBQ/cooking facilities
Would you recommend this product to a friend? Yes
Most enjoyable
21 August 2013
Gwillers
Location: Bromborough, Wirral Age: 45-54 Bought For Son Occasion: Birthday
This was bought for me as a birthday gift from my sons. The pod was more spacious than I thought it would be approx 10ft x 7ft. It was equipped with lighting, 2 x electric sockets and a heater. You have your own outside area with picnic table and the toilets and showers are very close by as are the site reception and shop. There's bike hire available if your feeling energetic and a lovely pub ( the station inn ) if you would rather relax with a nice drink, lovely food and very pleasant staff. We only stayed for two nights but would like to have stayed longer. Its certainly not like camping as I used to know it, we had a most enjoyable break and we will definitely return in the future.
Would you recommend this product to a friend? Yes
Lovely Pods but not great staff
27 April 2013
kramppst
Location: Age: 25-34 Bought For Myself Occasion: Christmas
I recently rented a camping pod out for the weekend with my girlfriend and found Shropshire to be very and lovely. The camping pods are very spacious and comfortable and would def consider renting them again but I would def choose a different campsite as I was not impressed with the staff. We realised the lock on our pod was broke on Fri night and it was late so there was no one around to sort it out so we had to put a cooler bag up against the door to stop it from opening. We informed them about the lock early Saturday morning and we went out for the day when we got back in the evening it was still not sorted so went to ask them what was happening and we were told that they couldnt do anything about it, apparently having all day to go to the shop to buy a simple lock and fit it was out of there skill range as they seemed more interested in the bike they had. So I would def recommend a camping pod and Church Stretton shropshire but I would not recommend this campsite.
Response from Buyagift
29 Apr 2013
Hi, thanks for submitting your review. I'm really pleased to hear that you liked the pod you stayed in, and that you were impressed with the area, but I really am sorry to hear that you felt let down by staff. I appreciate how frustrating this situation must have been, so I've emailed you directly to help resolve this. I look forward to hearing back from you soon.
Would you recommend this product to a friend? No
Best and Unusial get away for couples
30 July 2012
CLBH11
Location: Wolverhampton, West Midlands Age: 18-24 Bought For Myself Occasion: Anniversary
The cabin we stayin in was romantic and spacious, we were expecting less as the price we paid was very cheap. The nearest town was a 5 min drive away and the staff and locals were very helpful and friendly. There was alot of privacy and it had the best resturant ever on site! We had steak every night. There was a light on the carpark so it didnt seem unsafe to go to the toilets in the middle of the night, and the toilets were code activated and kept very clean.
Would you recommend this product to a friend? Yes
Was so fun
06 July 2012
Katty
Location: Buckinghamshire Age: 18-24 Bought For Friend Occasion: Christmas
We've alreadyre booked to go back with friends in August!!
Would you recommend this product to a friend? Yes
Great Night Away
27 October 2011
RachaelP
Location: Age: 18-24 Bought For Colleague Occasion: Other occasion
Really enjoyed the time at the Pod, lovely and warm. Would recommend. We did get the feeling of the pub was for local people. Other than that was a great time, would recommend a trip to the local town of Ludlow!
Would you recommend this product to a friend? Yes
Great Stay in the Shropshire Camping Pods
16 September 2011
Ana
Location: Gloucestershire Age: 18-24 Bought For Friend Occasion: Wedding
The pods were great, and very convenient as we had all our camping gear with us, but we got the added comfort of heating and light, so we could stay warm and play cards into the night. The staff were helpful with local information and the pods are very well situated to get to various attractions in the surrounding areas of Shropshire. The area was fantastic- I would recommend the Working Farm Museum, a walk into the Shropshire hills, and Ludlow Castle. A fully enjoyable experience.
Would you recommend this product to a friend? Yes
Two Night Stay in a Camping Pod at Marshbrook -

£85