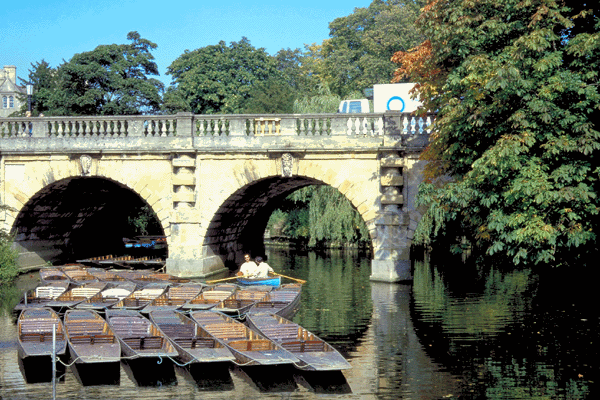 Spirit of Oxford Cruise for Two
11816958
4.5 out of 5 (based on 14 reviews)
Location: Oxford - Oxfordshire
For 2 people
Valid for 20 months
Best Price Guarantee
Overview
Covering one of the most enchanting stretches of the River Thames, this cruise through the Oxfordshire landscape makes for a charming and relaxing afternoon that will restore your appreciation of the gorgeous English countryside. Joining the boat at Folly Bridge at the very civilised hour of 12:30, you'll follow a route that's echoed throughout literary history, as you see the sights that thrilled Lewis Carroll and Alice Liddell over 150 years ago and inspired the much-loved "Alice in Wonderland". You'll pass Osney Island, and Osney Lock – one of the deepest of the Thames locks – as well as beautifully-maintained allotments and the incredible, unspoilt Port Meadow which is home to a veritable cornucopia of flora and fauna. You'll reach Godstow, home of another legendary literary landmark; Trout Island, the inspiration for the Narnia series, by Oxford's own C S Lewis. This delightful day makes a wonderfully romantic adventure for two to share.
What's included?
A boat cruise for two along the Oxford stretch of the Thames
What do I need to know?
This experience runs from 1st April until 31st October
There are no maximum height or weight restrictions
If inclement weather on the day you have booked prevents the cruise from taking place, all measures will be taken to try and re-book you for another date of your choice
All dates are subject to availability
The cruise departs promptly at 12.30pm and lasts approximately 2.5 hours
Locations
This experience is available at
Already got this voucher?
Customer Reviews
4.5 out of 5 (based on 14 reviews)
11 out of 14 (79%) reviewers would recommend this product to a friend.
Lovely little river trip
18 July 2019
Birthday treat from my daughter. Wife and I thoroughly enjoyed the river trip. Good banter and knowledge about the area from the skipper and a nice brief stop at a delightful pub for comfort break and a pint!
Mikel
Would you recommend this product to a friend?
Yes
Excellent day out - highly recommmend
30 July 2018
Our boat trip was amazing from start to finish. The team at the folly were great, the trip itself fantastic and our captain Chris was amazing.
Jenny b
Would you recommend this product to a friend?
Yes
Very Informative
12 July 2017
Arrived in good time and then had an excellent afternoon on the boat. Geraldine was very good at giving enough information without saturating my poor old brain cells. Would highly recommend this trip.
Marc
Would you recommend this product to a friend?
Yes
A bit disappointing
09 September 2015
The cruise was entitled " Spirit of Oxford " and from that I erroneously thought that we would spy the dreaming spires and the lovely culture of Oxford. Sadly we were mistaken and the boat travelled on the river through some suburbs and then into the country with the view mostly blocked by over hanging trees out towards Botley. There we stopped for 30 minutes in a pub ( the wine was good ) and then made the return journey. Thankfully our travelling companions were very pleasant which made up for a disappointing trip. It was probably my fault as I should have looked at the map of Oxford to see where the river goes before booking although I do think that it should just be renamed " Oxford River Cruise " as it sadly did not include the spirit of the city.
Lawrence
Would you recommend this product to a friend?
No
Just OK
08 September 2015
We were given a 2.5 hour trip for a present. We like boats and history so were looking forward to it. The little boat and the 'captain' were fine but the trip was a bit dull. In the first bit we were told about the history of the area and the links with the Alice in Wonderland story. After that we just chugged down the Thames past the Common. The journey back was more dull as there was nothing left to say.
Tinkerbell
Would you recommend this product to a friend?
No
A really pleasant gift for two young old'uns
25 June 2015
We were really fortunate to have a lovely evening in a week when the weather was mixed. The young lady who took us out on the 'ride' was pleasant and well enough informed to discuss the locality and its history. Although our host kept us interested, the initial part of the cruise was a bit industrial and the reliance of negotiating a lock was slow. Once out into the open waterway though, the scenery altered and it became a beautiful journey. We had such an interesting evening, our return to the mooring area was over schedule, but no-one bothered. Fortunately, we had warm jackets to put on and I would advise anyone partaking in this to do the same. Also, seek out the appropriate park and ride for leaving your car. We wanted to spend time in Oxford first, but it is mad at present for moving traffic and we subsequently spent most of the surplus time that we had in attempting to locate the right spot to park. Eventually, we sought out the sanctuary of the park and ride ( which was only a short distance away). If only we knew in advance, it would have saved so much time in finding suitable, affordable parking. ( Although we are advised in the cruise notes to go to another website for details, I think that the information is very important and should be in the cruise notes, rather than expect us to go to another website).
Bob the Blade
Would you recommend this product to a friend?
Yes
Magical trip
06 June 2015
We had the most beautiful evening for a trip on the Thames, Setting off from Folly Bridge ,Oxford Our Pilot Peter was very nice and gave us pointers along the river that were interesting, people sailing diff. types of craft and going through a lock all made for a lovely trip The trip lasted 2.5 hrs ,we stopped to step off and walk through woods To the very old Pub called the Perch guided by pretty archways of lights. A hamper picnic could be ordered .
Polly
Would you recommend this product to a friend?
Yes
A relaxing time
18 May 2015
A lovely way to relax and yet again insight and knowledge. Our skipper handled the boat with consummate ease and was friendly and informative throughout the 2 1/2 hour cruise. She obviously knows this stretch of river really well and was able to answer every question.
Scarpia
Would you recommend this product to a friend?
Yes
Enjoyable boat cruise
04 May 2015
A very relaxing cruise with a knowledgeable guide. The Folly allows you to purchase drinks which are then waiting on the boat for you, and you can also order a sharing platter.
ntfchiggs
Would you recommend this product to a friend?
Yes
Lovely cruise at Oxford
21 April 2015
My partner and I were given a voucher for the 12.30 cruise that went for2.5 hrs up the Thames. No food or drink is included in the cost. We boarded a lovely little boat at the Folly Bridge with one other couple. The boat operator was a friendly and informative local who herself lives on a boat on the Thames. It was a perfect spring day which helped the whole feel of the trip and we enjoyed it more than we thought we would. Very relaxing and lovely way to see some of the river properties of Oxford and hear it's history.
Stodds
Would you recommend this product to a friend?
Yes
Spirit of Oxford Cruise for Two