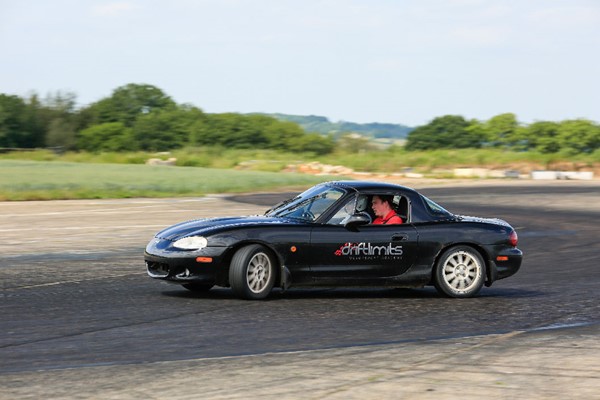 44 Lap Mazda MX5 Drift Gold Experience
10217623
5 out of 5 (based on 12 reviews)
Location: Hemel Hempstead - Hertfordshire
For 1 person
Valid for 20 months
Best Price Guarantee
Overview
When driving a supercar round a track just isn't enough, here is an incredible drifting experience to really test your skills. Before you get out onto the track, your experienced instructor will run through all the tips and tricks needed to hone the perfect drift. From over steering to hand-brake entries, you will learn to master them all throughout the day. Once the theory is out of the way, you will take to the track in a specially modified Mazda MX5, with safety roll cages and suspension set-up to make it the perfect drift training car. Perhaps you may fancy something a little racier, in which case you can always upgrade to a Nissan 350Z! Over three sighting laps and a high speed passenger lap, your instructor will guide you through the techniques he taught you in the classroom to get you ready for the main event, a high-speed, self-driven 40 lap drift experience in the incredible MX5! Put all your skills to the test in this incredible drifting supercar.
What's included?
Learn how to drift at speeds of up to 80mph sideways at the UK's fastest dedicated drifting experience track
Half day 44 lap drifting experience with 90 minutes driving time, including:
A full safety briefing with your instructor
Three sighting laps and a high speed passenger lap
40 self-driven laps in a modified Mazda, under the guidance of your expert instructor
As an optional extra on the day you might like to upgrade to drift a Nissan 350Z, book extra laps or jump in the passenger seat for insane drift hot laps with a professional driver (charges apply)
What do I need to know?
Your voucher is valid for one person
This experience is available Monday–Friday, excluding Tuesdays, bank holidays, and you may upgrade to a Saturday morning for £39
Sessions run from 8.30am–4.30pm
Minimum age: 17 years. Maximum age: 80 years
Minimum height: 5ft/1.52m. Maximum height: 6ft 2in/1.88m
Maximum weight: 18st/114kg
You will need to present your valid UK driving licence on the day (photocopies will not be accepted)
It is advised that you will need an element of physical fitness to participate and have no health conditions that may impede your ability to drive
A disclaimer will need to be signed before the experience begins
You must wear suitable flat-soled shoes/trainers
Optional extras will be paid directly to the venue, and are subject to availability
You should allow approximately two hours for this experience
All dates are subject to availability
Locations
This experience is available at
Already got this voucher?
Customer Reviews
5 out of 5 (based on 12 reviews)
12 out of 12 (100%) reviewers would recommend this product to a friend.
amazing experience
29 June 2016
was fun and action packed from start to finish! loved it!!
daz
Would you recommend this product to a friend?
Yes
Here's a more accurate description. Gold Drifting
21 May 2016
Don't get me wrong I had a good day doing the Gold Drifting. I just felt the description of the event before hand wasn't accurate. So feel it only fair people get a more accurate review of what you actually get on the Gold Drifting event. Here's what the advert says vs what actually happens: ".....you progress to learning handbrake turns. After getting to grips with losing traction you'll master donuts using power over steer." Never even touch the handbrake, let alone learn hand brake turns. Never did a donut or had any instruction on how to do them.. "Before you get out onto the track, your dedicated and very experienced instructor will conduct an in-depth classroom theory session to go through all of the techniques and skills you will be learning" Not really. In the class room the instructor tells everyone on ALL events things to look out for. No "in-depth" theory. Just "take a wide line". All very brief and certainly not in-depth and didn't teach me anything technique wise. I was expecting a lot more detail. "After a break for lunch" No. You get 3 sessions in the MX5 and 1 in the M3. Breaks in between mean going to their shop for a bottle of water. Or your car. Nothing much else to do, as you can't see the tracks. Well a small section of the main track can be seen. There is the odd car to look at parked up. Certainly no "lunch" unless you brought some. "After a break for lunch you'll familiarise yourself with weight transfer dynamics on a fast corner - including breaking traction with the Scandinavian flick and lift-off over steer". No mention of these methods or instruction on this. Just "turn in sharp and hit the throttle". "Your full day experience also includes 70 lap high-speed circuit session with additional laps in a M3" Not a full day More half day. I arrived a 1:30pm, as requested. Waited 40mins to hear the briefing, which was brief, as mentioned. A bit of talk on photos and videos you can buy etc. Plus upgrades of car. Then it was another 20mins wait to get into a car. So was driving by 2:30pm. 20mins of driving and max. 15 laps in the Mx-5 (certainly not high speed, but that was ok), then 5-10mins break. Repeat this total of 3 times. Then into BMW E46 M3 for 5 laps. So in total maximum of 45laps, not 70! Plus the 5 in the M3. So I felt a bit short changed! I didn't count the laps, but they talked of "10-15 laps and we'll come in for a break". "-as well as an adrenaline-pumping passenger hot lap" "Then let your instructor show you how it's done, with an awesome white knuckle passenger ride!" No, Hot laps had to be paid for! Which was a shame, as it would have been useful to see how the experts do it. After the event is over, you can then pay for the photos and video if required. So in short. No real technique training in the class room. Maximum of 45 laps in Mx5 and 5 in M3. Some limited advice from the instructor in the car. All in all I was there from 1:30pm to 6:20pm. So nearly 5hrs. Mostly waiting around. Total time of the event. (4 sessions and 3 breaks) 1hr 45mins). Total driving time approx 45mins in Mx5. 5mins in M3. So go with this knowledge and have a great half day. Just don't expect to learn too much. More of a "here's a car, have a go and see if you can get it to drift". And certainly don't think you'll come away being able to drift or have learned any new advanced techniques.
Simert
Would you recommend this product to a friend?
Yes
Phenomenal
08 January 2016
Phenomenal experience I've had quite a few experiences in the past but this has to be my favourite of all time. I went for the gold package and as A taster of drifting the bronze and silver would probably cut the mustard but if you actually want to drift I would solely recommend the gold
Matty
Would you recommend this product to a friend?
Yes
It was fantastic
28 April 2015
The drift course was fantastic. The instructors had time and patients. Everything was clearly explained and it was just awesome.
Drift king
Would you recommend this product to a friend?
Yes
Best birthday gift
26 March 2014
Absolutely amazing. Couldn't drift before I went now can. Really good instructors.
Sheldon
Would you recommend this product to a friend?
Yes
Fantastic
01 November 2013
Really really good fun! Instructors were excellent, constantly trying to push me to go faster, drive the car harder, and get the most out of the day. Loads of time behind the wheel too -- a lot more than advertised. Just like they claim, by the end of it I was linking sequences of corners together, doing handbrake turns and Scandinavian flicks, and pulling drifts round long sweeping corners at 60 mph. Big adrenaline rush and big smiles! Can't recommend it highly enough!
Nik_
Would you recommend this product to a friend?
Yes
Great driving experience!
30 May 2013
The whole Drift limits team offer a fantastic day of action, extremely friendly staff and environment and it was ran excellently. Lots of behind the wheel, tire screeching action! I highly recommend this experience to anyone as it will NOT disappoint. The best experience i'v ever had in a car it was a great, fun day and I can't wait to go again!
Ian
Would you recommend this product to a friend?
Yes
Drifting Nirvana
26 November 2012
Relaxed approach Maximum track time Great facilities Friendly and supportive staff Un-fazed by the occasional "off" Everything you always wanted to do on any other trackday- but were too afraid to ask!
GPJimmy
Would you recommend this product to a friend?
Yes
Full Drift Day Experience
23 November 2012
WOW, I got this for my fiance for our anniversary and what an amazing day, staff were really helpful and easy going, my fiance had such an amazing day he is now looking at doing drifting on a regular basis. Would definitely recommend this to anyone with a friend, family member or partner who has a need for speed :D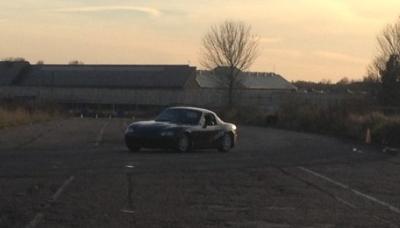 squishydorri10
Would you recommend this product to a friend?
Yes
Fantastic driving experience
03 November 2012
My first driving experience, which was in Lamborghini Gallardo, had left me looking for another thrill that offered me more time behind the wheel and less restriction in my driving. Jonny and co run a terrific business model, small lightweight rear wheel drive cars with enough oomph to offer great fun yet not stupid power levels to scare all but the most experienced drivers. They urged you to push the limits and when errors were made (which were often), there was enough run off for most mistakes to be brushed off, learned from and hopefully not repeated! By the end of my gold day, I had learned how to J turn, handbrake turn, link drifts, donut and I must say I feel my driving ability has increased considerably. Well done to all of you and I am looking forward to doing this again! I cannot recommed a better drifting, nay, a better true driving experience than this!
alex
Would you recommend this product to a friend?
Yes
44 Lap Mazda MX5 Drift Gold Experience