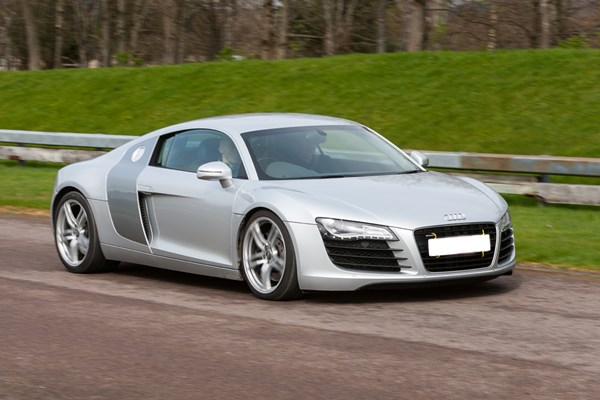 Audi R8 Driving Experience
1022391
4.5 out of 5 (based on 56 reviews)
42 locations to choose from
For 1 person
Valid for 20 months
Best Price Guarantee
Overview
Which German car is faster than a Lamborghini Gallardo and an Aston Martin DB9? It's not a Porsche, it's the Audi R8! Winner of Autocar's "Best Handling Car" and "Fastest Car in the World" awards the R8 is a true supercar. Its flowing lines make it an object of beauty, its 200mph top speed makes it an object of lust, and its balanced weight distribution makes it an object of driving perfection. The R8 is a real drivers' car, the ideal car for pushing the limits on the track. This experience will open your eyes to just how special this supercar is. You'll receive an introduction and safety briefing from one of the highly trained instructors before being taken out for some familiarisation laps of the circuit (most locations) where the instructor will give you hints and tips on racing lines and driving technique. Then it's the main event, you will get to drive one of these German meistercars around the course for a whole 6 miles. With the landscape whipping by you'll really be able to feel the power this stunning car can lay down. Truly a driving experience you'll never forget.
What's included?
Introduction and safety briefing with a fully trained instructor
All safety and protective equipment
Instructor-driven demonstration lap/s of the circuit subject to location
Approx 6 miles (4 ½ miles at Chipping Norton and Yorkshire locations) driving an Audi R8
High-speed instructor-driven passenger ridge in a high performance car (Stafford only)
An exciting 4x4 off road passenger ride (at Stafford and Prestwold locations only)
What do I need to know?
This experience is available on selected dates
Please note that the Brands Hatch location is not available for bookings during the weekend
At Dunsfold Airfield, the Southern Dunsfold Track is available at no extra cost Monday-Friday or for a supplement of £25 on weekends, or you may upgrade to the main track for a supplement of £25 Monday-Friday and £50 on weekends
The Lydden Hill Race Circuit is available on Fridays and Saturdays, however there will be a £20 surcharge for Saturday dates
At Stafford venue min. age is 17 years and you must hold a full, valid UK driving licence
At all other locations min. age is 18 years and you must have held a full UK licence for a minimum of one year
You will need to bring your licence with you on the day. Photocopies will not be accepted
Max. age is 70 years
Min height 1.52m/5'0"
Max height 1.98m/6'6"
Max weight 101Kg/16st
Persons who fall outside these height/weight restrictions may be able to participate but please contact the supplier before booking
Drivers may have to sign a health declaration on the event day
If in any doubt about your suitability for the experience, please check with the supplier before booking
All drivers will be required to sign a disclaimer accepting liability should damage be caused to the vehicle through their negligence
Please note, all tracks are subject to seasonal opening times
All dates are subject to availability
There may be the option of purchasing a collision damage waiver for approximately £20-£30, there is no obligation on drivers to take this option
Participants are advised to wear long sleeved shirt, trousers and flat shoes/trainers
At Oxfordshire and Yorkshire a maximum of two spectators may attend free of charge (additional spectators may be pre-booked for an additional fee)
Spectators must be aged 11 years or over
Spectators under 16 years must be accompanied by a spectating adult
Locations
This experience is available at 42 locations
Already got this voucher?
Customer Reviews
4.5 out of 5 (based on 56 reviews)
50 out of 56 (89%) reviewers would recommend this product to a friend.
Great experience
03 September 2019
Brilliant driving experience well organised event with plenty of cars to drive only hampered by wet weather meaning i couldn't drive the Lamborghini flat out. But still a great experience
Sean
Would you recommend this product to a friend?
Yes
I really enjoyed my driving experience however the track as very crowded with super cars getting priority. I missed out on putting my foot down as a car in front was driving slowly and we were unable to pass. Was my day out less important than theirs? Instructor was excellent. More staff required as never got to see my photos as the queue wAs too long.....they missed a sale there!
Chicken lady
Would you recommend this product to a friend?
Yes
enjoyable, but
22 September 2015
It was an enjoyable experience, but all over too soon. Before you had time to understand just what the car was capable of, your time was up. It would be much better if you could have longer in the car. All cars that you are unfamiliar with take time to get used to and no allowance and or time is allowed for that. Still the short time that were actually driving (10 mins) was very enjoyable.
beejay
Would you recommend this product to a friend?
Yes
Audi R8 driving experience
21 August 2015
This is a must for driving fans, Well organised, And such a thrill, I am already looking into my next driving experience. Highly recommened
Telboyse
Would you recommend this product to a friend?
Yes
Brilliant experience
16 March 2015
A great gift for someone who likes fast cars! A great day out and certainly thrilling, like the title says. Would recommend it for all who like to put their foot down!
Amandals
Would you recommend this product to a friend?
Yes
Not long enough
20 November 2014
Turned up and registered. Was told I needed to pay a £25 insurance disclaimer to cover me for the first £5000 of damage uf i should crash the car. My argument was that if I have a trained instructor at the side of me then how could I possibly crash a £100,000 Quattro driven supercar. Only got 3 laps when I was told at the time of booking that I would get 6 laps of driving. The car was semi automatic with paddle shift gears and I had to drive it in auto mode because I wasn't allowed to drive in semi auto mode . Then at the end I was offered a picture of my experience for £25. Or 10 images on a disc for £35. Nice car to drive but 6th gear experience are a total rip off.
Ewwwwwwwsh
Would you recommend this product to a friend?
No
So close to being a great day
06 October 2014
Staff and instructors fantastic, cars what you hoped they would be Just the track let this down. I knew it was on an air field and expected The track to be compromised, but corners where to tight so driving was just squirting the go pedal down the two straights and braking hard for the corner.
Vokesy
Would you recommend this product to a friend?
No
Awesome!
30 September 2014
PRESTWOLD HALL We had an amazing day. As Supercar enthusiasts, we were just in awe of the vast selection of cars we could drive. Information was easy to understand and on-hand staff were helpful in making sure you were where you should be ;) Instructors were so polite and friendly, and made you feel comfortable enough to really "put your foot down!" and see what the car could do. Can't wait to go again
BenSarah
Would you recommend this product to a friend?
Yes
Great Exciting Experience
29 September 2014
The whole experience was great fun, exciting and thrilling. The instructor was very informative and encouraging. The whole thing was well organised and the safety aspect was clearly emphasised. I enjoyed every minute. Would thoroughly recommend it to a fast car enthusiast!
beany
Would you recommend this product to a friend?
Yes
Good fun!
10 September 2014
Audi R8 Driving Experience: Before finalising the booking and going on the day I'd read numerous reviews, a good number of which were negative for one reason or another - so I just really hoped that the friends who bought the gift hadn't wasted their money! Final booking over the phone was straightforward enough, though timing/availability at the venue you want might be tight, (in my case, maybe as the company who ran my event don't do full weeks at all their venues, they move the supercars around their venues over the week, like a circus) so book WELL in advance to get your preferences. Disappointingly/cheekily, if I wanted a 'peak' middle-of-the-day time slot, they wanted another tenner for the privilege… so I opted for 9:30am, which was before their peak! Additional insurance to cover the 'excess' part of the supercar insurance is also available to buy when booking, or on the day, at a cost of £20 - purchasing is a personal decision for the individual, however, I opted to leave that decision until I'd witnessed the venue and risk, on arrival at the venue. It was a dry day, it was professionally organised, with instructors deliberately spacing cars around the open circuit, I'm a competent driver and so decided I could easily save the £20... in my case the right decision, but make your own mind up… in the wet, it might have been a different view. At a venue near Stafford, I was made very welcome on the day by all the friendly staff to hand, who clearly wanted everyone to have a good, safe, time. A nice little cafe was available on site. The R8 is a proper 4-wheel-drive supercar and my friendly, chatty instructor for the session was keen for me to enjoy the experience, coaching and urging me to be as fast and accurate around the circuit as I could. Yes, you will see complaints online that it's not a 'real' race track and true enough, it was a stretch of tarmac like a runway with a circuit made of bollards, but hey, Top Gear essentially have that every week and no one complains - and apart from another car on track, there's little chance of going off and hitting something, so you can be a bit braver. Make no mistake, this is NOT a track day that lasts for a few hours; it is as it describes 'an experience', which seems to be over in the blink of an eye - just because you're having fun and don't want it to end! Following the main drive however, I then had a couple of very hot laps as a passenger in a little Lotus Elise (more smiles!) and after a coffee break, took up (my absent guest's) 4x4 experience (passenger) on a really rough muddy track. Again, friendly staff at that sub-venue (with a free mini bus shuttle to and from the main event) made for a fun end to my day. It was also possible to have extra experiences whist there, for additional modest amounts, if you wanted. About 2.5 hours end-to-end and very enjoyable! Many thanks to all the folks who bought me the gift. Note, I had a decent dry day. If it was a poorer day, there was no real shelter at the venue and it would be very exposed, so you could very wet/cold, so go prepared! Note also that the 'additional experiences' in the original package vary with venue - so check what you fancy before confirming your booking.
Peej
Would you recommend this product to a friend?
Yes
Audi R8 Driving Experience