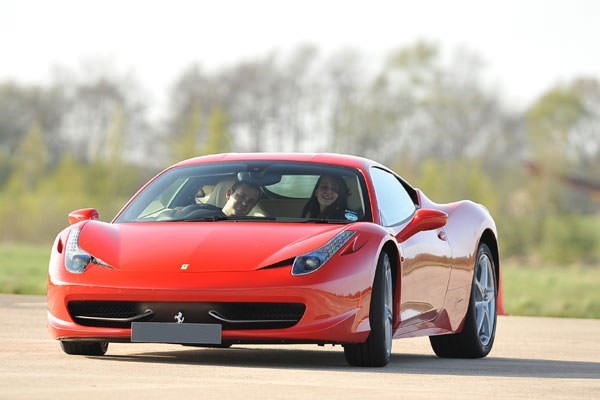 Ferrari 458 Driving Thrill with Free Passenger Ride
10217736
4.5 out of 5 (based on 6 reviews)
28 locations to choose from
For 1 person
Valid for 20 months
Best Price Guarantee
Overview
Ferrari: the world's greatest supercar manufacturer, and one of the most expensive too. Most can only ever dream of driving one, but this magnificent motoring package offers you that special opportunity. With it's sleek, stylish lines the 458 is one of the most beautiful cars in the world, it's handling is legendary and it boasts a top speed of over 200 miles per hour. You'll be met by a fully qualified ARDS instructor who'll give you an introduction and safety briefing. Depending on location, you'll then go for an instructor-driven demonstration lap where you'll receive hints and tips about racing lines and driving techniques. After that, it's your turn. Get behind the wheel and feel the Ferrari go! You'll have a whole 6 miles in which to get to grips with the amazing power this car can deliver. Even when your exhilarating drive has finished, the show's not over: you'll be taken for an electrifying high-speed passenger ride by a real racing driver. To commemorate the day, you'll be given an individual certificate.
What's included?
Introduction and safety briefing with a fully trained instructor
All safety and protective equipment
Instructor-driven demonstration lap/s of the circuit (depending on location)
6 miles driving in a Ferrari 458
High-speed instructor-driven passenger ridge in a performance car
Individual commemorative certificate
What do I need to know?
This voucher cannot be extended
This experience is available on selected weekdays only although it is possible to upgrade to a weekend date for an additional £25
Please note that weekday experiences at the Kent location incur a £20 upgrade charge and if you wish to use your voucher on a Saturday at that venue you will need to pay £40
At Dunsfold Airfield, the Southern Dunsfold Track is available at no extra cost Monday-Friday or for a supplement of £25 on weekends, or you may upgrade to the main track for a supplement of £25 Monday-Friday and £50 on weekends
The Lydden Hill Race Circuit is available on Fridays and Saturdays, however there will be a £20 surcharge for Saturday dates
This experience is only available March - November
Min. age is 17 years and you must hold a full, valid UK driving licence
You will need to bring your licence with you on the day; photocopies will not be accepted
Min height 1.52m/5'0"
Max height 1.93m/6'4"
Max weight 114Kg/18st
Drivers may have to sign a health declaration on the event day
If in any doubt about your suitability for the experience, please check with the supplier before booking
All drivers will be required to sign a disclaimer accepting liability should damage be caused to the vehicle through their negligence
Please note, all locations are subject to seasonal opening times - please check individual locations
All dates are subject to availability
There may be the option to purchase a collision damage waiver for approximately £20-£30; however, there is no obligation on drivers to take this option
Participants are advised to wear long sleeved shirt, trousers and flat shoes/trainers
Spectators are welcome
Locations
This experience is available at 28 locations
Already got this voucher?
Customer Reviews
4.5 out of 5 (based on 6 reviews)
6 out of 6 (100%) reviewers would recommend this product to a friend.
Amazing
19 September 2014
Was a very good experience would highly recommend this to any petrolhead! Shame it didn't go on for a bit longer but hey ho!
Albud
Would you recommend this product to a friend?
Yes
Ultimate supercar Ferrari 458
08 July 2014
Arrived at 10:00am and booked in at registration. Had to wait until 10:30 for driver brief in a room that was more akin to a sauna!!. Finished brief at 10:55 then had demo laps, instructor very good. Signed in and Waited at Ferrari flag for 458 experience at 11:05hrs, over 1hr later ask girl how much longer it was going to be only to be told i should of waited at purple flag not red flag as was indicated on my slip!! Finally got to drive Ferrari 458, great car and good instructor. Then had high speed thrill ride in Monaro by imitation Stig driver, very good.
Ron
Would you recommend this product to a friend?
Yes
Superb experience despite the rain
28 May 2014
Sadly it was raining when I had my experience but the attitude of the staff was not dampened. My instructor was great and clearly well practised in getting the most from people as he encouraged and guided me around the circuit. The circuit itself is very varied, plenty of space to get up some speed and equally lots of twisty stuff too. I would thoroughly recommend this!
Silentbob
Would you recommend this product to a friend?
Yes
Ferrari 458 Italia experience
28 June 2013
It was a fantastic day. Really great set-up, everything was taken care of. Worthwhile taking note that it is an extra £25 for excess waiver and another £35 if you want a video of the experience. Loved driving the Ferrari, a fantastic car!
David from Londoon
Would you recommend this product to a friend?
Yes
I fully enjoyed the experience wiht 6th gear. the way it is organized is very good. first the demo lap, secondly the supercar drive, thridly the passenger.
stefniko72
Would you recommend this product to a friend?
Yes
Mama mia!!!!!
26 October 2012
My experience was at the Cobham venue and Im going to try and keep this short and sweet but will warn you now that I will dribble on for ages about this experience. Focus Ian... Right ok, so get there. Directions to the venue where very clear and easy to follow, once at the venue you can feel the general buzz of excitement in the area, the whole 'waiting area' is in front of all the dream machines so unfortunately my wife and son took a bit of a back seat whilst I gurgled and cooed at all the lovely cars. Checking in, probably one of the most easiest experiences of my life, get in the queue hand over your details, get greeted by a very informative lady that er shall we say is easy on the eye? Sign relevant forms get directed to your orientation lap and away you go. Very friendly and helpful staff. Once in the Range Rover Sport we were guided round the track and told of all of the adverse cambers and greasey areas to watch out for (it wasnt the nicest of days!), also the 'racing line' was explained to us so that we could at least attempt to look as if we knew what we were doing once we got in the cars. After that it was time to wait (im)patiently for my go. I looked on as everyone before me entered the 458 with a childish grin on their faces which only grew when they got out 3 laps later! Then........ nothing.......... a bit more nothing......... an ambulance and some of the instructors race off down the track, a bit of whispering in the crowd, and then we find out, someone had totalled the lamorghini murcielago. Disaster, did this guy not know that Im trying to live out a dream here!?!? (before you say how unsympathetic I am, dont worry although the guy went to hospital he was fine it was just a precaution). About half an hour passes and then I hear, faintly, my name called...off I skip, get greated by my instructor and walk over to the ultimate car ever. After slipping (well falling) into the driving seat the instructor explains all the controls and makes sure i am happy before setting off.... this is it, this is the moment Ive been waiting for, I put the car in first and slowly drive to the starting line, the entrance of the track, my mind is whirring, although I hear the instructor he sounds a million miles away im too busy waiting for that moment that the other cars already on the track pass so that I have a free bit of track...and there it is, I bury the throttle and blast up onto the track. Suddenly I realise, Im behind the wheel of a £200000 supercar and I didnt sign the excess waiver form....back to reality. The instructors voice comes back into my head and I give my self a gentle mental slap. We arent on a play station now, one wrong move and its game over.... I start to really listen to what the instructor says and more importantly BELIEVE in what he is telling me. These guys know their stuff, it would be arrogant of anyone to think they know any better. To get the full experience listen to what they say and they will let you further and further off the leash to really see what the car can do. After 3 laps my instructor said that I didnt have to pull in as I had been hampered by slower traffic so aas the cars in front pulled in i was allowed to continue. I listened to every word he said and did everything he told me to and you know what? It worked, the last lap was a flyer (well for me anyway) and was the best time ever! As i pulled in, my ferrari experience over, I only had praise for my instructor and the 6th gear team. Apart from the Focus RS flying lap my day was over, gutted but also amazed at what had just happened. BEST DAY EVER..... so to sum up. GOOD POINTS - amazing car - fantastic and friendly and knowledgable team - great facilities BAD POINTS - no communication as to what had happened re the lambo accident, it took a crowd member to go and ask staff - no tannoy or loudspeaker, you really had to listen for your name and if missed they would just move on. But really im nit picking, if your thinking of doing it, do it, you will not regret it and lets face it, how many of your friends can say they have driven a Ferrari 458? None of mine!
HGIB
Would you recommend this product to a friend?
Yes
Ferrari 458 Driving Thrill with Free Passenger Ride