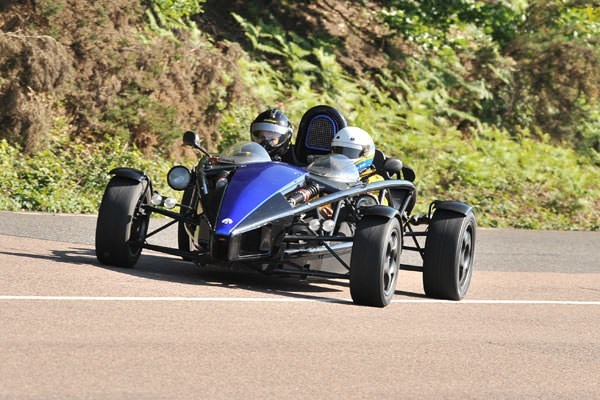 High Speed Passenger Ride
1022278
4.5 out of 5 (based on 10 reviews)
10 locations to choose from
For 1 person
Valid for 20 months
Best Price Guarantee
Overview
Enjoy the adrenaline-pumping, hair-raising, white-knuckle thrill of a lifetime with an exhilarating high-speed passenger ride. Sat in a powerful performance car next to a fearless professional driver, your heart will race as you tear around a top racetrack at speeds you never thought possible! A great way to experience the exhilaration of high-speed driving without having to take the wheel, this is one wild ride that you'll never forget!
What's included?
A high speed passenger ride
What do I need to know?
Height weight and age restrictions vary between locations, please check with the supplier upon point of booking
In general you must be over 12 years old to participate and taller than 4'10''
Maximum height is usually around 6'5''
Maximum weight is around 18 stone
This experience is not available at weekends at the Fife location
All dates are subject to availability
Cars used vary according to location but whatever the vehicle you're guaranteed a mind-blowing ride!
All locations are subject to seasonal opening times - please check with the supplier
Locations
This experience is available at
Already got this voucher?
Customer Reviews
4.5 out of 5 (based on 10 reviews)
10 out of 10 (100%) reviewers would recommend this product to a friend.
The Passenger Ride
14 April 2015
Wasn't impressed that Silverstone stopped offering this experience so we had to travel to Longcross instead, have to get a taxi from the station if you don't drive. I'm sure Silverstone Circuit would have been more exciting! Anyhow, I really did enjoy the experience and the thrill of the ride but after queuing, the experience was over way too quick! Two laps would have been nice. Would still recommend though.
Ayeshah
Would you recommend this product to a friend?
Yes
The driver was very welcoming and showed great care towards JK who has Autism. He had a brilliant time and we couldn't thank the driver enough for his patience and understanding
Big guy
Would you recommend this product to a friend?
Yes
wonderful time
24 May 2014
very friendly and helpful staff in spite of the pouring rain . The driver was chatty and went as fast as the conditions allowed in the Aston Martin and I did not wish it to end
ericfan
Would you recommend this product to a friend?
Yes
Might be cheaper to book on the day!
25 June 2013
I got this experience as a gift and redeemed it at the Longcross venue. Got a great selection of cars and chose the Ariel Atom - would definitely recommend! It was raining but the driver still got the best out of the car and made it a great lap! However, the prices for those who turn up on the day were cheaper than they were online... so check that out if you can! Also, beware the infrequent train arrivals at Longcross and consider getting a taxi/walking to and/or from nearby Sunningdale station if you're taking the train and don't want to wait around for hours (the view from the waiting area is only of a small straight section).
Andy
Would you recommend this product to a friend?
Yes
High Speed Passenger Ride
06 July 2012
This was a brilliant experience bought for me as a surprise birthday present from my wife. I would and have recommended this to other people brilliant.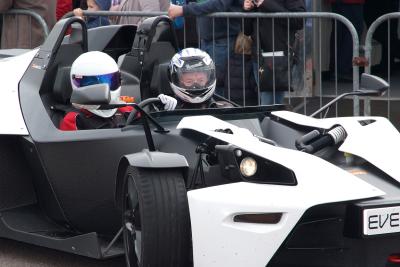 Kennyboy
Would you recommend this product to a friend?
Yes
Fast & Fun
07 August 2011
Though the ride was fast and fun, I was a little disappointed that it was on airfield marked out with cones rather than a proper track (Elvington, Yorks) with a range of other vehicles using the same driving space at the same time. The single lap was over very quickly but it was an enjoyable experience. The driver, a lovely young man who assured me he was 23, though he looked about 16, was excellent and the set up was so efficient that from arriving to check in to completing the drive took less than 15 minutes. The memory stick recording that you can buy is a great souvenir of the day.
Aitchkay1
Would you recommend this product to a friend?
Yes
60th birthday present
06 August 2011
What a brilliant gift , had plenty of cars to choose from , Ferrari's , Aston Martin's , Audi r8's , Porsche 911 but i choose a Lamborghini . The bloke who driven it was brilliant around the track and we set off like it had just been fired out of a cannon , the whole drive was over in about 4 minutes but i was still smiling hour's later
joeinspace
Would you recommend this product to a friend?
Yes
Son's 18th present
08 July 2011
My son had a high speed passenger ride at Prestwold Hall Loughborough in a Vauxhall VXR. He realy enjoyed it. The only problem was becuse it was busy he had to share the ride and had to sit in the back, and only had one lap. I would recommend this gift as my son realy enjoyed it but be aware of what I have reported. If you can try the Areial Atom!!!!!!!!!!
greenfly
Would you recommend this product to a friend?
Yes
Never thought I'd be able to have a high speed driving experience without a licence - but here I could! My instructor was like speed demon and it was like sitting in the car with The Stig off of Top Gear!!!
Sean Harlesden
Would you recommend this product to a friend?
Yes
my mum got me this driving day for christmas. i thort cos i was under 18 i was too young to go in one of those really fast cars but this one was ok for teenagers. the driver went sooooo fast it was a bit scary but really exciting too!!! my mates are all well jelous.
Jacob (age 13)
Would you recommend this product to a friend?
Yes
High Speed Passenger Ride