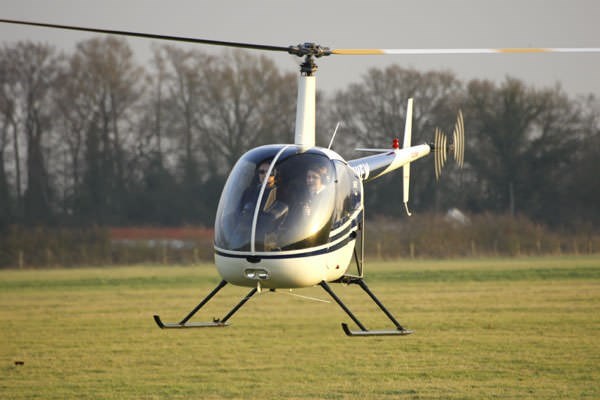 Special Offer
15 Minute Helicopter Lesson for One
10415663
3 out of 5 (based on 7 reviews)
11 locations to choose from
For 1 person
Valid for 20 months
Best Price Guarantee
Overview
Fulfil your fantasies of soaring through the sky in an awesome helicopter with this spectacular flying introduction. For anyone with an interest in helicopters and aviation, this experience includes one-to-one tuition during a flying lesson and hover challenge, plus a tour of the hanger and a talk from an enthusiastic instructor, who'll tell you all about being a commercial pilot. You'll start your day at 9am, with a briefing and refreshments. Your instructor will take you and up to seven other participants through the workings of the helicopters, their controls, history and be on hand, ready to answer any of your burning questions. You will then tour the hangers before taking to the skies for your flying lesson, which will last for 15 minutes. This four hour experience also includes lunch and a certificate to take home.
What's included?
Safety briefing and introduction from CAA Licensed Helicopter Instructor
Tour of the helicopter hangers with your group
15-minute one-to-one flying lesson
Hover challenge with your instructor
Presentation on helicopter pilot career options
Signed flight certificate that can count towards a pilot's licence
What do I need to know?
Your voucher is valid for ten months, for one person
The voucher can be used on selected weekdays and Saturdays throughout the year, except Cumbernauld, which is only available on weekdays
Minimum age is 6 years and all under 12's must be accompanied by a fully paying adult
Maximum weight: 15st/95kg
Maximum height: 6'6"/1.98m
You should allow a total of four hours for this experience, with approximately 15-20 minutes in the helicopter
A valid photo ID (Passport or driving licence) must be presented on the day (no photocopies)
Although the flying lesson and hover challenge is conducted on a one-to-one basis, your tour and other parts of your experience will be in a group of up to eight people
Locations
This experience is available at 11 locations
Already got this voucher?
Customer Reviews
3 out of 5 (based on 7 reviews)
3 out of 7 (43%) reviewers would recommend this product to a friend.
Best time ever
12 October 2019
Just an amazing experience I loved every second of the day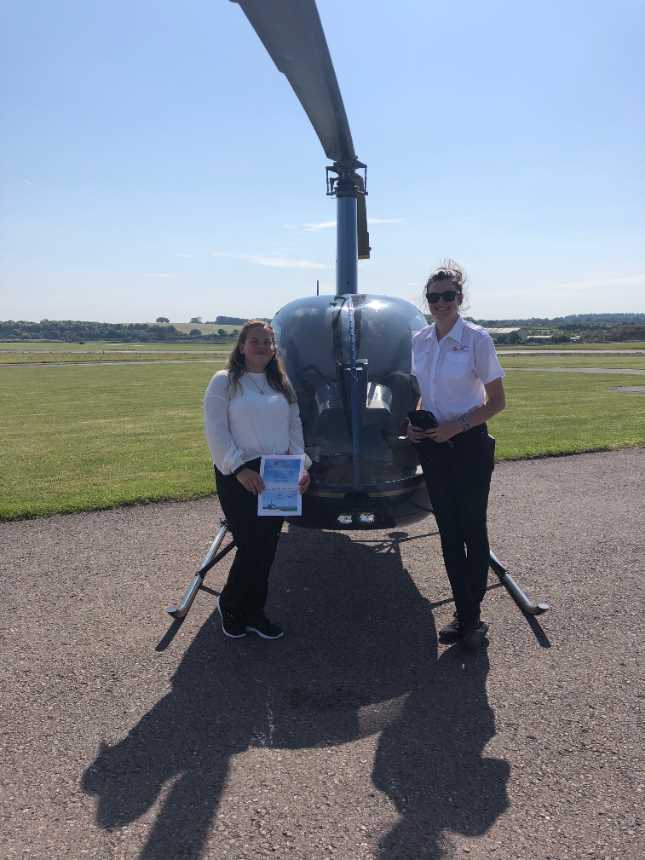 Sheree
Would you recommend this product to a friend?
Yes
Exceeded expectations
29 July 2018
Really good - you get to fly the helicopter when it's going at speed (easier than you'd think), you also try hovering (harder than you'd think). It's a lot of fun, felt gutted when we landed and it was over. There's some cool helicopters in the hanger to look at, the people at heliAir are nice. Only criticism is that the wait to get food from the nearby cafe after you've ordered lunch is about 45mins.
Ben
Would you recommend this product to a friend?
Yes
Not as described
09 June 2015
We started off in a classroom where the instructor introduced himself and showed us some photos of him at various places he had flown. Followed by a very brief discription of the controls and how much it would cost to gain a helicopter licence. Then we had our guided tour of the hangers, im probably a little bias here as looking at helicopters and planes isn't really my idea of fun but at this point I was still quite excited about getting to fly a helicopter as it has been something I've been wanting to do for as long as i can remember. Next came the flight, i was first to go up. The instructor few around the air field showing what a helicopter is capable of then we flew over some local landmarks. Then we landed. The experience was described as a "1 to 1 helicopter lesson and hover challenge, taking control of the aircraft under the guidance of a CAA licenced instructor" At no point was i allowed to control the helicopter, it was just a ride in one, which left me very disappointed. If you want to actually fly a helicopter then this isn't the experience for you.
Response from Buyagift
By
Despina
, Customer Services, 29 Feb 2016
Hi Thanks for submitting your review. I'm really sorry to hear that you were disappointed with your recent experience. I am sorry that you felt it wasn't as described. I'd very much like to investigate this further for you. Please could you send an email to tellusmore@buyagift.com with your voucher details. Again, I am sorry for the disappointment caused and I look forward to hearing from you soon.
Darren
Would you recommend this product to a friend?
No
A bit disappointing
13 October 2013
I had a mixed experience at Denham. I picked this helicopter experience as it seemed to be the best in terms of one-to-one lesson time vs price. I'm not interested in becoming a commercial pilot but I was happy to sit through the presentation, which turned out to be quite interesting anyway. Facilities were pretty good, Tea/coffee machine and water available, and there's some benches outside where you/spectators can watch the lessons and the rest of the airfield. Lunch was in the form of a voucher that's redeemable at the cafe a minutes walk away, up to about £4-5. The staff seemed polite, professional and organised, and kindly let me wear my GoPro on a chest harness for the flight. Time whizzed by during the flight, as expected, but it was over even sooner than I thought. The video shows that my one-to-one lesson - from the door being closed to the door being opened again - was about 9 mins 48 secs (time in the air: 7 mins 36 secs). Nowhere near 15-20 mins as advertised. I was also not given the opportunity to do the hover challenge. Another guy doing the experience said he did get to do the hover challenge, his one-to-one was about 11 mins, so it seems to be a bit hit and miss. The airfield did seem pretty busy (it was a Saturday) so I'm not sure if my experience was cut short due to other people needing to use the airfield. Nothing was mentioned to me about it at the time, and I was a bit pre-occupied with the buzz of being in the air to realise it myself. Overall the time spent in the air was fun, but I was left a bit disappointed that my experience was not as advertised - If I knew beforehand I would have chosen a different experience.
Response from Buyagift
By
Brad
, Customer Services, 29 Feb 2016
Thank you for providing us with your review of this gift. I would like to have the opportunity to discuss this matter further and would ask you write into customercare@buyagift.com. I look forward to hearing back from you.
PocketFrog
Would you recommend this product to a friend?
No
Expensive for a 10 minute flight
31 May 2013
There were 8 people in the group.We were given a brief introduction to the event. A quick look around the hanger where the helicopter was parked along with a few other light aircraft. We then had a 10 minute talk from a retired pilot about becoming a commercial helicopter pilot which nobody wanted to become and then went out individually for a flight. You were in the helicopter about 15 minutes but only flying for about 10 min.The pilot wasn't that interested to show you how to fly and he had the controls for most of the time. It was great to have a go in a helicopter but the lesson and time in the air was a disappointment. . The company had double booked the time so the last people had to wait while someone else had a lesson.
Response from Buyagift
By
Tamsin
, Customer Services, 29 Feb 2016
Hi, I'm so sorry to hear that your experience was over quickly, and that issues were caused by double bookings. I appreciate what a let down this must have been for you. I'd really like to look into what happened with the experience supplier, so I've emailed you for more information.
acepilot
Would you recommend this product to a friend?
No
Checking the facts
13 April 2013
Right went to denham in Buckinghamshire. This is a busy airfield for helicopters and there is competition for your business. The package was as described but there was a hard sell in the mix and this was uncomfortable. I did feel as though I was a side show compared to the students they had , and I was merely part of the conveyer belt of experience days. Nothing wrong and all as described but ...
Handy hands
Would you recommend this product to a friend?
No
Great Gift
09 October 2012
Arrived at 9am along with 5 other people, had a briefing of about 30min, explaining the history of the company, advantages of being a helicopter pilot, explanation of what the experience will consist of and then a detailed guide on how the controls/instruments work etc. After that, while each person goes on the one to one lesson in the helicopter the others get to tour the hangar and watch the takeoffs from a comfortable room with a large balcony and view of the airfield. The one to one lesson is about 12-15 minutes, followed by refreshments (ample sandwiches, crisps and biscuits) and the instructor came up afterwards to have an informal chat with everyone where you are free to ask any questions. The facilities were good and toilets clean, staff polite and friendly. Would probably not pay the full price though...
KFCat
Would you recommend this product to a friend?
Yes
15 Minute Helicopter Lesson for One