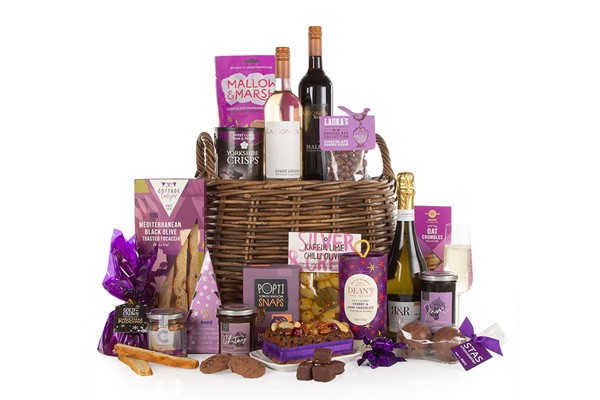 A Touch of Class Basket Hamper
11294290
Overview
Finding the perfect Christmas gift has never been easier with this lavish food and drink hamper. A Touch of Class hamper will inject gourmet elegance into your festive celebrations. Presented in a stunning round Croco basket, this deluxe purple-themed hamper includes a delectable choice of sweet and savoury treats and the Christmas drinks are sorted with a bottle of prosecco, Pinot Grigio and Malbec to share. Enjoy something for the whole family and tuck into chocolate-covered marshmallows, chocolate shortbread, classic Christmas pudding, kaffir lime and chilli olives, onion marmalade, Mediterranean black olive toasted focaccia and so much more. This dazzling hamper is a wonderful gift just waiting to be unwrapped!
What's included?
A luxury 'Touch of Class' basket filled with delicious food and drink
Contents include:
- Prosecco R&R Robert & Reeves Italy 75cl 11% vol
- Malbec Reserve La Bonita Argentina 75cl 14.5% vol
- Pinot Grigio La Bonita Argentina 75cl 13% vol
- Cambrook Brilliantly Hickory Smoked Almonds 95g
- Cottage Delight Mediterranean Black Olive Toasted Focaccia 100g
- Dean's Cherry & Dark Chocolate Shortbread Rounds 125g
- Highfield Preserves Blackcurrant Jam 320g
- Highfield Preserves Red Onion Marmalade 220g
- Gold Crown Christmas Pudding 350g
- Gold Crown Decorative Jewel Cake with Toasted Marzipan Leaves
- Keats Luxurious 65% Dark Chocolate Treats with Hazelnut Ganache 125g
- Laura's Confectionery Chocolate Collection Chocolate Covered Raisins 150g
- Mallow & Marsh Chocolate Marshmallows Coated In Milk Chocolate 100g
- Popti Cornish Bakehouse Snaps Cheddar and Onion 120g
- Reids Stem Ginger Oat Crumbles 150g
- Silver & Green Kaffir Lime Chilli Olives 220g
- Stas Hot Cocoa Bombs 80g
- Yorkshire Crisps Sweet Cured Ham & Pickle Crisps 100g
Beautifully presented in a Croco round storage basket
What do I need to know?
Gift dimensions: W:520mm H:330mm D:250mm
Minimum age: 18 years
Contents may contain allergens, please check the ingredients list attached here
Please note, this product is non-refundable and non-exchangeable
Already got this voucher?
A Touch of Class Basket Hamper