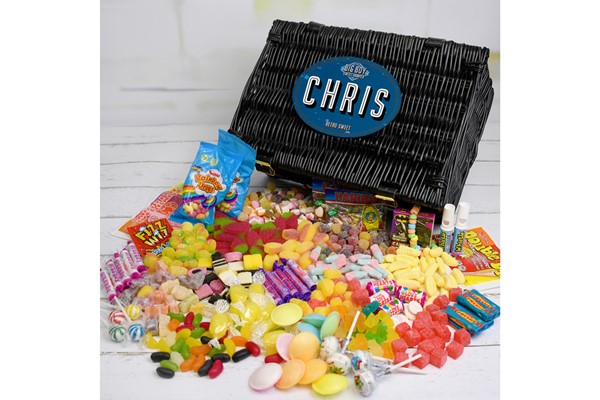 Personalised BIG BOY Retro Sweet Hamper
11293479
Overview
This is the daddy of all sweet hampers! If you've got a sugar-loving friend, family member or partner, they'll want to get their hands on this whopping sweet hamper. Almost 2kg of your favourite classics, beautifully presented in a luxury black hamper which is personalised with a name of your choice. Enjoy the delights of giant strawberries, jelly beans, Refreshers Chews, kola cubes and take a sweet trip down memory lane.
What's included?
A retro sweet hamper, including nearly 2kg of sweets:
- A bag of dolly mixtures
- A bag of flying saucers
- A bag of foam bananas
- A bag of Jelly Babies
- A bag of giant strawberries
- A bag of jelly beans
- A bag of Jelly Tots
- A bag of kola cubes
- A bag of lemon sherbets
- A bag of Liquorice Allsorts
- A bag of pear drops
- A bag of teddy bears
- A bag of rosy apples
- A bag of fizzy blue bottles
- A bag of rhubarb and custard
- 1 x candy necklace
- 1 x candy sticks
- 2 x candy whistle
- 4 x double candy lolly
- 1 x Double Dip
- 5 x Fizzers
- 2 x Haribo Star Mix
- 1 x Love Hearts Dip
- 4 x Love Hearts mini rolls
- 4 x OGO POP lollies
- 5 x Parma Violets
- 1 x popping candy
- 2 x Rainbow Drops
- 5 x Refreshers Chews
Presented in a luxury black wicker hamper
Personalised label with a name of your choosing
What do I need to know?
Contents may contain allergens, please check the ingredients list attached here
Your text will be printed exactly as you have entered it, so please double check spelling, punctuation and capitalisation
Contents may vary due to supply
Suitable for ages six years and above
Dimensions: 360 x 240 x 150mm
Please note, this product is non-refundable and non-exchangeable
Already got this voucher?